Link to this page: http://www.socialistparty.org.uk/articles/16640
Posted on 8 May 2013 at 10:10 GMT
Brighton & Hove bin workers refuse to work after pay cuts revealed
Brighton and Hove staff at Hollingdean bin depot staged a sit-in on 8th May and plan to return on the 9th in protest against cuts to their allowances.
A significant chunk of take home pay is made up of these allowances; for some it could cost them thousands of pounds a year.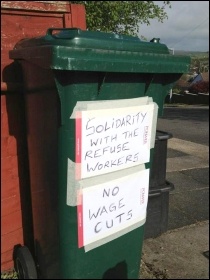 Widespread support for the Brighton bin workers shown on some bins in the area, photo by Support Brighton Council workers Facebook page (Click to enlarge)
The council is trying to implement the single status agreement which will level pay downwards, and has been deferred by previous B&H councils due to strike action.
The Green council passed responsibility over to council officers last year and has now threatened to sack and then re-engage staff on the new terms.
The anger of staff was shown by staging the sit-in without waiting for the end of the ballot process.
Brighton Socialist Party
Article in local paper, the Argus:
Why not click here to join the Socialist Party, or click here to donate to the Socialist Party.
---