Reports and Campaigns
---

About the Socialist Party

Anti-capitalism

Anti-privatisation

Anti-war

Election campaigns

Environment

Health

Socialist women

Workplace

Youth and Students
---
Youth tags:
Croxteth Comprehensive School (1)
Educational Maintenance Allowance (3)
Youth Fight for Education (12)
---
Reports and campaigns:
Stop the slaughter of Tamils (55)
Workplace and TU campaigns (5133)
Related websites
Trade Unionist and Socialist Coalition
National Shop Stewards Network
Rape is no joke
Helen Pattison, Youth Fight for Jobs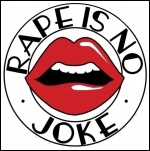 Like most young women I was shocked by reports of misogyny and rape jokes at the Edinburgh festival. That a comedian would suggest the raping of an audience member who heckled his rape joke; that famous comedians such as Jimmy Carr continue to laugh about sexual violence towards women and that Russell Brand sexually harasses female staff is utterly disgraceful.
Portrayed as 'ironic' their sexist jokes can actually normalise sexism, making cat-calling, sexual harassment of women and similar jokes somehow acceptable. It can also further perpetuates the bullying of women who call out people making inappropriate jokes as 'prudes' and lacking a sense of humour.
How can a woman feel safe walking home at night if she fears that the men she passes laugh about raping women?
Continued below...
---
>
Socialist Student leaflet:
Socialist Party leaflet:
---
>
This is why I support Socialist Students' new campaign, 'Rape is no joke'. For the 80,000 women raped every year, rape jokes undermine their horrible experiences. Such 'humour' plays a role in the very high number of women who do not report being raped to the police.
But women shouldn't have to stand alone against this. We need to stand together against sexism in comedy with comedians who want to sort out the industry as well as students and young people who want to stop rape jokes.
Socialist Students is calling on comedians and venues to sign pledges that say: "I agree with the aims of Rape Is No Joke to change the culture of acceptance of rape jokes in the comedy circuit. These jokes add to a wider culture that too often doesn't take rape or rape victims seriously. It is important to make a stand to say that rape is nothing to be laughed at. I pledge to only host comedians who/ agree not to use rape jokes in performances."
Sexism
But sexism, unfortunately, goes much further than rape jokes. There's no denying things have come a long way for women in Britain over the last century - winning the right to vote, access to abortion, contraception and - in the eyes of the law at least - equal pay. But vicious austerity puts many of these steps forward at risk.
'Rape is no joke' is part of a wider campaign against sexism and misogyny in society. Fear of sexual violence affects women everyday - and can mean women feel scared to walk home alone at night or change their style of dress, their transport routes or their lifestyle through fear of sexual assault.
Socialist Women are marching on Slutwalk 2012 to fight for rape to be dealt with as the serious subject it is. We want decent support services and resources. We also want a change in attitude.
We face the fight of our lives - to defend the rights and the welfare state that working class women and men built and fought for. Over the years, when women have moved into action on workplace and education issues they start to recognise and challenge discrimination which affects them as women as well as as workers and students.
Today women are at the forefront of the battles over public sector pensions and jobs, as well as against the cuts in education. Collective action, such as a 24-hour general strike will also help to undermine sexist attitudes.
---
>
---