Nigeria
---
Free detained Nigerian students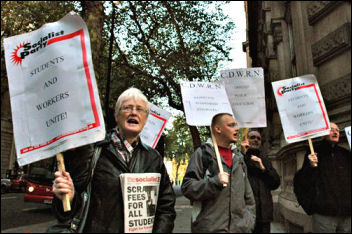 Protest at the UK Nigerian embassy, photo Marc Vallee
THE INTERNATIONAL campaign to free the detained student leaders from Obafemi Awolowo University (OAU) in Ile-Ife, Nigeria, the Democratic Socialist Movement (DSM) and Education Rights Campaign (ERC) is growing.
Saburi Akinola, President of OAU students union; Dairo Olatunde, the students union's public relations officer and Taiwo Hassan, the ERC's national coordinator, are being held on a series of frame-up charges including conspiracy to murder and the attempted murder of the OAU's then vice-chancellor in 2004.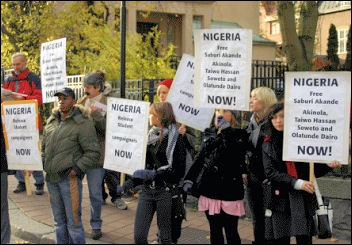 Protest at the Swedish Nigerian embassy
In the last week, apart from protests in Nigeria, there have been sizeable pickets in Athens, Tel Aviv and Moscow (see www.socialistworld.net for details).
Keep sending protest letters urgently to:
Obafemi Awolowo University (OAU) at registar@oauife.edu.ng
OAU vice-chancellor – mfaborode@yahoo.co.uk and mfaborod@oauife.edu.ng
Nigerian Federal Ministry of Education at enquiries@fme.gov.ng and te@fme.gov.ng
Please send copies of all protests to:
campaignworkers@yahoo.co.uk
---