The Socialist 3 October 2018
Zombie Tory government: general election now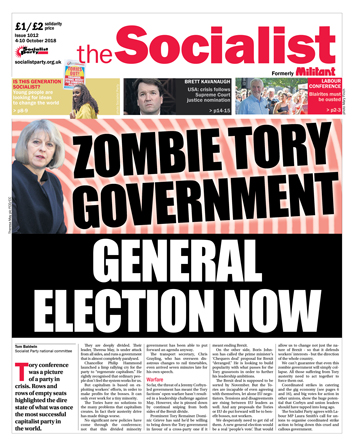 ---
Labour conference shows: Blairites must be ousted
Socialist Party campaigns against the Blairites at Labour conference
---
'Tories must go' demonstration in Birmingham
Anti-fracking protesters jailed
Save Wirral NHS walk-in centres
More party than protest, but great response to socialist ideas at Leicester Pride
---
Zombie Tory government: general election now
Shocking new data on declining life expectancy
NHS pay discrimination - militant union action can achieve fair pay for all
Maximus profitus: disabillity profiteering scandal
---
Catering and courier workers strike together
Coordinated catering and courier strikes
York NHS workers strike against privatisation
1,000 head teachers march on parliament
Camden - Unison members in pay fight
---
---
USA: crisis follows Supreme Court justice nomination
Indonesia tsunami - a disaster compounded by capitalism
---
Enthusiasm for Socialist ideas at the freshers fairs
---
The Ragged-Trousered Philanthropists: one-man show's new take on lively socialist classic
PO Box 1398, Enfield EN1 9GT
020 8988 8777
editors@socialistparty.org.uk

Link to this page: http://www.socialistparty.org.uk/issue/1012/28017
Home | The Socialist 3 October 2018 | Join the Socialist Party
Subscribe | Donate | Audio | PDF | ebook
Zombie Tory government: general election now
Tom Baldwin, Socialist Party national committee
Tory conference was a picture of a party in crisis. Rows and rows of empty seats highlighted the dire state of what was once the most successful capitalist party in the world.
They are deeply divided. Their leader, Theresa May, is under attack from all sides, and runs a government that is almost completely paralysed.
Chancellor Philip Hammond launched a limp rallying cry for the party to "regenerate capitalism." He rightly recognised that ordinary people don't feel the system works for us.
But capitalism is based on exploiting workers' efforts, in order to make profits for the bosses. It can only ever work for a tiny minority.
The Tories have no solutions to the many problems that capitalism creates. In fact their austerity drive has made things worse.
No significant new policies have come through the conference; not that this divided minority government has been able to put forward an agenda anyway.
The transport secretary, Chris Grayling, who has overseen disastrous changes to rail timetables, even arrived seven minutes late for his own speech.
Warfare
So far, the threat of a Jeremy Corbyn-led government has meant the Tory factions' open warfare hasn't resulted in a leadership challenge against May. However, she is pinned down by continual sniping from both sides of the Brexit divide.
Prominent Tory Remainer Dominic Grieve has said he'd be willing to bring down the Tory government in favour of a cross-party one if it meant ending Brexit.
On the other side, Boris Johnson has called the prime minister's 'Chequers deal' proposal for Brexit "deranged." He is looking to build popularity with what passes for the Tory grassroots in order to further his leadership ambitions.
The Brexit deal is supposed to be sorted by November. But the Tories are incapable of even agreeing with themselves, let alone EU negotiators. Tensions and disagreements are rising between EU leaders as well. And any proposals the Tories or EU do put forward will be to benefit bosses, not workers.
We desperately need to get rid of them. A new general election would be a real 'people's vote'. That would allow us to change not just the nature of Brexit - so that it defends workers' interests - but the direction of the whole country.
We can't guarantee that even this zombie government will simply collapse. All those suffering from Tory austerity need to act together to force them out.
Coordinated strikes in catering and the gig economy, and big votes for action in other unions, show the huge potential that Corbyn and union leaders should have tapped into long ago.
The Socialist Party agrees with Labour MP Laura Smith's call for unions to organise coordinated strike action to bring down this cruel and callous government.
---
In this issue
---
Labour Party conference

Labour conference shows: Blairites must be ousted

Socialist Party campaigns against the Blairites at Labour conference
---
Socialist Party reports and campaigns

'Tories must go' demonstration in Birmingham

Anti-fracking protesters jailed

Save Wirral NHS walk-in centres

More party than protest, but great response to socialist ideas at Leicester Pride
---
Socialist Party news and analysis

Zombie Tory government: general election now

Blood transfusion scandal

Shocking new data on declining life expectancy

NHS pay discrimination - militant union action can achieve fair pay for all

Maximus profitus: disabillity profiteering scandal

Tory Brexit Blues festival
---
Workplace news and analysis

Catering and courier workers strike together

Coordinated catering and courier strikes

York NHS workers strike against privatisation

Tube workers walk out

1,000 head teachers march on parliament

Camden - Unison members in pay fight
---
Socialist Party feature

Is this generation socialist?
---
International socialist news and analysis

USA: crisis follows Supreme Court justice nomination

Indonesia tsunami - a disaster compounded by capitalism
---
Socialist Students

Enthusiasm for Socialist ideas at the freshers fairs
---
Opinion

The Ragged-Trousered Philanthropists: one-man show's new take on lively socialist classic

The Socialist Inbox
---
Home | The Socialist 3 October 2018 | Join the Socialist Party