The Socialist 3 October 2018
Zombie Tory government: general election now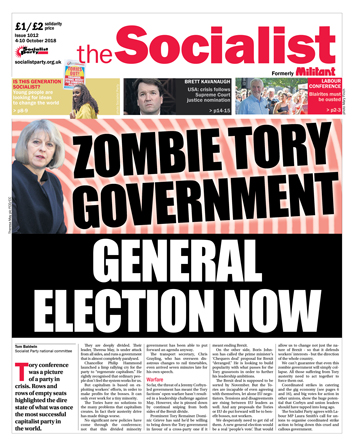 ---
Labour conference shows: Blairites must be ousted
Socialist Party campaigns against the Blairites at Labour conference
---
'Tories must go' demonstration in Birmingham
Anti-fracking protesters jailed
Save Wirral NHS walk-in centres
More party than protest, but great response to socialist ideas at Leicester Pride
---
Zombie Tory government: general election now
Shocking new data on declining life expectancy
NHS pay discrimination - militant union action can achieve fair pay for all
Maximus profitus: disabillity profiteering scandal
---
Catering and courier workers strike together
Coordinated catering and courier strikes
York NHS workers strike against privatisation
1,000 head teachers march on parliament
Camden - Unison members in pay fight
---
---
USA: crisis follows Supreme Court justice nomination
Indonesia tsunami - a disaster compounded by capitalism
---
Enthusiasm for Socialist ideas at the freshers fairs
---
The Ragged-Trousered Philanthropists: one-man show's new take on lively socialist classic
PO Box 1398, Enfield EN1 9GT
020 8988 8777
editors@socialistparty.org.uk

Link to this page: http://www.socialistparty.org.uk/issue/1012/28019
Home | The Socialist 3 October 2018 | Join the Socialist Party
Subscribe | Donate | Audio | PDF | ebook
Socialist Party campaigns against the Blairites at Labour conference
Dave Walsh, Liverpool and District Socialist Party
With Labour Party conference in Liverpool from 23-26 September Socialist Party members have been busy. We sold around 150 copies of the Socialist paper at and around the conference and distributed about 1,000 leaflets. We got a very friendly response from the majority of delegates.
On the first morning of conference the front page headline "Blairites Must Go" found an echo with many delegates. Clearly, the great majority of constituency delegates and a lot of union delegates want the democratic right to freely choose their parliamentary candidates.
It was clear that the Socialist Party was a significant part of the discussion around the conference. Dawn Butler's opening speech to the women's conference on Saturday referenced Militant, the Socialist Party's predecessor, and MP Laura Smith's speech raised the need for a general strike, echoing a demand the Socialist Party has raised
The Socialist Party's regional secretary in the North West, Hugh Caffrey, was interviewed by BBC journalist Nick Robinson who asked him "who are the Blairites?" Hugh responded that left delegates knew the answer to that question, and that democratic mandatory reselection of MPs would allow them to kick the Blairites from their power base in the parliamentary Labour Party.
On Sunday evening a number of us attended a 'Labour against the Witch Hunt' meeting. Tony Mulhearn, a Socialist Party member and one of the heroic 'Liverpool 47' - the councillors who defied Thatcher in the 1980s - was among the speakers. Tony drew a link between the Labour right's witch hunt against Militant supporters in the 1980s and the attacks led by the Blairites on Corbyn supporters today.
On Tuesday evening, the Socialist Party held a public meeting. The discussion was 'who were Militant and why were they expelled?' It was well-attended, including by a number of delegates from Labour Party conference.
---
In this issue
---
Labour Party conference

Labour conference shows: Blairites must be ousted

Socialist Party campaigns against the Blairites at Labour conference
---
Socialist Party reports and campaigns

'Tories must go' demonstration in Birmingham

Anti-fracking protesters jailed

Save Wirral NHS walk-in centres

More party than protest, but great response to socialist ideas at Leicester Pride
---
Socialist Party news and analysis

Zombie Tory government: general election now

Blood transfusion scandal

Shocking new data on declining life expectancy

NHS pay discrimination - militant union action can achieve fair pay for all

Maximus profitus: disabillity profiteering scandal

Tory Brexit Blues festival
---
Workplace news and analysis

Catering and courier workers strike together

Coordinated catering and courier strikes

York NHS workers strike against privatisation

Tube workers walk out

1,000 head teachers march on parliament

Camden - Unison members in pay fight
---
Socialist Party feature

Is this generation socialist?
---
International socialist news and analysis

USA: crisis follows Supreme Court justice nomination

Indonesia tsunami - a disaster compounded by capitalism
---
Socialist Students

Enthusiasm for Socialist ideas at the freshers fairs
---
Opinion

The Ragged-Trousered Philanthropists: one-man show's new take on lively socialist classic

The Socialist Inbox
---
Home | The Socialist 3 October 2018 | Join the Socialist Party