The Socialist 3 October 2018
Zombie Tory government: general election now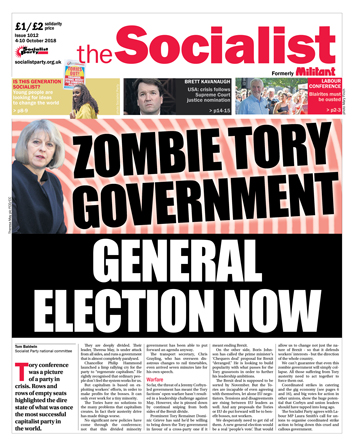 ---
Labour conference shows: Blairites must be ousted
Socialist Party campaigns against the Blairites at Labour conference
---
'Tories must go' demonstration in Birmingham
Anti-fracking protesters jailed
Save Wirral NHS walk-in centres
More party than protest, but great response to socialist ideas at Leicester Pride
---
Zombie Tory government: general election now
Shocking new data on declining life expectancy
NHS pay discrimination - militant union action can achieve fair pay for all
Maximus profitus: disabillity profiteering scandal
---
Catering and courier workers strike together
Coordinated catering and courier strikes
York NHS workers strike against privatisation
1,000 head teachers march on parliament
Camden - Unison members in pay fight
---
---
USA: crisis follows Supreme Court justice nomination
Indonesia tsunami - a disaster compounded by capitalism
---
Enthusiasm for Socialist ideas at the freshers fairs
---
The Ragged-Trousered Philanthropists: one-man show's new take on lively socialist classic
PO Box 1398, Enfield EN1 9GT
020 8988 8777
editors@socialistparty.org.uk

Link to this page: http://www.socialistparty.org.uk/issue/1012/28021
Home | The Socialist 3 October 2018 | Join the Socialist Party
Subscribe | Donate | Audio | PDF | ebook
York NHS workers strike against privatisation
Iain Dalton, North Yorkshire Socialist Party organiser
Around 80 Unite the Union pickets made their voices heard on the first day of strike action against York Teaching Hospital NHS Foundation Trust transferring cleaners, caterers, domestics, estates and other ancillary staff into a 'wholly owned subsidiary' - a step towards privatisation.
The two-day action on 27-28 September was determined, with many workers outraged that yet again in the NHS it was the lowest paid who were being forced to bear the burden of Tory cuts.
Socialist Party members have been at the forefront of the campaign in the city against these proposals, establishing a broader campaign against them, and gathering thousands of petition signatures against the proposals.
Speakers
On the picket line, Unite shop steward and Socialist Party member Mal Richardson introduced a strike rally with speakers including local Labour MP Rachel Maskell, Unite reps, local campaigners and a speaker from the National Shop Stewards Network, which Unite has recently affiliated to.
Workers are determined to take further strike action if necessary to reverse this decision and stay "100% NHS".
The best way to force a change is escalating the action, as has been demonstrated by successful strikes against wholly owned subsidiaries in Wigan as well as the threat of strike action by public service union Unison in Mid Yorkshire Trust and Tees, Esk and Wear Valley Trust, with the latter two led by Socialist Party members.
---
In this issue
---
Labour Party conference

Labour conference shows: Blairites must be ousted

Socialist Party campaigns against the Blairites at Labour conference
---
Socialist Party reports and campaigns

'Tories must go' demonstration in Birmingham

Anti-fracking protesters jailed

Save Wirral NHS walk-in centres

More party than protest, but great response to socialist ideas at Leicester Pride
---
Socialist Party news and analysis

Zombie Tory government: general election now

Blood transfusion scandal

Shocking new data on declining life expectancy

NHS pay discrimination - militant union action can achieve fair pay for all

Maximus profitus: disabillity profiteering scandal

Tory Brexit Blues festival
---
Workplace news and analysis

Catering and courier workers strike together

Coordinated catering and courier strikes

York NHS workers strike against privatisation

Tube workers walk out

1,000 head teachers march on parliament

Camden - Unison members in pay fight
---
Socialist Party feature

Is this generation socialist?
---
International socialist news and analysis

USA: crisis follows Supreme Court justice nomination

Indonesia tsunami - a disaster compounded by capitalism
---
Socialist Students

Enthusiasm for Socialist ideas at the freshers fairs
---
Opinion

The Ragged-Trousered Philanthropists: one-man show's new take on lively socialist classic

The Socialist Inbox
---
Home | The Socialist 3 October 2018 | Join the Socialist Party