The Socialist 3 October 2018
Zombie Tory government: general election now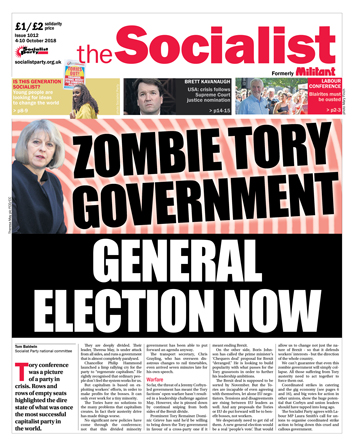 ---
Labour conference shows: Blairites must be ousted
Socialist Party campaigns against the Blairites at Labour conference
---
'Tories must go' demonstration in Birmingham
Anti-fracking protesters jailed
Save Wirral NHS walk-in centres
More party than protest, but great response to socialist ideas at Leicester Pride
---
Zombie Tory government: general election now
Shocking new data on declining life expectancy
NHS pay discrimination - militant union action can achieve fair pay for all
Maximus profitus: disabillity profiteering scandal
---
Catering and courier workers strike together
Coordinated catering and courier strikes
York NHS workers strike against privatisation
1,000 head teachers march on parliament
Camden - Unison members in pay fight
---
---
USA: crisis follows Supreme Court justice nomination
Indonesia tsunami - a disaster compounded by capitalism
---
Enthusiasm for Socialist ideas at the freshers fairs
---
The Ragged-Trousered Philanthropists: one-man show's new take on lively socialist classic
PO Box 1398, Enfield EN1 9GT
020 8988 8777
editors@socialistparty.org.uk

Link to this page: http://www.socialistparty.org.uk/issue/1012/28037
Home | The Socialist 3 October 2018 | Join the Socialist Party
Subscribe | Donate | Audio | PDF | ebook
NHS pay discrimination - militant union action can achieve fair pay for all
Len Hockey, Unite Barts NHS Trust branch secretary (personal capacity)
The recent report on the pay gap between black and white NHS medical workers also highlighted the appalling disparity when it came to pay across all NHS occupational groups.
The importance and urgency for the organised workers' movement developing effective strategies to win on pay, is underscored by this.
Especially in light of the divisive political agenda of the right and far-right in Britain and throughout Europe.
There have been some useful lessons, showing the possibilities for overcoming these obstacles when a fighting lead is provided to health workers.
One example was the struggle last summer by the Bart's trust health workers. Then, 700 ancillary workers employed by Serco in four east London hospitals took 24 days of strike action in pursuit of a pay rise and against precarious working and for permanent jobs.
This strike by Unite union members, the biggest involving NHS ancillary workers outside of a national dispute, was led by militant, overwhelmingly women migrant workers, with Socialist Party members in the branch playing a leading role.
The roots of the dispute lay in the industrial action experience of Whipps Cross Hospital workers whose successful action of earlier years, uniting experience in the mainly white porters with the newly organised African domestic workers, demonstrated in action a formidable, implacable resolve to win.
From a starting point of not being organised, to electing combative shop stewards and then going on to deliver successful industrial action, this became the template for the bigger Bart's strike of 2017.
The final outcome of this particular struggle delivered increases in pay, albeit short of the workers' full demands, and included the ending of 'bank' (zero-hour) contracts.
More importantly, it provided the enduring legacy of organised union structures where previously there had been none.
The important lesson of this campaign in the context of today's developing movements against austerity and the divisive anti-migrant, anti-union messages pushed by the mainstream capitalist media, is that unity of black and white workers in action can lead to concrete gains.
In so doing it begins to drain the swamp of capitalist poverty and hopelessness that racism needs to thrive.
---
In this issue
---
Labour Party conference

Labour conference shows: Blairites must be ousted

Socialist Party campaigns against the Blairites at Labour conference
---
Socialist Party reports and campaigns

'Tories must go' demonstration in Birmingham

Anti-fracking protesters jailed

Save Wirral NHS walk-in centres

More party than protest, but great response to socialist ideas at Leicester Pride
---
Socialist Party news and analysis

Zombie Tory government: general election now

Blood transfusion scandal

Shocking new data on declining life expectancy

NHS pay discrimination - militant union action can achieve fair pay for all

Maximus profitus: disabillity profiteering scandal

Tory Brexit Blues festival
---
Workplace news and analysis

Catering and courier workers strike together

Coordinated catering and courier strikes

York NHS workers strike against privatisation

Tube workers walk out

1,000 head teachers march on parliament

Camden - Unison members in pay fight
---
Socialist Party feature

Is this generation socialist?
---
International socialist news and analysis

USA: crisis follows Supreme Court justice nomination

Indonesia tsunami - a disaster compounded by capitalism
---
Socialist Students

Enthusiasm for Socialist ideas at the freshers fairs
---
Opinion

The Ragged-Trousered Philanthropists: one-man show's new take on lively socialist classic

The Socialist Inbox
---
Home | The Socialist 3 October 2018 | Join the Socialist Party