The Socialist 3 October 2018
Zombie Tory government: general election now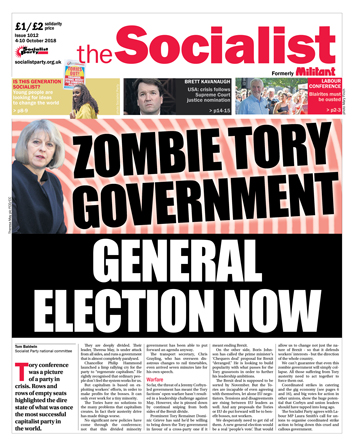 ---
Labour conference shows: Blairites must be ousted
Socialist Party campaigns against the Blairites at Labour conference
---
'Tories must go' demonstration in Birmingham
Anti-fracking protesters jailed
Save Wirral NHS walk-in centres
More party than protest, but great response to socialist ideas at Leicester Pride
---
Zombie Tory government: general election now
Shocking new data on declining life expectancy
NHS pay discrimination - militant union action can achieve fair pay for all
Maximus profitus: disabillity profiteering scandal
---
Catering and courier workers strike together
Coordinated catering and courier strikes
York NHS workers strike against privatisation
1,000 head teachers march on parliament
Camden - Unison members in pay fight
---
---
USA: crisis follows Supreme Court justice nomination
Indonesia tsunami - a disaster compounded by capitalism
---
Enthusiasm for Socialist ideas at the freshers fairs
---
The Ragged-Trousered Philanthropists: one-man show's new take on lively socialist classic
PO Box 1398, Enfield EN1 9GT
020 8988 8777
editors@socialistparty.org.uk

Link to this page: http://www.socialistparty.org.uk/issue/1012/28041
Home | The Socialist 3 October 2018 | Join the Socialist Party
Subscribe | Donate | Audio | PDF | ebook
More party than protest, but great response to socialist ideas at Leicester Pride
With over 10,000 attendees including 3,000 people in the parade, Leicester Pride was the largest the city has seen.
Although the atmosphere was definitely more in line with a party than a protest, people liked the Socialist Party's message that we need socialist change to truly win liberation.
Groups of more than five had to register with the organisers. This is unlikely to affect corporate delegations.
Large rainbow flags with corporate logos were visible all around. But such tactics might be used to keep organisations like us out, to further depoliticise pride.
We asked a Tory councillor during the march about his own party deporting LGBT+ people back to countries where people are killed for being gay. He said: "I've never thought about it like that."
We also campaigned for trans rights and the ability to self-identify your gender. Many people were enthusiastic to sign our petition.
We gave out 200 leaflets advertising a public meeting on the fight for trans rights and against austerity. We raised £68 for the fighting fund and sold 18 copies of the Socialist.
Jade Ritchie, Leicester East Socialist Party
---
In this issue
---
Labour Party conference

Labour conference shows: Blairites must be ousted

Socialist Party campaigns against the Blairites at Labour conference
---
Socialist Party reports and campaigns

'Tories must go' demonstration in Birmingham

Anti-fracking protesters jailed

Save Wirral NHS walk-in centres

More party than protest, but great response to socialist ideas at Leicester Pride
---
Socialist Party news and analysis

Zombie Tory government: general election now

Blood transfusion scandal

Shocking new data on declining life expectancy

NHS pay discrimination - militant union action can achieve fair pay for all

Maximus profitus: disabillity profiteering scandal

Tory Brexit Blues festival
---
Workplace news and analysis

Catering and courier workers strike together

Coordinated catering and courier strikes

York NHS workers strike against privatisation

Tube workers walk out

1,000 head teachers march on parliament

Camden - Unison members in pay fight
---
Socialist Party feature

Is this generation socialist?
---
International socialist news and analysis

USA: crisis follows Supreme Court justice nomination

Indonesia tsunami - a disaster compounded by capitalism
---
Socialist Students

Enthusiasm for Socialist ideas at the freshers fairs
---
Opinion

The Ragged-Trousered Philanthropists: one-man show's new take on lively socialist classic

The Socialist Inbox
---
Home | The Socialist 3 October 2018 | Join the Socialist Party