The Socialist 7 November 2018
Tories out - we need socialism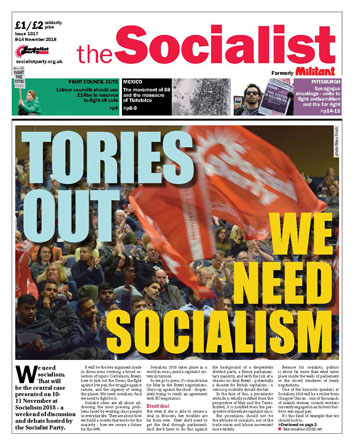 ---
Worldwide walkout at Google against sexual harassment
Pittsburgh Synagogue shootings: Unite to fight anti-Semitism and far right
Mexico: The movement of 68 and the massacre of Tlatelolco
---
Nae Pasaran: a film about working-class solidarity
---
Tories out - we need socialism!
---
Labour councils should use £14bn reserves to fight all cuts
University bankruptcy threat - kick the market out of education
Stand up against abuse - justice not racism
---
PCS Left Unity: Back Chris Baugh and Marion Lloyd for a fighting, democratic, lay-led union
Arriva Rail North strike hits 34 days of action
Cable workers' Halloween picket line attempts to 'scare' management into talks
Royal Bolton Hospital: Another victory against NHS privatisation
Occupy and demand nationalisation to save Devon shipyard
Unison HE ballot: Anti-union rules block action
---
Hundreds march to save Blackwood leisure centres
Crowds turn out for Corbyn in Rugby
Thousands march against overnight closure of Shropshire A&E
Protesters drive far right out of Liverpool
Unions and campaigners challenge Southampton cuts inside Labour and out
Support the Socialist alternative, subscribe to the Socialist
East London public square threat halted
PO Box 24697, London, E11 1YD
020 8988 8777
editors@socialistparty.org.uk

Link to this page: http://www.socialistparty.org.uk/issue/1017/28217
Home | The Socialist 7 November 2018 | Join the Socialist Party
Subscribe | Donate | Audio | PDF | ebook
Labour councils should use £14bn reserves to fight all cuts
Tom Baldwin, South West Socialist Party organiser
A new report from the Trade Unionist and Socialist Coalition (TUSC) has set out the ability of Labour councils to resist cuts.
Local authorities have been among the areas worst hit by austerity, losing more than half the money they receive from the government. Savage cuts have been made to jobs and to services like social care, libraries and road maintenance.
Despite the desperate cost-cutting, some councils have still been pushed to the brink of bankruptcy and are struggling to provide even the services that are required by law.
Shamefully, all the parties leading councils have taken them down the path of austerity. This serves a dual purpose for the Tory government - they get the cuts and privatisation that they want, and they can also try and deflect the blame.
Choice
But councils have a choice. Three years in to Corbyn's leadership of the Labour Party there has been no change in direction for the party in local government to try and make his anti-austerity agenda a reality. Councillors claim they have no choice but to cut. But this is not true, there is an alternative.
Labour councils have significant amounts of money in reserve as well as the ability to borrow. They could use this to fund no-cuts budgets. This would buy the time to build a mass campaign that could successfully demand funding.
The TUSC report lays out the enormous potential for doing this that Labour councils have at their fingertips. There are 125 Labour-led local authorities in Britain which administer a total budget of £79 billion! They hold a combined £14.2 billion in usable reserves and there is nothing to stop them creating a solidarity fund where reserves are pooled across different councils. Blairite council leaders are using the lie that they can't fight austerity to hide the fact that they don't want to.
Most English councils used reserves in their last budgets anyway. Funding cuts have been so severe they've been forced to dip into savings. Surely it is better to do this as part of a clear strategy to end cuts? Labour's leadership could empower local councils by announcing they would restore full funding and reimburse reserves that have been used as soon as a Labour government is elected.
It's beyond time for Labour councils to actually make a stand for the people they're meant to represent. Doing so wouldn't just be a vital line of defence for jobs and services, it would be a direct challenge to a weak and wobbly Tory government.
---
In this issue
---
International socialist news and analysis

Worldwide walkout at Google against sexual harassment

Pittsburgh Synagogue shootings: Unite to fight anti-Semitism and far right

Mexico: The movement of 68 and the massacre of Tlatelolco

CWI news in brief
---
Opinion

Nae Pasaran: a film about working-class solidarity

The Socialist inbox
---
What we think

Tories out - we need socialism!
---
News

Labour councils should use £14bn reserves to fight all cuts

University bankruptcy threat - kick the market out of education

Stand up against abuse - justice not racism

Care crisis cashing in
---
Workplace news

PCS Left Unity: Back Chris Baugh and Marion Lloyd for a fighting, democratic, lay-led union

Arriva Rail North strike hits 34 days of action

Cable workers' Halloween picket line attempts to 'scare' management into talks

Royal Bolton Hospital: Another victory against NHS privatisation

Occupy and demand nationalisation to save Devon shipyard

Unison HE ballot: Anti-union rules block action

Bradford uni strike
---
Socialist Party reports and campaigns

Hundreds march to save Blackwood leisure centres

Crowds turn out for Corbyn in Rugby

Thousands march against overnight closure of Shropshire A&E

Protesters drive far right out of Liverpool

Unions and campaigners challenge Southampton cuts inside Labour and out

Support the Socialist alternative, subscribe to the Socialist

East London public square threat halted
---
Home | The Socialist 7 November 2018 | Join the Socialist Party