The Socialist 7 November 2018
Tories out - we need socialism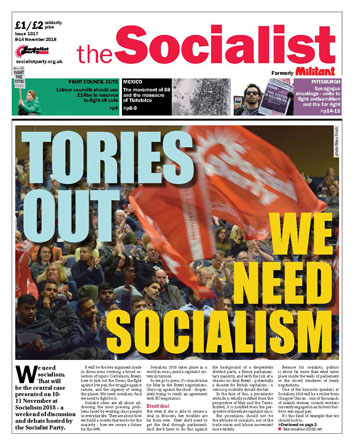 ---
Worldwide walkout at Google against sexual harassment
Pittsburgh Synagogue shootings: Unite to fight anti-Semitism and far right
Mexico: The movement of 68 and the massacre of Tlatelolco
---
Nae Pasaran: a film about working-class solidarity
---
Tories out - we need socialism!
---
Labour councils should use £14bn reserves to fight all cuts
University bankruptcy threat - kick the market out of education
Stand up against abuse - justice not racism
---
PCS Left Unity: Back Chris Baugh and Marion Lloyd for a fighting, democratic, lay-led union
Arriva Rail North strike hits 34 days of action
Cable workers' Halloween picket line attempts to 'scare' management into talks
Royal Bolton Hospital: Another victory against NHS privatisation
Occupy and demand nationalisation to save Devon shipyard
Unison HE ballot: Anti-union rules block action
---
Hundreds march to save Blackwood leisure centres
Crowds turn out for Corbyn in Rugby
Thousands march against overnight closure of Shropshire A&E
Protesters drive far right out of Liverpool
Unions and campaigners challenge Southampton cuts inside Labour and out
Support the Socialist alternative, subscribe to the Socialist
East London public square threat halted
PO Box 24697, London, E11 1YD
020 8988 8777
editors@socialistparty.org.uk

Link to this page: http://www.socialistparty.org.uk/issue/1017/28225
Home | The Socialist 7 November 2018 | Join the Socialist Party
Subscribe | Donate | Audio | PDF | ebook
CWI news in brief
USA: Socialist Alternative convention success
Socialist Alternative (CWI USA) held its biggest ever National Convention in Chicago on 20-22 October.
Over 300 socialists from across the country discussed the crisis of global capitalism, the rising wave of labour struggle, the growing women's movement, renewed interest in socialist ideas, and the growth of the new left.
Alongside national and international issues, it also discussed the critically important campaign to re-elect Socialist Alternative member Kshama Sawant to the Seattle City Council in 2019. And as a demonstration of the sheer determination of members, the financial appeal raised $125,000!
---
>
Taiwan: Fighting for LGBT+ rights
On 27 October, a record 137,000 people marched in Taiwan's capital in the 16th annual Taipei Pride demonstration.
The main reason for the high turnout is the LGBT+ referenda - one pro and one anti-LGBT+ rights - on 24 November, the same day as local and regional elections.
International Socialist Forward (CWI Taiwan) last summer set up the radical platform "Let's fight! LGBT" - holding three protests and calling on people to kick out homophobic politicians. In contrast to the official LGBT+ movement, it stands for politicising the movement with a class struggle approach and orientation.
---
>
Union rally brings Melbourne to a standstill
A "Change the Rules" rally on 23 October, called by the Australian Council of Trade Unions, saw more than 100,000 people bring central Melbourne to a standstill, demanding pay rises and secure jobs.
The union leaders' strategy is solely based on getting Labor elected in Victoria and at a federal level. However, the very rules unions are trying to change were implemented by Labor!
The Socialist Party (CWI Australia) says the campaign must prioritise mass industrial action, including a one-day national stop-work, to really change the rules, regardless of who is in power.
---
In this issue
---
International socialist news and analysis

Worldwide walkout at Google against sexual harassment

Pittsburgh Synagogue shootings: Unite to fight anti-Semitism and far right

Mexico: The movement of 68 and the massacre of Tlatelolco

CWI news in brief
---
Opinion

Nae Pasaran: a film about working-class solidarity

The Socialist inbox
---
What we think

Tories out - we need socialism!
---
News

Labour councils should use £14bn reserves to fight all cuts

University bankruptcy threat - kick the market out of education

Stand up against abuse - justice not racism

Care crisis cashing in
---
Workplace news

PCS Left Unity: Back Chris Baugh and Marion Lloyd for a fighting, democratic, lay-led union

Arriva Rail North strike hits 34 days of action

Cable workers' Halloween picket line attempts to 'scare' management into talks

Royal Bolton Hospital: Another victory against NHS privatisation

Occupy and demand nationalisation to save Devon shipyard

Unison HE ballot: Anti-union rules block action

Bradford uni strike
---
Socialist Party reports and campaigns

Hundreds march to save Blackwood leisure centres

Crowds turn out for Corbyn in Rugby

Thousands march against overnight closure of Shropshire A&E

Protesters drive far right out of Liverpool

Unions and campaigners challenge Southampton cuts inside Labour and out

Support the Socialist alternative, subscribe to the Socialist

East London public square threat halted
---
Home | The Socialist 7 November 2018 | Join the Socialist Party