The Socialist 7 November 2018
Tories out - we need socialism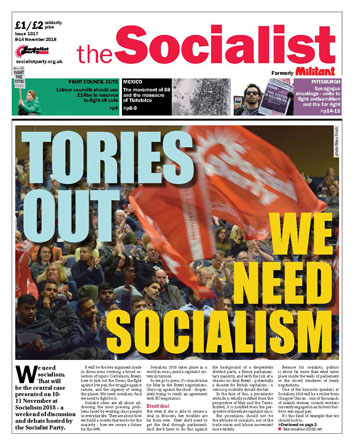 ---
Worldwide walkout at Google against sexual harassment
Pittsburgh Synagogue shootings: Unite to fight anti-Semitism and far right
Mexico: The movement of 68 and the massacre of Tlatelolco
---
Nae Pasaran: a film about working-class solidarity
---
Tories out - we need socialism!
---
Labour councils should use £14bn reserves to fight all cuts
University bankruptcy threat - kick the market out of education
Stand up against abuse - justice not racism
---
PCS Left Unity: Back Chris Baugh and Marion Lloyd for a fighting, democratic, lay-led union
Arriva Rail North strike hits 34 days of action
Cable workers' Halloween picket line attempts to 'scare' management into talks
Royal Bolton Hospital: Another victory against NHS privatisation
Occupy and demand nationalisation to save Devon shipyard
Unison HE ballot: Anti-union rules block action
---
Hundreds march to save Blackwood leisure centres
Crowds turn out for Corbyn in Rugby
Thousands march against overnight closure of Shropshire A&E
Protesters drive far right out of Liverpool
Unions and campaigners challenge Southampton cuts inside Labour and out
Support the Socialist alternative, subscribe to the Socialist
East London public square threat halted
PO Box 24697, London, E11 1YD
020 8988 8777
editors@socialistparty.org.uk

Link to this page: http://www.socialistparty.org.uk/issue/1017/28226
Home | The Socialist 7 November 2018 | Join the Socialist Party
Subscribe | Donate | Audio | PDF | ebook
Support the Socialist alternative, subscribe to the Socialist
Chris Newby, the Socialist campaign organiser
"The Socialist is a proper newspaper that cuts to the chase. It is a no-frills paper that doesn't have the same bias as the mainstream media. It is written by ordinary people, and the news reported we can relate to."
This quote appeared in the 1000th issue of the Socialist. It is from Dee Millhouse and Alison Beaumont, health workers from Chatsworth ward, Mansfield community hospital, where there was a successful campaign to keep the ward open.
As Dee and Alison say, this is a paper written by ordinary people - people involved in campaigning to defend the NHS, fighting tuition fees or striking to defend jobs, pay and services.
Alan Rusbridger, the former editor of the Guardian has apparently recognised the importance of this type of reporting in an interview he gave in the latest issue of the National Union of Journalists magazine:
"There's this new media mantra 'your readers know more than you do'. Somebody who works in a school or hospital is likely to know more than a journalist - why could they therefore not be used as a resource."
But unlike the Guardian, the Socialist Party has always recognised the vital importance of workers, community campaigners and young people writing for our paper.
And unlike the Guardian, our starting point is that it is collective struggle by working-class people which holds the key to changing society and transforming the world.
Each week the Socialist gives a socialist analysis of events, helping to clear away the lies, distortion and deliberate confusion put forward in the capitalist media.
Whether it's putting a bold socialist alternative to the crisis of Brexit, building a movement to challenge the far right, or the strategy that Jeremy Corbyn needs to adopt to defeat the Blairites, the Socialist provides answers in a clear fashion.
Mears housing workers in Manchester are another group who recognise the importance of the Socialist.
"If you have to take strike action for 87 days then know this: help is out there. Our friends from the Socialist Party and the Socialist newspaper stood shoulder to shoulder with us throughout six months. Never failing to offer support on protests, demos, leafletting, [and with articles] online and in print, to raise awareness of our cause."
But it is vital that we have the resources to continue to fund the production of the Socialist. Mears workers recently took out a subscription to the Socialist.
This provides an excellent example of what you need to do. Follow their example by subscribing to the Socialist today!
---
In this issue
---
International socialist news and analysis

Worldwide walkout at Google against sexual harassment

Pittsburgh Synagogue shootings: Unite to fight anti-Semitism and far right

Mexico: The movement of 68 and the massacre of Tlatelolco

CWI news in brief
---
Opinion

Nae Pasaran: a film about working-class solidarity

The Socialist inbox
---
What we think

Tories out - we need socialism!
---
News

Labour councils should use £14bn reserves to fight all cuts

University bankruptcy threat - kick the market out of education

Stand up against abuse - justice not racism

Care crisis cashing in
---
Workplace news

PCS Left Unity: Back Chris Baugh and Marion Lloyd for a fighting, democratic, lay-led union

Arriva Rail North strike hits 34 days of action

Cable workers' Halloween picket line attempts to 'scare' management into talks

Royal Bolton Hospital: Another victory against NHS privatisation

Occupy and demand nationalisation to save Devon shipyard

Unison HE ballot: Anti-union rules block action

Bradford uni strike
---
Socialist Party reports and campaigns

Hundreds march to save Blackwood leisure centres

Crowds turn out for Corbyn in Rugby

Thousands march against overnight closure of Shropshire A&E

Protesters drive far right out of Liverpool

Unions and campaigners challenge Southampton cuts inside Labour and out

Support the Socialist alternative, subscribe to the Socialist

East London public square threat halted
---
Home | The Socialist 7 November 2018 | Join the Socialist Party