The Socialist 7 November 2018
Tories out - we need socialism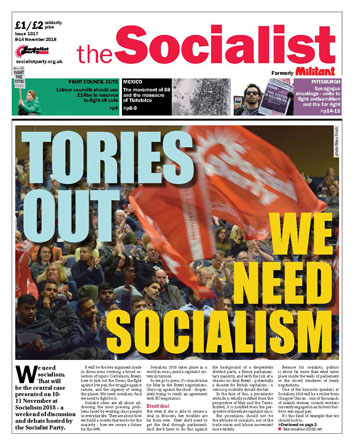 ---
Worldwide walkout at Google against sexual harassment
Pittsburgh Synagogue shootings: Unite to fight anti-Semitism and far right
Mexico: The movement of 68 and the massacre of Tlatelolco
---
Nae Pasaran: a film about working-class solidarity
---
Tories out - we need socialism!
---
Labour councils should use £14bn reserves to fight all cuts
University bankruptcy threat - kick the market out of education
Stand up against abuse - justice not racism
---
PCS Left Unity: Back Chris Baugh and Marion Lloyd for a fighting, democratic, lay-led union
Arriva Rail North strike hits 34 days of action
Cable workers' Halloween picket line attempts to 'scare' management into talks
Royal Bolton Hospital: Another victory against NHS privatisation
Occupy and demand nationalisation to save Devon shipyard
Unison HE ballot: Anti-union rules block action
---
Hundreds march to save Blackwood leisure centres
Crowds turn out for Corbyn in Rugby
Thousands march against overnight closure of Shropshire A&E
Protesters drive far right out of Liverpool
Unions and campaigners challenge Southampton cuts inside Labour and out
Support the Socialist alternative, subscribe to the Socialist
East London public square threat halted
PO Box 24697, London, E11 1YD
020 8988 8777
editors@socialistparty.org.uk

Link to this page: http://www.socialistparty.org.uk/issue/1017/28228
Home | The Socialist 7 November 2018 | Join the Socialist Party
Subscribe | Donate | Audio | PDF | ebook
Cable workers' Halloween picket line attempts to 'scare' management into talks
Declan Clune, Southampton and South West Hampshire Trade Union Council secretary
It was a spooky affair outside Prysmian Cables in Eastleigh on 31 October with workers joining the picket line dressed appropriately for Halloween.
One worker jokingly said: "We're trying to scare management back to the table". Fittingly there was a worker dressed as a ghost alongside a mocked-up headstone with "RIP fair pay" written on it.
This is now the sixth week that Unite members have been in dispute with the company over a derisory pay offer. It is below inflation and comes on the back of previous years of real-terms wage cuts.
Steve Phillips, one of the branch activists, said that there has still been no contact from management - although it has now been said that conciliation service Acas will be brought in to facilitate talks. Details and confirmation of this have not yet been received.
Speaking to workers on the picket line it was immediately obvious that there is a determined mood and some defiance.
It is now known that the strike, as well as overtime bans and the work-to-rule currently in place inside the factory, have had an impact on output - with significant financial implications for the company. One source stated that production has fallen to as little as half of what it was before the dispute.
The majority of workers told me that morale inside the factory is at an all-time low. But morale for the strike and ongoing dispute is high and growing.
Some described how a manager had passed a previous picket line and had stuck a middle finger up towards the workers on entering the factory! This further strengthened the anger and resolve of the pickets.
One had what he called the perfect response to the manager: his Halloween outfit consisted of a big foam head in the shape of a fist with a large middle finger raised in the air.
Many deliveries to the site were stopped by other workers arriving and refusing to cross the picket line. They were cheered and clapped as they left the factory with some tooting horns in support of the dispute, along with other passing vehicles.
---
In this issue
---
International socialist news and analysis

Worldwide walkout at Google against sexual harassment

Pittsburgh Synagogue shootings: Unite to fight anti-Semitism and far right

Mexico: The movement of 68 and the massacre of Tlatelolco

CWI news in brief
---
Opinion

Nae Pasaran: a film about working-class solidarity

The Socialist inbox
---
What we think

Tories out - we need socialism!
---
News

Labour councils should use £14bn reserves to fight all cuts

University bankruptcy threat - kick the market out of education

Stand up against abuse - justice not racism

Care crisis cashing in
---
Workplace news

PCS Left Unity: Back Chris Baugh and Marion Lloyd for a fighting, democratic, lay-led union

Arriva Rail North strike hits 34 days of action

Cable workers' Halloween picket line attempts to 'scare' management into talks

Royal Bolton Hospital: Another victory against NHS privatisation

Occupy and demand nationalisation to save Devon shipyard

Unison HE ballot: Anti-union rules block action

Bradford uni strike
---
Socialist Party reports and campaigns

Hundreds march to save Blackwood leisure centres

Crowds turn out for Corbyn in Rugby

Thousands march against overnight closure of Shropshire A&E

Protesters drive far right out of Liverpool

Unions and campaigners challenge Southampton cuts inside Labour and out

Support the Socialist alternative, subscribe to the Socialist

East London public square threat halted
---
Home | The Socialist 7 November 2018 | Join the Socialist Party