The Socialist 7 November 2018
Tories out - we need socialism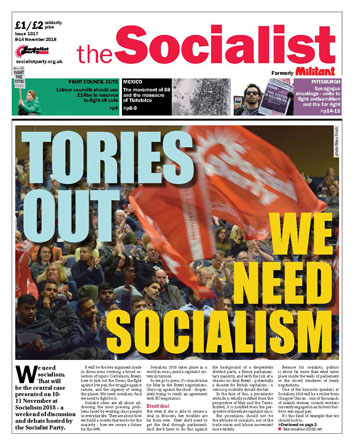 ---
Worldwide walkout at Google against sexual harassment
Pittsburgh Synagogue shootings: Unite to fight anti-Semitism and far right
Mexico: The movement of 68 and the massacre of Tlatelolco
---
Nae Pasaran: a film about working-class solidarity
---
Tories out - we need socialism!
---
Labour councils should use £14bn reserves to fight all cuts
University bankruptcy threat - kick the market out of education
Stand up against abuse - justice not racism
---
PCS Left Unity: Back Chris Baugh and Marion Lloyd for a fighting, democratic, lay-led union
Arriva Rail North strike hits 34 days of action
Cable workers' Halloween picket line attempts to 'scare' management into talks
Royal Bolton Hospital: Another victory against NHS privatisation
Occupy and demand nationalisation to save Devon shipyard
Unison HE ballot: Anti-union rules block action
---
Hundreds march to save Blackwood leisure centres
Crowds turn out for Corbyn in Rugby
Thousands march against overnight closure of Shropshire A&E
Protesters drive far right out of Liverpool
Unions and campaigners challenge Southampton cuts inside Labour and out
Support the Socialist alternative, subscribe to the Socialist
East London public square threat halted
PO Box 24697, London, E11 1YD
020 8988 8777
editors@socialistparty.org.uk

Link to this page: http://www.socialistparty.org.uk/issue/1017/28229
Home | The Socialist 7 November 2018 | Join the Socialist Party
Subscribe | Donate | Audio | PDF | ebook
Royal Bolton Hospital: Another victory against NHS privatisation
Steve North, Salford Socialist Party
A dispute involving Unison health union members employed as cleaners, caterers, porters and other ancillary workers at the Royal Bolton Hospital has won. The workers took 48 hours of solid strike action in October against their employer and were gearing up for a further three days on strike.
Their dispute was against their employer iFM - a company wholly owned by Royal Bolton NHS Trust. Despite previous assurances to the contrary, the trust was denying them the NHS pay award. The workers have now achieved a complete victory without the need for any further action.
I spoke with one striker, who told me that when they returned to work after the initial two days, the hospital was a complete mess. This,
combined with the unity of the striking workers and the solidarity shown from the wider trade union movement, forced management back to the table.
Within the space of a few hours, they gave in to all of the workers' demands, meaning that the NHS pay award will be implemented in full. The Socialist sends its congratulations to those workers for the brave and vital stand they took.
This is not just a victory for these workers. It is a victory against NHS privatisation and the race to the bottom it promotes - for staff and patients.
At a rally in support of the strike days before their victory, speakers from Unison's north west region declared that winning NHS rates of pay at iFM would only be the start. The real goal was to get them back in the NHS, where they belong.
The trade unions must fight NHS privatisation. What Unison members have achieved at iFM shows that victories can be won.
---
In this issue
---
International socialist news and analysis

Worldwide walkout at Google against sexual harassment

Pittsburgh Synagogue shootings: Unite to fight anti-Semitism and far right

Mexico: The movement of 68 and the massacre of Tlatelolco

CWI news in brief
---
Opinion

Nae Pasaran: a film about working-class solidarity

The Socialist inbox
---
What we think

Tories out - we need socialism!
---
News

Labour councils should use £14bn reserves to fight all cuts

University bankruptcy threat - kick the market out of education

Stand up against abuse - justice not racism

Care crisis cashing in
---
Workplace news

PCS Left Unity: Back Chris Baugh and Marion Lloyd for a fighting, democratic, lay-led union

Arriva Rail North strike hits 34 days of action

Cable workers' Halloween picket line attempts to 'scare' management into talks

Royal Bolton Hospital: Another victory against NHS privatisation

Occupy and demand nationalisation to save Devon shipyard

Unison HE ballot: Anti-union rules block action

Bradford uni strike
---
Socialist Party reports and campaigns

Hundreds march to save Blackwood leisure centres

Crowds turn out for Corbyn in Rugby

Thousands march against overnight closure of Shropshire A&E

Protesters drive far right out of Liverpool

Unions and campaigners challenge Southampton cuts inside Labour and out

Support the Socialist alternative, subscribe to the Socialist

East London public square threat halted
---
Home | The Socialist 7 November 2018 | Join the Socialist Party
Related links:

Bolton hospital workers strike

Presidents Club sexism scandal: what you thought

Bolton council gives £300k to solicitors while making swingeing cuts

Protests against children's centre closures in Bolton

Manchester TUSC: The need for a socialist metro mayor

Southampton Hospital security workers strike

Chesterfield hospital privatisation plans

Liverpool Women's Hospital

Leicestershire needs NHS beds

Doncaster NHS strike to stop terms and conditions attack

Stop Tory NHS destruction

Leicester NHS Trust and the brutal reality of cuts

Probation privatisation failure

Boot out failing Grayling and the other Tory wreckers

Deliveroo workers protest at firm's Nottingham roadshow

North West Socialist Party conference

NHS marches in Yorkshire and London