The Socialist 7 November 2018
Tories out - we need socialism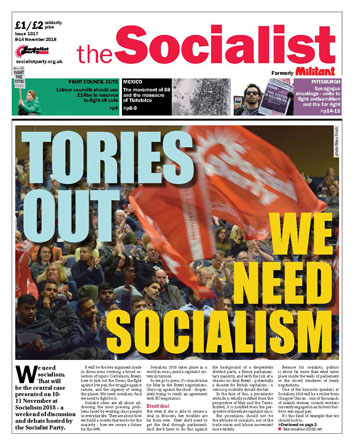 ---
Worldwide walkout at Google against sexual harassment
Pittsburgh Synagogue shootings: Unite to fight anti-Semitism and far right
Mexico: The movement of 68 and the massacre of Tlatelolco
---
Nae Pasaran: a film about working-class solidarity
---
Tories out - we need socialism!
---
Labour councils should use £14bn reserves to fight all cuts
University bankruptcy threat - kick the market out of education
Stand up against abuse - justice not racism
---
PCS Left Unity: Back Chris Baugh and Marion Lloyd for a fighting, democratic, lay-led union
Arriva Rail North strike hits 34 days of action
Cable workers' Halloween picket line attempts to 'scare' management into talks
Royal Bolton Hospital: Another victory against NHS privatisation
Occupy and demand nationalisation to save Devon shipyard
Unison HE ballot: Anti-union rules block action
---
Hundreds march to save Blackwood leisure centres
Crowds turn out for Corbyn in Rugby
Thousands march against overnight closure of Shropshire A&E
Protesters drive far right out of Liverpool
Unions and campaigners challenge Southampton cuts inside Labour and out
Support the Socialist alternative, subscribe to the Socialist
East London public square threat halted
PO Box 24697, London, E11 1YD
020 8988 8777
editors@socialistparty.org.uk

Link to this page: http://www.socialistparty.org.uk/issue/1017/28231
Home | The Socialist 7 November 2018 | Join the Socialist Party
Subscribe | Donate | Audio | PDF | ebook
Unison higher education ballot: 62% vote to strike but anti-union rules block action
Unison higher education activists
Unison trade union members at universities across the UK voted 62% in favour of strike action after rejecting the employers' final offer of 2% (with slightly higher increases for the lowest paid of up to 2.7%).
While this is a significant result, and the best for many years, the turnout of 31% falls short of what's required to take action under the anti-democratic Trade Union Act.
Many activists will be angry and frustrated about our union's apparent inability to engage with members enough to inspire more of them to vote in this important ballot.
For many of us, it felt like this year would be different and that we could fight alongside the University and College Union (UCU), with the support of thousands of students, to improve the offer to match inflation and make up for the many years of derisory pay offers.
The way forward starts with a sober assessment of the vote and discussion on what steps are required to bring the levels of confidence and engagement up to a point where serious and effective action can make a difference.
Throughout the campaign there was no serious attempt to contact individual members and adopt a systematic approach to making sure that members voted.
Much of this work was carried out by the heroic efforts of branch activists in the workplaces. But the lack of stewards and reps with the time and confidence to campaign to deliver the vote was demonstrated by the result.
Many members will question why the tactic of an aggregate ballot (requiring a national 50% turnout) was adopted, when a disaggregate ballot (individual ballots by institution) could have proved more effective.
The results of the UCU ballot over the same issue - where some institutions gained a 50% turnout and a legal mandate for action - show that strong, confident branches are able to mobilise members sufficiently.
Delegates to the Unison higher education conference in January will want to hold the leadership to account and support motions which commit Unison's higher education service group to a strategy which is most likely to deliver effective action and significant results next year.
---
In this issue
---
International socialist news and analysis

Worldwide walkout at Google against sexual harassment

Pittsburgh Synagogue shootings: Unite to fight anti-Semitism and far right

Mexico: The movement of 68 and the massacre of Tlatelolco

CWI news in brief
---
Opinion

Nae Pasaran: a film about working-class solidarity

The Socialist inbox
---
What we think

Tories out - we need socialism!
---
News

Labour councils should use £14bn reserves to fight all cuts

University bankruptcy threat - kick the market out of education

Stand up against abuse - justice not racism

Care crisis cashing in
---
Workplace news

PCS Left Unity: Back Chris Baugh and Marion Lloyd for a fighting, democratic, lay-led union

Arriva Rail North strike hits 34 days of action

Cable workers' Halloween picket line attempts to 'scare' management into talks

Royal Bolton Hospital: Another victory against NHS privatisation

Occupy and demand nationalisation to save Devon shipyard

Unison HE ballot: Anti-union rules block action

Bradford uni strike
---
Socialist Party reports and campaigns

Hundreds march to save Blackwood leisure centres

Crowds turn out for Corbyn in Rugby

Thousands march against overnight closure of Shropshire A&E

Protesters drive far right out of Liverpool

Unions and campaigners challenge Southampton cuts inside Labour and out

Support the Socialist alternative, subscribe to the Socialist

East London public square threat halted
---
Home | The Socialist 7 November 2018 | Join the Socialist Party