The Socialist 6 February 2019
Tory Brexit farce, Corbyn and unions: Call mass action now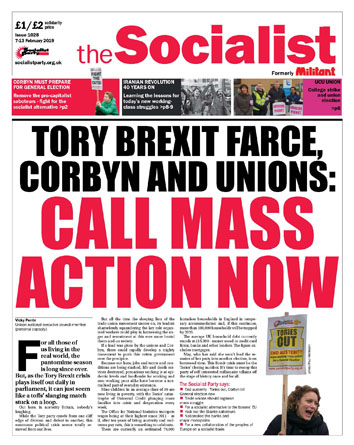 ---
Corbyn must prepare for a general election: Remove the pro-capitalist saboteurs - fight for the socialist alternative
---
College lecturers strike for a pay rise
University and College Union elections
PCS: Campaign for Chris Baugh for AGS
Traffic wardens' strike is just the ticket
Unison: Democracy and the right to speak out are under threat
Historic strike of nurses in Ireland
Backing for the Birmingham homecarers
---
Tory Brexit farce, Corbyn and unions: Call mass action now
Cash-starved health service ripped off by big pharma - fund our NHS now!
Struggling unis account for bulk of unconditional offers - end education marketisation!
Billionaires avoid paying and even talking about tax! Take the wealth off the 1%
---
40 years since the Iranian revolution: Learning the lessons for today's new working-class struggles
---
Haringey 'Corbyn council' must fight borough regeneration
Victory! Campaign reverses Wallasey fire cuts
Sheffield tree campaigners' legal win
Worcestershire: save the libraries, reverse all the cuts
'Stansted 15' deportation protesters could face jail
North West Socialist Party conference
---
United States: LA teachers' strike defeats privatisers
France gilets jaunes' backed by mass strike action
Sweden: dock strikes test new government
United States: strike ends federal shutdown
---
Film: Vice - Dick Cheney - a cold and calculating opportunist
Theatre: Ballad of Johnny Longstaff
PO Box 24697, London, E11 1YD
020 8988 8777
editors@socialistparty.org.uk

Link to this page: http://www.socialistparty.org.uk/issue/1028/28626
Home | The Socialist 6 February 2019 | Join the Socialist Party
Subscribe | Donate | Audio | PDF | ebook
Struggling unis account for bulk of unconditional offers - end education marketisation!
Theo Sharieff, Socialist Students national chair
It has been revealed that 20 universities are responsible for the massive spike in unconditional offers to students.
Unconditional offers mean when universities offer a place to students before they sit their final exams at college or sixth form - without a requirement to pass them.
The increase in unconditional offers by universities is staggering - there were a total of 117,000 offers made in 2018 described as having an unconditional element to them, compared to 3,000 five years ago.
Data also revealed that three universities in 2018 apparently made more than 70% of their total offers unconditional, in what is an increasingly harsh competition between universities for undergraduates.
The Office for Students, the Tory-launched higher education regulator previously headed by the bigot Toby Young, has reportedly 'signalled its displeasure' at the news of the growth in number of these unconditional offers.
Of course, some may look at this news as a positive - that more students can be taken into higher education, without facing the stress and pressure of demanding grade requirements.
This can be true, but the reality is this is actually a symptom of a higher education system in crisis.
What is it that has caused this massive spike? The Tories' own policies of austerity and cuts to higher education!
The introduction and increase of tuition fees, and the resulting marketisation of our universities, means that universities are encouraged to compete among one another for as many undergraduates as possible.
This system of competition - in which students are simply relied on to inject cash into the coffers of universities - is of no benefit to any students who go to university with the hope of attaining a decent education.
Socialists want to fight for a system in which all working-class people have access to higher education and to enter into, if they choose, the world of academic study.
But this recent report highlights the ludicrousness of an education system run on the principles of the market - a for-profit education system, not run in the interests of students or workers, but in the interests of the vice-chancellors and managers who sit at the top.
This story is just yet another indictment of Tory austerity, and the system for which austerity is carried out, capitalism.
With the Tories in such disarray, a mass movement of students and workers, called by Jeremy Corbyn and the trade union leaders - through national and local demonstrations, campaigns, and crucially strike actions - could end the Tories and their austerity agenda.
We call for a socialist education system - an education system that is publicly owned, democratically run and universally free at all levels.
---
In this issue
---
What we think

Corbyn must prepare for a general election: Remove the pro-capitalist saboteurs - fight for the socialist alternative
---
Workplace news

College lecturers strike for a pay rise

University and College Union elections

PCS: Campaign for Chris Baugh for AGS

Traffic wardens' strike is just the ticket

Unison: Democracy and the right to speak out are under threat

Historic strike of nurses in Ireland

Backing for the Birmingham homecarers
---
News

Tory Brexit farce, Corbyn and unions: Call mass action now

Cash-starved health service ripped off by big pharma - fund our NHS now!

Struggling unis account for bulk of unconditional offers - end education marketisation!

Billionaires avoid paying and even talking about tax! Take the wealth off the 1%

Them & Us
---
Iranian revolution

40 years since the Iranian revolution: Learning the lessons for today's new working-class struggles
---
Socialist Party reports and campaigns

Haringey 'Corbyn council' must fight borough regeneration

Victory! Campaign reverses Wallasey fire cuts

Sheffield tree campaigners' legal win

Southampton by-election

Worcestershire: save the libraries, reverse all the cuts

'Stansted 15' deportation protesters could face jail

North West Socialist Party conference
---
International socialist news and analysis

United States: LA teachers' strike defeats privatisers

France gilets jaunes' backed by mass strike action

Sweden: dock strikes test new government

United States: strike ends federal shutdown
---
Opinion

Film: Vice - Dick Cheney - a cold and calculating opportunist

Theatre: Ballad of Johnny Longstaff

The Socialist inbox
---
Home | The Socialist 6 February 2019 | Join the Socialist Party