The Socialist 6 February 2019
Tory Brexit farce, Corbyn and unions: Call mass action now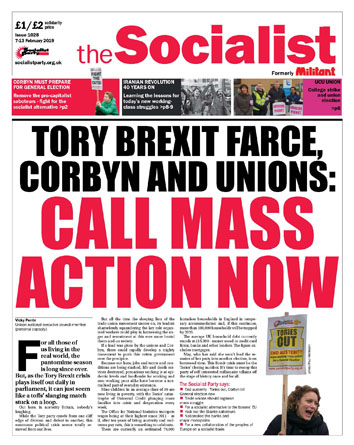 ---
Corbyn must prepare for a general election: Remove the pro-capitalist saboteurs - fight for the socialist alternative
---
College lecturers strike for a pay rise
University and College Union elections
PCS: Campaign for Chris Baugh for AGS
Traffic wardens' strike is just the ticket
Unison: Democracy and the right to speak out are under threat
Historic strike of nurses in Ireland
Backing for the Birmingham homecarers
---
Tory Brexit farce, Corbyn and unions: Call mass action now
Cash-starved health service ripped off by big pharma - fund our NHS now!
Struggling unis account for bulk of unconditional offers - end education marketisation!
Billionaires avoid paying and even talking about tax! Take the wealth off the 1%
---
40 years since the Iranian revolution: Learning the lessons for today's new working-class struggles
---
Haringey 'Corbyn council' must fight borough regeneration
Victory! Campaign reverses Wallasey fire cuts
Sheffield tree campaigners' legal win
Worcestershire: save the libraries, reverse all the cuts
'Stansted 15' deportation protesters could face jail
North West Socialist Party conference
---
United States: LA teachers' strike defeats privatisers
France gilets jaunes' backed by mass strike action
Sweden: dock strikes test new government
United States: strike ends federal shutdown
---
Film: Vice - Dick Cheney - a cold and calculating opportunist
Theatre: Ballad of Johnny Longstaff
PO Box 24697, London, E11 1YD
020 8988 8777
editors@socialistparty.org.uk

Link to this page: http://www.socialistparty.org.uk/issue/1028/28630
Home | The Socialist 6 February 2019 | Join the Socialist Party
Subscribe | Donate | Audio | PDF | ebook
Southampton by-election: Socialist Party no-cuts stand finds doorstep support
Vote Sue Atkins in Coxford to continue Keith Morrell's anti-cuts struggle
Jane Ward, Southampton Socialist Party
It has been a busy week campaigning in Coxford ward in Southampton. Workers and residents need a councillor who will continue former councillor Keith Morrell's anti-cuts stand in the 14 March by-election.
Many have been saddened to hear of Keith's resignation. He and fellow independent anti-cuts councillor Don Thomas are held in high regard by many of their constituents.
They have addressed and solved many problems for local residents. They have repeatedly shown that if you fight, you can win.
They have worked with campaigning groups to save local amenities and services such as Oaklands swimming pool, Lordshill library and Coxford bus routes which were all under threat.
On the doorstep we have been promoting the anti-cuts candidate, Socialist Party member Sue Atkins. There are many people we have spoken to this week who are completely disillusioned by both the main parties.
They can see little difference between them as they are both wielding the axe against jobs and services. As one man said to me: "We are being charged more council tax but seeing everything cut."
We have had a very positive response from a lot of people, particularly those who supported Keith and Don. They are pleased to see that in Sue they have a candidate who will carry on the anti-cuts work started by Keith and Don.
Sue is involved in local campaigns, such as fair funding for schools, and saving the last two council-run care homes in Southampton. Like Keith and Don, she has fought for the council to set a legal no-cuts budget and build a union-led fightback to demand the return of funding stolen by the government.
It is by meeting people on the doorstep that we have been able to make them aware of Sue's campaign and increase her promised vote. For me, it has underlined the importance and effectiveness of the Socialist Party's canvassing work during this by-election.
---
In this issue
---
What we think

Corbyn must prepare for a general election: Remove the pro-capitalist saboteurs - fight for the socialist alternative
---
Workplace news

College lecturers strike for a pay rise

University and College Union elections

PCS: Campaign for Chris Baugh for AGS

Traffic wardens' strike is just the ticket

Unison: Democracy and the right to speak out are under threat

Historic strike of nurses in Ireland

Backing for the Birmingham homecarers
---
News

Tory Brexit farce, Corbyn and unions: Call mass action now

Cash-starved health service ripped off by big pharma - fund our NHS now!

Struggling unis account for bulk of unconditional offers - end education marketisation!

Billionaires avoid paying and even talking about tax! Take the wealth off the 1%

Them & Us
---
Iranian revolution

40 years since the Iranian revolution: Learning the lessons for today's new working-class struggles
---
Socialist Party reports and campaigns

Haringey 'Corbyn council' must fight borough regeneration

Victory! Campaign reverses Wallasey fire cuts

Sheffield tree campaigners' legal win

Southampton by-election

Worcestershire: save the libraries, reverse all the cuts

'Stansted 15' deportation protesters could face jail

North West Socialist Party conference
---
International socialist news and analysis

United States: LA teachers' strike defeats privatisers

France gilets jaunes' backed by mass strike action

Sweden: dock strikes test new government

United States: strike ends federal shutdown
---
Opinion

Film: Vice - Dick Cheney - a cold and calculating opportunist

Theatre: Ballad of Johnny Longstaff

The Socialist inbox
---
Home | The Socialist 6 February 2019 | Join the Socialist Party