The Socialist 6 February 2019
Tory Brexit farce, Corbyn and unions: Call mass action now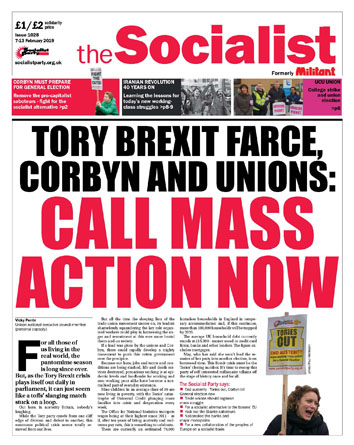 ---
Corbyn must prepare for a general election: Remove the pro-capitalist saboteurs - fight for the socialist alternative
---
College lecturers strike for a pay rise
University and College Union elections
PCS: Campaign for Chris Baugh for AGS
Traffic wardens' strike is just the ticket
Unison: Democracy and the right to speak out are under threat
Historic strike of nurses in Ireland
Backing for the Birmingham homecarers
---
Tory Brexit farce, Corbyn and unions: Call mass action now
Cash-starved health service ripped off by big pharma - fund our NHS now!
Struggling unis account for bulk of unconditional offers - end education marketisation!
Billionaires avoid paying and even talking about tax! Take the wealth off the 1%
---
40 years since the Iranian revolution: Learning the lessons for today's new working-class struggles
---
Haringey 'Corbyn council' must fight borough regeneration
Victory! Campaign reverses Wallasey fire cuts
Sheffield tree campaigners' legal win
Worcestershire: save the libraries, reverse all the cuts
'Stansted 15' deportation protesters could face jail
North West Socialist Party conference
---
United States: LA teachers' strike defeats privatisers
France gilets jaunes' backed by mass strike action
Sweden: dock strikes test new government
United States: strike ends federal shutdown
---
Film: Vice - Dick Cheney - a cold and calculating opportunist
Theatre: Ballad of Johnny Longstaff
PO Box 24697, London, E11 1YD
020 8988 8777
editors@socialistparty.org.uk

Link to this page: http://www.socialistparty.org.uk/issue/1028/28637
Home | The Socialist 6 February 2019 | Join the Socialist Party
Subscribe | Donate | Audio | PDF | ebook
Theatre: Ballad of Johnny Longstaff - the remarkable story of a working-class militant
Harry Gammon, Hull Socialist Party
Three times BBC Radio 2 folk award winners, The Young'uns began their Ballad of Johnny Longstaff tour at Hull University on 28 January and Hull Socialist Party branch was there to see it.
This was modern folk theatre at its best. Sean Cooney, the main songwriter, has a wonderful knack of writing songs around themes and people that have been forgotten. Sean, Michael Hughes and David Eagle are all from Stockton. The working-class history of the north eastern town permeates and finds a nest in the wonderful song writing that The Young'uns are so well-known for.
The Ballad of Johnny Longstaff is the story of one man's adventure from begging on the streets in the north of England to fighting against fascism in the Spanish Civil War, taking in the Hunger Marches and the Battle of Cable Street, in the 1930s.
In Hull, the working class fought British fascist leader Oswald Mosley in the Battle of Corporation Fields. Stockton had its own battle to kick Mosley out.
Johnny Longstaff witnessed some momentous events and we hear his journey through these songs. Also, through the archives of the Imperial War Museum, we hear him talking and taking us along with him. It's some ride!
We witnessed 16 especially composed songs, spoken word, striking imagery and Johnny's voice to tell a remarkable story oozing with relevance to today.
We follow Johnny's footsteps through his political class awakenings in London sleeping on the streets, being reprimanded for knocking a small bottle of perfume over while working in a hotel, and having six weeks wages docked for it!
Onto the Kinder Pass mass trespass march and his experiences of fighting fascists at Cable Street. It was here he realised whose side the police were on. The show is poignant, informative, emotional, and in places humorous.
Some of the songs have new words to the melodies of the socialist 'Internationale' and 'Ay Carmela' - both sung with passion during the Spanish Civil War by members of the British Battalion.
Johnny fought at the Battle of the Ebro, Brunete and the horrendous battle to take The Pimple (Hill 481), where many of his friends were killed.
He saw connections between the poverty in Spain and that of his homeland. He was a working-class comrade in the forefront of our collective working-class history.
It's a must see show; you will not be disappointed.
---
>
Remaining UK dates:
8 February - Middlesbrough Town Hall
9 February - Purcell Room, Southbank Centre, London
---
>
---
In this issue
---
What we think

Corbyn must prepare for a general election: Remove the pro-capitalist saboteurs - fight for the socialist alternative
---
Workplace news

College lecturers strike for a pay rise

University and College Union elections

PCS: Campaign for Chris Baugh for AGS

Traffic wardens' strike is just the ticket

Unison: Democracy and the right to speak out are under threat

Historic strike of nurses in Ireland

Backing for the Birmingham homecarers
---
News

Tory Brexit farce, Corbyn and unions: Call mass action now

Cash-starved health service ripped off by big pharma - fund our NHS now!

Struggling unis account for bulk of unconditional offers - end education marketisation!

Billionaires avoid paying and even talking about tax! Take the wealth off the 1%

Them & Us
---
Iranian revolution

40 years since the Iranian revolution: Learning the lessons for today's new working-class struggles
---
Socialist Party reports and campaigns

Haringey 'Corbyn council' must fight borough regeneration

Victory! Campaign reverses Wallasey fire cuts

Sheffield tree campaigners' legal win

Southampton by-election

Worcestershire: save the libraries, reverse all the cuts

'Stansted 15' deportation protesters could face jail

North West Socialist Party conference
---
International socialist news and analysis

United States: LA teachers' strike defeats privatisers

France gilets jaunes' backed by mass strike action

Sweden: dock strikes test new government

United States: strike ends federal shutdown
---
Opinion

Film: Vice - Dick Cheney - a cold and calculating opportunist

Theatre: Ballad of Johnny Longstaff

The Socialist inbox
---
Home | The Socialist 6 February 2019 | Join the Socialist Party