The Socialist 6 February 2019
Tory Brexit farce, Corbyn and unions: Call mass action now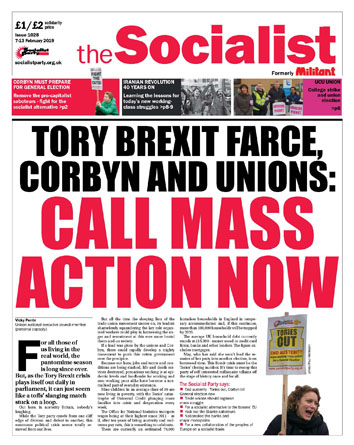 ---
Corbyn must prepare for a general election: Remove the pro-capitalist saboteurs - fight for the socialist alternative
---
College lecturers strike for a pay rise
University and College Union elections
PCS: Campaign for Chris Baugh for AGS
Traffic wardens' strike is just the ticket
Unison: Democracy and the right to speak out are under threat
Historic strike of nurses in Ireland
Backing for the Birmingham homecarers
---
Tory Brexit farce, Corbyn and unions: Call mass action now
Cash-starved health service ripped off by big pharma - fund our NHS now!
Struggling unis account for bulk of unconditional offers - end education marketisation!
Billionaires avoid paying and even talking about tax! Take the wealth off the 1%
---
40 years since the Iranian revolution: Learning the lessons for today's new working-class struggles
---
Haringey 'Corbyn council' must fight borough regeneration
Victory! Campaign reverses Wallasey fire cuts
Sheffield tree campaigners' legal win
Worcestershire: save the libraries, reverse all the cuts
'Stansted 15' deportation protesters could face jail
North West Socialist Party conference
---
United States: LA teachers' strike defeats privatisers
France gilets jaunes' backed by mass strike action
Sweden: dock strikes test new government
United States: strike ends federal shutdown
---
Film: Vice - Dick Cheney - a cold and calculating opportunist
Theatre: Ballad of Johnny Longstaff
PO Box 24697, London, E11 1YD
020 8988 8777
editors@socialistparty.org.uk

Link to this page: http://www.socialistparty.org.uk/issue/1028/28649
Home | The Socialist 6 February 2019 | Join the Socialist Party
Subscribe | Donate | Audio | PDF | ebook
PCS: Campaign for Chris Baugh for assistant general secretary
Marion Lloyd, PCS national executive committee (personal capacity)
Socialist Party member Chris Baugh won the recent re-run election for the broad left of the civil servants' union PCS - Left Unity (LU) - nomination to be its assistant general secretary (AGS) candidate. Chris won by 181 votes to 163.
Chris should now be the agreed AGS candidate on the Democracy Alliance (Left Unity and PCS Democrats) slate. However, a statement from LU secretary Gordon Rowntree says the PCS Democrats will not accept Chris Baugh, so he will not be the Democracy Alliance candidate.
Chris will be put forward separately as the LU candidate despite LU conference instruction to agree a full joint slate with the Democrats. Even this was only grudgingly conceded by Rowntree.
PCS Democrats' base of support among the union's membership is far smaller than Left Unity's.
Disgracefully, Rowntree seeks to justify the position of Socialist View and the Socialist Workers' Party (SWP), who hold a majority on LU's national committee, by stating that some LU members, including apparently the SWP, have said they are "not willing to support Chris as AGS".
Whether any individual LU members support Chris or not, he is the elected LU candidate for AGS. LU rules require them to recommend and campaign for all LU agreed candidates.
Chris Baugh has been the elected AGS since 2004, having stood successfully as LU candidate three times. He has an outstanding and unmatched record, over 40 years as a left lay activist and elected senior full-time officer.
Chris has widespread support from lay reps and members.
No contribution
PCS General Secretary Mark Serwotka is backing full-time official Lynn Henderson. Henderson is not a LU member and has made no contribution to building LU or democratising the union.
Over the last 18 months the campaign against Chris, initiated by Mark Serwotka, has failed to impress. The current claim is that Chris does not support the union's national pay campaign. This allegation is a complete lie.
Chris has always been clear: "I will support and fight for the union's national pay campaign, as I have always done." Chris Baugh's only 'crime' has been to call for an open and full debate on the strategy, not ruling anything out, to win the 2019 pay campaign, for which he has simply put forward some tactical suggestions.
The SWP described the 2005 pensions deal as "shabby", but said they would continue to work with Mark Serwotka as "honest debate over issues is not a barrier to this, it is essential." Now Gordon Rowntree says the SWP will not support Chris.
We reject these divisive and undemocratic manoeuvres by the LU national committee majority. But we must not allow frustration and anger with these antics to distract from the fight to re-elect Chris Baugh and secure the re-election of the Democracy Alliance national executive committee slate.
Chris Baugh is the LU candidate for AGS, the LU national committee and all LU members must campaign for his election.
---
In this issue
---
What we think

Corbyn must prepare for a general election: Remove the pro-capitalist saboteurs - fight for the socialist alternative
---
Workplace news

College lecturers strike for a pay rise

University and College Union elections

PCS: Campaign for Chris Baugh for AGS

Traffic wardens' strike is just the ticket

Unison: Democracy and the right to speak out are under threat

Historic strike of nurses in Ireland

Backing for the Birmingham homecarers
---
News

Tory Brexit farce, Corbyn and unions: Call mass action now

Cash-starved health service ripped off by big pharma - fund our NHS now!

Struggling unis account for bulk of unconditional offers - end education marketisation!

Billionaires avoid paying and even talking about tax! Take the wealth off the 1%

Them & Us
---
Iranian revolution

40 years since the Iranian revolution: Learning the lessons for today's new working-class struggles
---
Socialist Party reports and campaigns

Haringey 'Corbyn council' must fight borough regeneration

Victory! Campaign reverses Wallasey fire cuts

Sheffield tree campaigners' legal win

Southampton by-election

Worcestershire: save the libraries, reverse all the cuts

'Stansted 15' deportation protesters could face jail

North West Socialist Party conference
---
International socialist news and analysis

United States: LA teachers' strike defeats privatisers

France gilets jaunes' backed by mass strike action

Sweden: dock strikes test new government

United States: strike ends federal shutdown
---
Opinion

Film: Vice - Dick Cheney - a cold and calculating opportunist

Theatre: Ballad of Johnny Longstaff

The Socialist inbox
---
Home | The Socialist 6 February 2019 | Join the Socialist Party