The Socialist 26 June 2019
No to Boris, no to Hunt: general election now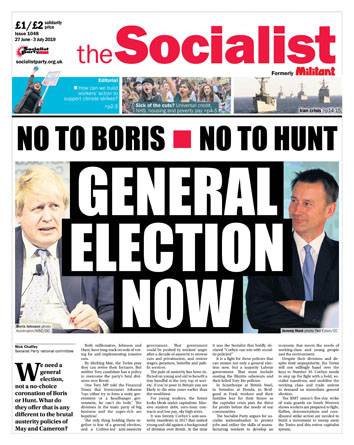 ---
How can we build workers' action to support the climate strikes?
Climate change protests reach important stage
---
No to Boris, no to Hunt: general election now
Universal Credit forces women into prostitution
Charging scandal in Warrington and Halton NHS Trust
Union action can tackle 58% working poverty rate
Unsafe, unaffordable housing scandal
---
Ratcheting up of Iran-US tensions
---
Coordinate the fightback! Come to the 2019 NSSN conference
Unions and campaigners discuss fight to end education crisis
Striking workers defy the race to the bottom at Glasgow and Aberdeen airports
Bridgend NSSN meeting determined to fight for Ford workers
Unison conference: Socialist Party members call for anti-cuts fight and build left challenge
Salisbury South Western Rail strikers determined
Midlands mental health workers walk out against privatisation
Notts college contract dispute
Colloids workers strike to support sacked rep
Harrogate academy workers strike against cuts
---
35th anniversary of the Battle of Orgreave
---
Angry Barking fire victims demand action from landlords and authorities
Hull trade union festival a great success
Stop the Devon and Somerset fire service cuts
---
Opinion: capitalism's Fukushima showed same recklessness as Stalinism's Chernobyl
PO Box 1398, Enfield EN1 9GT
020 8988 8777
editors@socialistparty.org.uk

Link to this page: http://www.socialistparty.org.uk/issue/1048/29300
Home | The Socialist 26 June 2019 | Join the Socialist Party
Subscribe | Donate | Audio | PDF | ebook
Colloids workers strike to support sacked rep
Colloids workers on strike in Kirkby May 2019, photo Neill Dunne, photo Neill Dunne (Click to enlarge)
Over 150 Colloids workers turned out for the fifth consecutive week for an organised day of action and mass support in the dispute with Colloids in Kirkby over the sacking of Unite the Union rep George Gore.
Tensions spilled over as scabs crossed the picket line, insulting the pickets and antagonising and intimidating them using their cars. The police looked on and did nothing.
The company claims business continues as usual but they have taken 'no entry' signs off an exit gate to get wagons and deliveries in and out of the other side which resulted in a crash.
Gary, a worker and Unite member explains: "All that was needed was the correct disciplinary process to be adhered to. Workers are often paid incorrectly and the same staff responsible for that are now crossing the picket saying we are traitors."
Unite's official interim steward Chris said: "The level of support has been fantastic. Post is not being delivered and many scheduled deliveries and pick-ups are refusing to cross the picket."
Neill Dunne , Liverpool and District Socialist Party
---
In this issue
---
Climate change

How can we build workers' action to support the climate strikes?

Climate change protests reach important stage
---
Socialist Party news and analysis

No to Boris, no to Hunt: general election now

Universal Credit forces women into prostitution

Charging scandal in Warrington and Halton NHS Trust

Union action can tackle 58% working poverty rate

Unsafe, unaffordable housing scandal

Them & Us
---
International socialist news and analysis

Ratcheting up of Iran-US tensions

Sudan solidarity protests
---
Workplace news and analysis

Coordinate the fightback! Come to the 2019 NSSN conference

Unions and campaigners discuss fight to end education crisis

Striking workers defy the race to the bottom at Glasgow and Aberdeen airports

Bridgend NSSN meeting determined to fight for Ford workers

Unison conference: Socialist Party members call for anti-cuts fight and build left challenge

Salisbury South Western Rail strikers determined

Midlands mental health workers walk out against privatisation

Notts college contract dispute

Colloids workers strike to support sacked rep

Harrogate academy workers strike against cuts
---
Socialist history

35th anniversary of the Battle of Orgreave
---
Socialist Party reports and campaigns

Angry Barking fire victims demand action from landlords and authorities

Hull trade union festival a great success

Stop the Devon and Somerset fire service cuts
---
Opinion

Opinion: capitalism's Fukushima showed same recklessness as Stalinism's Chernobyl

The Socialist inbox
---
Home | The Socialist 26 June 2019 | Join the Socialist Party