The Socialist 14 August 2019
Boot out Boris And all the Tory toffs - fight for socialist policies for the 99% not the 0.1%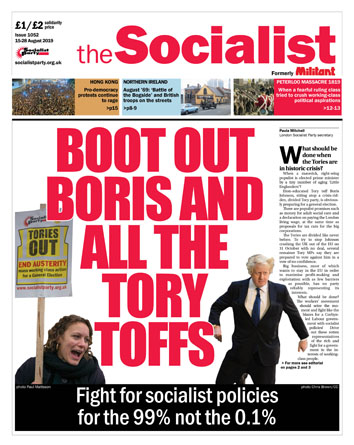 ---
General election looms... Capitalists in chaos: fight for socialism
---
Far right seen off at Oxford Circus
After the fire: fight for facilities for all
Hereford and Worcester: stop the fire cuts!
Leeds estate residents push back private development
---
Boot out Boris and all the Tory toffs - fight for socialist policies for the 99% not the 0.1%
Tory bribes don't hide destruction of NHS
---
TV: Young, British and Depressed - "What is wrong with our society that all these people are feeling this way?"
---
Northern Ireland, August '69: 'Battle of the Bogside' and British troops on the streets
The Peterloo Massacre 1819: When a fearful ruling class tried to crush working-class political aspirations
---
Fight back against the retail bosses!
Lincolnshire health workers strike against £2,000 loss of pay
Bradford: All-out action to defeat backdoor NHS privatisation
Hull: Karro Food meat processors strike against poverty pay
Equity: reject UK Theatre's pay cut deal
Summer of airline industry strikes against low pay and worsening conditions
Harland and Wolff occupation continues - renationalise to save the shipyard
---
Kashmir crisis: Stop the attack on democratic rights
Pro-democracy protests continue to rage in Hong Kong
PO Box 1398, Enfield EN1 9GT
020 8988 8777
editors@socialistparty.org.uk