The Socialist 25 September 2019
Another blow for Boris. Johnson and Tories must go. General election now!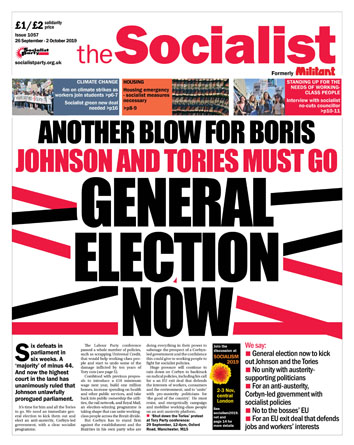 ---
Another blow for Boris. Johnson and Tories must go. General election now!
Labour votes to abolish academies and private schools
Nationalise Thomas Cook to save jobs and protect passengers
Far right pose increasing terrorism threat
---
Capitalist political crisis: Central task is to force general election and elect Corbyn-led Labour government on socialist policies
---
Climate Crisis: Socialist Green New Deal needed
4m on climate strikes as workers join students
---
PCS NEC bypasses members on backing Labour candidates
Hull construction workers strike against blacklisting
CWU reps determined to stop bosses' attacks
Bromley strikers - fighting on to save our libraries
---
Housing - bold, socialist measures necessary
---
Standing up for the needs of working-class people
---
Drone attacks on Saudi Arabia: Tensions ratcheted up
---
PO Box 1398, Enfield EN1 9GT
020 8988 8777
editors@socialistparty.org.uk

Link to this page: http://www.socialistparty.org.uk/issue/1057/29612
Home | The Socialist 25 September 2019 | Join the Socialist Party
Subscribe | Donate | Audio | PDF | ebook
The Socialist Inbox
Do you have something to say?
Send your news, views and criticism in not more than 150 words to editors@socialistparty.org.uk, or if you're not online, to Socialist Postbox, PO Box 24697, London E11 1YD.
We reserve the right to shorten and edit letters. Don't forget to give your name, address and phone number. Confidentiality will be respected if requested.
Views of letter writers do not necessarily match those of the Socialist Party.
---
>
Dentists: Private v NHS
I recently attended my six-monthly dental appointment. After a preliminary check my dentist suggested a filling may be necessary. As I was squeamish about paying £40 for a filling I expressed my reluctance - he carried out a more thorough investigation and confirmed its necessity so it went ahead.
Since my last filling, which was some time ago, it seemed to me there had been an upgrade in his equipment. Afterwards I commented "more new technology?"
"No" he replied, "there has been no new technology in the 30 years of my NHS dental practice. It's all been in the private sector". I sensed his frustration.
So there we have it - lots of technological progress in dentistry but unaffordable for the NHS.
John Merrell, Leicester
---
>
Behemoth
There is little worth watching on TV. Except tucked away on Film4 late at night was Behemoth, a documentary by Zhao Liang produced in 2015. It features the Chinese-controlled mining industry in Mongolia and its impact on the landscape, environment and the workforce.
In search of iron and coal, the first thing that hits is the scale. Explosives and massive machines rip the earth, enormous lorries move the material, hillsides collapse, more explosions, plumes of dust, smoke and rock. A smoking landscape, no grass anywhere, the only noise the machines. It seems like siege warfare against the earth.
For a few moments a child runs through tall grass, a horseman rides across the screen, then back to smoke and fire. The furnace is full of noise, heat and dust, and danger. Eyes blink constantly, sweat drips from the chin.
A man in a vehicle cab wears a mask, scores of lorries queue, there is dust and dirt. The voiceover refers to "the agony of toil" as workers wield pickaxes like weapons. A lift descends several levels, to the bottom, there is water, drilling, workers without masks.
The new landscape of waste is bleak.
Then to the people, some in small dormitory-like huts, beds looking more like a shelf. Some in small cabins. Before anything else the workers must scrub themselves clean, then eat in silence, there seems to be nothing to say about this life.
The wandering figure who seems to narrate the story at last comes to a city, new very high-rise blocks of flats, new roads, but no people, one of the ghost cities of China, developments without any purpose and of no benefit to anyone.
Pete McNally, Worcester
---
>
Who was John Maclean?
John Maclean was born in Pollokshaws and lived all his life in Glasgow. His father was a potter who died when John was only nine. His mother then worked as a weaver, kept a shop and took in lodgers to make ends meet and to ensure that John got an education.
Maclean was all too well aware of the sacrifices she had made on his behalf. He would indeed finish school and go on to train as a teacher at the Free Church College. He also attended evening classes and got an MA in political economy at Glasgow University.
Maclean had been brought up in the Calvinist Original Secessionist Church. He later jettisoned religion, declared himself an atheist and joined the Marxist-inclined Social Democratic Federation (SDF). He ran economics classes, addressed street corner meetings and helped form the Scottish Labour College.
World War One was approaching however. Maclean was appalled by the jingoism - including that of the SDF leader HM Hyndman - and opposed the hostilities from the outset. He denounced it most vehemently as a greedy struggle for markets by imperialist powers and was soon in trouble with the authorities as a result.
In the end he would be arrested and sentenced six times - and lose his teaching job with the Govan School Board as well!
What he did welcome by contrast was the Bolshevik revolution. The Bolsheviks made him their consul in Scotland and an honorary president of the First Congress of Soviets.
And he continued to fight on, agitating for an independent Scotland through his Scottish Workers' Republican Party.
The cumulative effects of repeated periods of imprisonment - often in harsh conditions - had taken their toll however. Maclean died of pneumonia at the end of 1923.
We remember him however as a brave, principled socialist and as an inspiration in the struggles that go on today!
Alan Stewart, Wakefield, Yorkshire
1919 - Red Flag over the Clyde
The pamphlet is available for £3 from Socialist Party Scotland.
Contact 0792 734 2060 or info@socialistpartyscotland.org.uk
---
In this issue
---
News

Another blow for Boris. Johnson and Tories must go. General election now!

Labour votes to abolish academies and private schools

Nationalise Thomas Cook to save jobs and protect passengers

Far right pose increasing terrorism threat
---
What we think

Capitalist political crisis: Central task is to force general election and elect Corbyn-led Labour government on socialist policies
---
Climate change

Climate Crisis: Socialist Green New Deal needed

4m on climate strikes as workers join students
---
Workplace news

PCS NEC bypasses members on backing Labour candidates

Hull construction workers strike against blacklisting

CWU reps determined to stop bosses' attacks

Bromley strikers - fighting on to save our libraries

Asda protests
---
Housing

Housing - bold, socialist measures necessary
---
Socialist Party reports and campaigns

Standing up for the needs of working-class people
---
International socialist news and analysis

Drone attacks on Saudi Arabia: Tensions ratcheted up
---
Opinion

The Socialist Inbox
---
Home | The Socialist 25 September 2019 | Join the Socialist Party