The Socialist 16 October 2019
Tories Out - general election now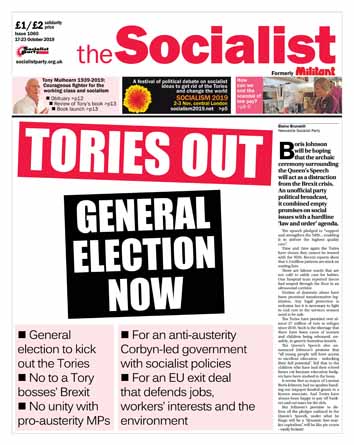 ---
Corbyn must stand firm against establishment and Labour right
Mass united action against the war on Syrian Kurds
---
Minimum wage debate: how can we end the scandal of low pay?
---
Tories out - general election now
---
Massive vote for strike action: postal workers - "we're out to win!"
PCS general secretary election: Marion Lloyd - standing for action on members' pay, jobs, pensions and more
Wales: Hundreds march to save the Orb works
RMT: Jared Wood - Fighting cuts, defending jobs, pay and conditions
Hackney SEND transport workers achieve victory
NEU support staff dismiss Tory 'extra funding' hype
---
Tony Mulhearn 1939-2019: Courageous fighter for the working class and socialism
Book: The Making of a Liverpool Militant by Tony Mulhearn
---
China after the 1949 revolution: the benefits of the planned economy stifled by bureaucracy
---
Be part of the future: join the Socialist Party
Mass union mobilisation needed to counter anti-choice group
Major new book out in November: In Defence of Trotskyism
Trade unionists discuss climate change
Pressure needed to force secret police disclosure
---
Uprising in Ecuador forces government climbdown
Catalonia: Mass protests against punitive political jailings
PO Box 1398, Enfield EN1 9GT
020 8988 8777
editors@socialistparty.org.uk

Link to this page: http://www.socialistparty.org.uk/issue/1060/29723
Home | The Socialist 16 October 2019 | Join the Socialist Party
Subscribe | Donate | Audio | PDF | ebook
Pressure needed to force secret police disclosure
Come to the Trade Union Conference Opposing Political Policing
Lois Austin, Campaign Opposing Police Surveillance, and Socialist Party
For at least 40 years, special undercover sections of the police spied on trade unionists, socialist organisations including the Socialist Party, and campaigners such as the family of Stephen Lawrence, victim of a racist murder. Almost 120 'spy cops' are thought to have infiltrated over 1,000 groups.
But the official inquiry has major problems with disclosure and evidence. So the Campaign Opposing Police Surveillance (Cops) is holding a Trade Union Conference Opposing Political Policing on 16 November.
Police are known to have spied on campaigns for at least the period from 1968 to 2008, and we believe before and since as well. Officers often used the names of dead children. Many deceived women into long-term intimate relationships, even fathering kids with them. They also befriended grieving families, and acted as  agents- provocateurs.
Such was the public outrage when details emerged, that in 2015 Theresa May as home secretary was forced to launch the 'Undercover Policing Inquiry'. But for the last four years we have been swimming in treacle.
Numerous hearings have considered the legal principles of anonymity, disclosure, and data protection. Police legal representatives have drawn this out to protect the identities of their operatives.
With a sick sense of irony, the officers claim releasing their fake and real identities would breach their human rights! The new judge in charge - Sir John Mitting - has danced to the tune of the Metropolitan Police and strung out proceedings.
The inquiry promised to publish all the infiltrated groups once the anonymity process for the Met's 'Special Demonstration Squad' was complete. It is now complete, but there has been pushback from the inquiry. We are campaigning for full disclosure.
Meanwhile, scrutiny is  limited to police squads in England and Wales. This is despite much evidence demonstrating political policing in Scotland. And it is not clear how the inquiry intends to deal with Special Branch officers directed by MI5, or indeed how the security services will be considered.
The inquiry has announced it will begin taking evidence in three 'tranches' starting next year. At this stage no timetable has been released.
Members of Militant Labour and the Socialist Party, as well as Youth Against Racism in Europe, were targeted by the Met throughout the 1990s. Over the years, supporters of Militant, especially in the unions, were targeted by MI5.
The inquiry is assembling evidence packs from the police to help undercover officers prepare prior to giving statements. But the core participants in the inquiry, those spied upon, will not get the packs until just before the spy cops give evidence!
This cannot be accepted. We will challenge it legally - and, more importantly, through the workers' movement.
The inquiry feels pointless at times, and potentially a recipe for a cover-up. However, Marxists must take up battle even on unsympathetic territory - if that means the courtroom, then so be it.
We intend to squeeze every last drop of information and disclosure from this inquiry, and where possible use it to expose the class nature of the 'democratic' capitalist state throughout the labour and trade union movement. To this end we are encouraging union branches to send representatives to the Trade Union Conference Opposing Political Policing.
Trade Union Conference Opposing Political Policing, 16 November at the Queen Anne Buildings, Greenwich University
Request a speaker from Cops by emailing opposingpolicesurveillance@gmail.com
---
In this issue
---
What we think

Corbyn must stand firm against establishment and Labour right

Mass united action against the war on Syrian Kurds
---
Low pay

Minimum wage debate: how can we end the scandal of low pay?
---
News and reviews

Tories out - general election now

The Cameron Tory legacy

Climate watch
---
Workplace news

Massive vote for strike action: postal workers - "we're out to win!"

PCS general secretary election: Marion Lloyd - standing for action on members' pay, jobs, pensions and more

Wales: Hundreds march to save the Orb works

RMT: Jared Wood - Fighting cuts, defending jobs, pay and conditions

Hackney SEND transport workers achieve victory

NEU support staff dismiss Tory 'extra funding' hype

Workplace news in brief
---
Tony Mulhearn

Tony Mulhearn 1939-2019: Courageous fighter for the working class and socialism

Book: The Making of a Liverpool Militant by Tony Mulhearn
---
Chinese revolution

China after the 1949 revolution: the benefits of the planned economy stifled by bureaucracy
---
Socialist Party reports and campaigns

Be part of the future: join the Socialist Party

Mass union mobilisation needed to counter anti-choice group

Major new book out in November: In Defence of Trotskyism

Trade unionists discuss climate change

Pressure needed to force secret police disclosure
---
International socialist news and analysis

Uprising in Ecuador forces government climbdown

Catalonia: Mass protests against punitive political jailings
---
Home | The Socialist 16 October 2019 | Join the Socialist Party