The Socialist 16 October 2019
Tories Out - general election now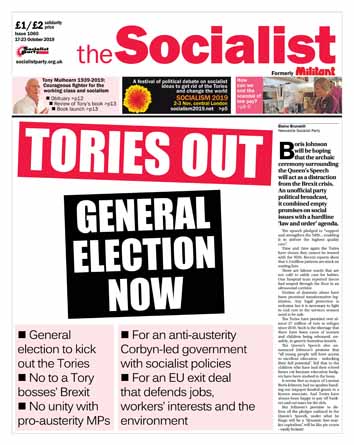 ---
Corbyn must stand firm against establishment and Labour right
Mass united action against the war on Syrian Kurds
---
Minimum wage debate: how can we end the scandal of low pay?
---
Tories out - general election now
---
Massive vote for strike action: postal workers - "we're out to win!"
PCS general secretary election: Marion Lloyd - standing for action on members' pay, jobs, pensions and more
Wales: Hundreds march to save the Orb works
RMT: Jared Wood - Fighting cuts, defending jobs, pay and conditions
Hackney SEND transport workers achieve victory
NEU support staff dismiss Tory 'extra funding' hype
---
Tony Mulhearn 1939-2019: Courageous fighter for the working class and socialism
Book: The Making of a Liverpool Militant by Tony Mulhearn
---
China after the 1949 revolution: the benefits of the planned economy stifled by bureaucracy
---
Be part of the future: join the Socialist Party
Mass union mobilisation needed to counter anti-choice group
Major new book out in November: In Defence of Trotskyism
Trade unionists discuss climate change
Pressure needed to force secret police disclosure
---
Uprising in Ecuador forces government climbdown
Catalonia: Mass protests against punitive political jailings
PO Box 1398, Enfield EN1 9GT
020 8988 8777
editors@socialistparty.org.uk

Link to this page: http://www.socialistparty.org.uk/issue/1060/29731
Home | The Socialist 16 October 2019 | Join the Socialist Party
Subscribe | Donate | Audio | PDF | ebook
Uprising in Ecuador forces government climbdown
Revolutionary socialist alternative needed
Tony Saunois, secretary of the Committee for a Workers' International
Twelve days of mass protests have forced the Ecuadorian government to retreat and restore the fuel subsidies it had removed with Decree 883.
In what was a revolutionary movement, the Indigenas peoples of Ecuador, under the banner of their largest organisation, Conaie (Confederation of Nationalities of Ecuador), came together in a mass movement uniting all sections of the working class and middle class.
A massive general strike called by the main trade union federation, UGTE (General Union of Ecuadorian Workers), was joined by tens of thousands of peasants and rural workers from Conaie.
The role of the working class and the indigenous peoples was central to the struggle. They came together, rejecting separatism. The indigenous peoples of Ecuador comprise at least 25% of the population and have played a central role in the struggles of the past.
Savage austerity
The immediate cause of this uprising was the savage austerity package that the government of Lenin Moreno introduced. A quisling of the IMF, he meekly followed their demands to end subsidies on fuel and introduced attacks on workers' rights in return for a US $4.2 billion "rescue package".
Overnight fuel prices rocketed by more than 150%. State employees saw their holiday entitlement of thirty days annual leave slashed by half to fifteen days.
The transport unions responded with a call for a protest strike. This was then followed by continued protests - a veritable uprising, with the calling of a general strike.
This movement had many powerful elements of a classic pre-revolutionary or revolutionary situation: the ruling class was split and dramatically weakened; the working class and poor showed a determination to struggle; the middle class was not only neutralised but actively participated in the movement; splits and divisions opened up within the state apparatus, with sections even joining the protests.
However, the crucial factor, the idea of a socialist alternative, programme and revolutionary party still needs to develop and be built. Without it, the potential victory of the masses to transform society will be threatened and lost.
The brutal repression - which resulted in over 500 arrests, hundreds of injuries and some deaths - was met with defiance by the masses. In many of the confrontations, the workers and indigenous peoples, armed with staves, stones and, in some cases, improvised rocket launchers have beat back the police and army.
According to reports from TelesurTV (the media channel launched by Hugo Chavez in Venezuela), the indigenous organisations established a "Parlamento de los Pueblos" (Parliament of the Peoples).
The mass movement forced the government to flee the capital Quito. The working class and indigenous peoples stormed the national assembly and were potentially challenging for power.
Elements of dual power unfolded. However, the masses did not move to take power into their own hands and destroy the old regime. Although the regime has been forced to back down on the subsidies, only the replacement of capitalism by socialism can provide a future for the Ecuadorian masses.
The lessons need to be drawn from this struggle. A programme for socialist revolution would have involved:
The formation of democratic committees of struggle in all workplaces and communities with delegates elected and subject to recall. Those committees to link up on a city-wide, regional and national level with delegates elected and subject to recall
Building on the initial steps taken to form "guardia popular" - popular guards - in some of the protests, through the formation of an armed militia of workers and indigenous communities, under the democratic direction of the committees of struggle
An appeal to all soldiers and rank-and-file police to join the movement and form elected committees and purge all officers supporting the Moreno regime
The formation of a government of the workers and indigenous peoples. Convening of elections to a revolutionary constituent assembly or to the 'Parlamento de los Pueblos'
Nationalisation under democratic workers' control and management of all major and foreign companies and banks. Cancellation of the IMF austerity programme
Equal, language, cultural and territorial rights of all indigenous peoples as part of a democratic socialist Ecuador
For a party of the working class and indigenous peoples with a revolutionary socialist programme
An appeal to the working class of the rest of Latin America and the United States for solidarity and support in a struggle for a socialist alternative to break with capitalism
The establishment of a voluntary democratic socialist federation of Latin America
---
>
Moreno was previously vice-president of the country and an ally of the former radical left Rafael Correa who was President for a decade (2006-17).
Correa came to power as part of the 'pink revolution' sweeping Latin America at that stage. He was a close ally of Hugo Chávez in Venezuela and promised a "citizens' revolution".
Radical popular reforms were implemented including a massive increase in state expenditure on health and education. Correa also introduced higher taxes on capital and capital controls and, at one stage, refused to pay the "illegitimate elements" of the foreign debt.
However, despite these popular measures, Correa, like Chávez, failed to take the necessary steps to break from capitalism. Once the economy moved into recession the reforms were cancelled out and cuts introduced.
Reforms gave way to counter-reforms which were increasingly brutal, especially under Moreno who came to power in 2017. Correa, like Chávez, had unfortunately used top-down, administrative, bureaucratic and repressive measures.
There was not the building of a genuine democratic control by the working class and oppressed. His regime was imprisoned by remaining within a capitalist economy and deciding measures from above.
Had the leaders of the movement in Venezuela, Bolivia and Ecuador taken the necessary steps to break with capitalism, and establish democratic socialist policies, they could have come together and established a voluntary, democratic socialist federation with an appeal to the peoples of Cuba to establish a genuinely democratic socialist system with workers' control.
The failure to break with capitalism resulted in this opportunity being lost. But a victory of the working class in Ecuador now could once again pose such a prospect and begin to challenge imperialism.
---
In this issue
---
What we think

Corbyn must stand firm against establishment and Labour right

Mass united action against the war on Syrian Kurds
---
Low pay

Minimum wage debate: how can we end the scandal of low pay?
---
News and reviews

Tories out - general election now

The Cameron Tory legacy

Climate watch
---
Workplace news

Massive vote for strike action: postal workers - "we're out to win!"

PCS general secretary election: Marion Lloyd - standing for action on members' pay, jobs, pensions and more

Wales: Hundreds march to save the Orb works

RMT: Jared Wood - Fighting cuts, defending jobs, pay and conditions

Hackney SEND transport workers achieve victory

NEU support staff dismiss Tory 'extra funding' hype

Workplace news in brief
---
Tony Mulhearn

Tony Mulhearn 1939-2019: Courageous fighter for the working class and socialism

Book: The Making of a Liverpool Militant by Tony Mulhearn
---
Chinese revolution

China after the 1949 revolution: the benefits of the planned economy stifled by bureaucracy
---
Socialist Party reports and campaigns

Be part of the future: join the Socialist Party

Mass union mobilisation needed to counter anti-choice group

Major new book out in November: In Defence of Trotskyism

Trade unionists discuss climate change

Pressure needed to force secret police disclosure
---
International socialist news and analysis

Uprising in Ecuador forces government climbdown

Catalonia: Mass protests against punitive political jailings
---
Home | The Socialist 16 October 2019 | Join the Socialist Party