The Socialist 6 May 2020
Bosses push to lift lockdown - they only care about profits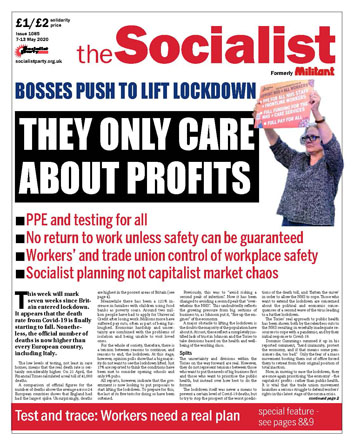 ---
Bosses push to lift lockdown - they only care about profits
---
Bail out the real wealth creators, not the rich
Homes needed to end overcrowding
Homeless left on streets during pandemic
Pay full fees for virtual courses? - No way!
Your donations can keep the Socialist going
---
Test and trace: workers need a real plan
Tories using pandemic to shift lab testing out of NHS
---
Nationalise British Airways to stop 12,000 redundancies
Postal workers force Royal Mail back
No increase in transport capacity without adequate safety precautions for workers and passengers
Unsafe Workplace? "It's up to you" PCS tells reps and members
Further protests in Ireland against Debenhams closures - UK fightback needed
Rolls Royce threatens 8,000 job losses
EDF Energy workers furloughed on 100% pay
---
India: Fighting the curse of capitalism and coronavirus
US: Trump's public health cuts have condemned thousands worldwide
Trump puts profit before safety (again)
---
The Tyneside apprentices' strike during WW2
---
---
Going viral: Socialist comments and letters on the corona crisis
TV Review BBC Panorama: PPE shortage - how many lives will be lost?
PO Box 1398, Enfield EN1 9GT
020 8988 8777
editors@socialistparty.org.uk