The Socialist 24 June 2020
Workers must not pay the price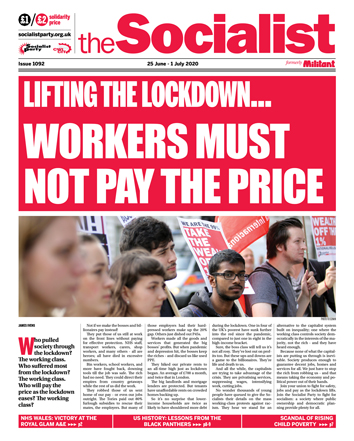 ---
Lifting the lockdown: workers must not pay the price
Victory for Royal Glamorgan A&E!
Housing: act now to cancel Covid crisis rents and debt
Over 30% of children living in poverty
Fight back to stop Tories scrapping protections for children in care
International aid: Johnson's pie in the sky
Reading workers' movement responds to knife attack
---
Young people fighting back: Jobs and homes, not racism
Lessons from the Black Panthers: "We're not going to fight capitalism with black capitalism - we're going to fight capitalism with socialism"
Towards an anti-racist school curriculum
Black Lives Matter protests: week three
---
South Africa: Building jobs and living wage campaign
---
Tories sinking in Wales but no enthusiasm for Welsh Labour
---
Why you should come to NSSN conference
Fully fund schools - stand firm on safety
P&O: defend every job - nationalise the ferries
Workers need a 'new deal' - at least £12 an hour now!
Renationalisation of the probation service
---
It's time to join the Socialist Party
Selling the Socialist: we're back!
Fighting fund: help us smash our target!
Call for an increase in PIP due to Covid-19
---
A timely read about a pandemic that overwhelms society
PO Box 1398, Enfield EN1 9GT
020 8988 8777
editors@socialistparty.org.uk