The Socialist 26 April 2007
Blair's legacy: war, cuts and privatisation
Blair's legacy... war, cuts & privatisation
Civil servants' union May Day strike
---
Join the campaign to defeat fees
No victimisation - support Deeside college lecturers
Campaign to Defeat Fees National Meeting
---
New Labour - lowest poll ratings since 1983
Come to the Campaign for a New Workers' Party conference
Campaign for a New Workers' Party conference
Support for Labour falling in Scotland
Campaigning for socialist ideas in South Wales
Huddersfield: Fighting against NHS cuts and closures
Coventry socialists fight Post Office closure
Southampton: Save our Services!
Merseyside: Tweedledee, Tweedledum, Bootle has a real socialist alternative
Manchester Wythenshawe: NHS cuts threaten lives
Donate to fund a socialist alternative
Socialist solidarity on May Day
---
Socialist wins court battle in Kazakhstan
France: Record turnout sees Royal and Sarkozy go through to second round
Yeltsin's real record - 'wild capitalism' in Russia
Nigerian elections - a dangerous farce
---
UNISON Delegates demand action
PO Box 24697, London, E11 1YD
020 8988 8777
editors@socialistparty.org.uk

Link to this page: http://www.socialistparty.org.uk/issue/484/2333
Home | The Socialist 26 April 2007 | Join the Socialist Party
Civil servants' union May Day strike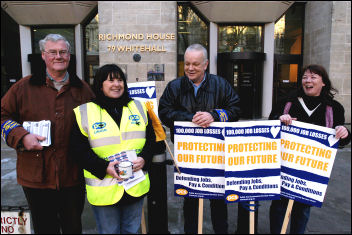 PCS on strike in February 2007, photo Paul Mattsson
PCS MEMBERS will be striking again on 1 May. This is part of a national strategy to defend not only our jobs, pay and pensions but also the vital services we provide for the public.
Marion Lloyd, PCS national executive, (personal capacity)
It is absolutely key now that as many members as possible come out on strike. Non-members should join the union in order to further strengthen us. Our demands can be easily and quickly settled if there was a will from the government.
Industrial action, together with the political and media campaigning we have done, has already brought success for PCS members, in terms of avoiding any compulsory redundancies up until Christmas 2006. It is significant that since 31 January, no further compulsory redundancies have been announced. Our action forced the government to take off the table the introduction of unpaid sick leave for civil servants and it has also protected our pension and sick leave entitlements.
After 1 May it will be key to link up with other public-sector unions, to build on what we've already achieved in this regard. The government attacks will not only affect civil servants but workers across the public sector. That was made crystal clear when Gordon Brown announced his 2% pay cap for public-sector workers. We welcome the decision of the NUT teachers' union to ballot for strike action over pay as well as the conference decision of UNISON health workers to reject the government's derisory pay offer and to campaign for strike action.
Members should support the 1 May action and also work tirelessly to build links with other public-sector unions so that we can roll back the government's attacks.
---
In this issue

Blair's legacy... war, cuts & privatisation

Civil servants' union May Day strike

Free Arrested activists now
---
Socialist Students

Join the campaign to defeat fees

No victimisation - support Deeside college lecturers

Campaign to Defeat Fees National Meeting
---
Socialist Party election analysis

New Labour - lowest poll ratings since 1983

Come to the Campaign for a New Workers' Party conference

Campaign for a New Workers' Party conference

Support for Labour falling in Scotland

Campaigning for socialist ideas in South Wales

Huddersfield: Fighting against NHS cuts and closures

Coventry socialists fight Post Office closure

Southampton: Save our Services!

Brighton: Stop privatisation

Merseyside: Tweedledee, Tweedledum, Bootle has a real socialist alternative

Manchester Wythenshawe: NHS cuts threaten lives

Donate to fund a socialist alternative

Socialist solidarity on May Day
---
International socialist news and analysis

Socialist wins court battle in Kazakhstan

France: Record turnout sees Royal and Sarkozy go through to second round

Yeltsin's real record - 'wild capitalism' in Russia

US mass shooting horror

Nigerian elections - a dangerous farce
---
Socialist Party workplace news

Support the Sunvic strikers

UNISON Delegates demand action
---
Home | The Socialist 26 April 2007 | Join the Socialist Party