The Socialist 26 April 2007
Blair's legacy: war, cuts and privatisation
Blair's legacy... war, cuts & privatisation
Civil servants' union May Day strike
---
Join the campaign to defeat fees
No victimisation - support Deeside college lecturers
Campaign to Defeat Fees National Meeting
---
New Labour - lowest poll ratings since 1983
Come to the Campaign for a New Workers' Party conference
Campaign for a New Workers' Party conference
Support for Labour falling in Scotland
Campaigning for socialist ideas in South Wales
Huddersfield: Fighting against NHS cuts and closures
Coventry socialists fight Post Office closure
Southampton: Save our Services!
Merseyside: Tweedledee, Tweedledum, Bootle has a real socialist alternative
Manchester Wythenshawe: NHS cuts threaten lives
Donate to fund a socialist alternative
Socialist solidarity on May Day
---
Socialist wins court battle in Kazakhstan
France: Record turnout sees Royal and Sarkozy go through to second round
Yeltsin's real record - 'wild capitalism' in Russia
Nigerian elections - a dangerous farce
---
UNISON Delegates demand action
PO Box 24697, London, E11 1YD
020 8988 8777
editors@socialistparty.org.uk

Link to this page: http://www.socialistparty.org.uk/issue/484/2352
Home | The Socialist 26 April 2007 | Join the Socialist Party
If you're fed up with student fees and debt...
Join the campaign to defeat fees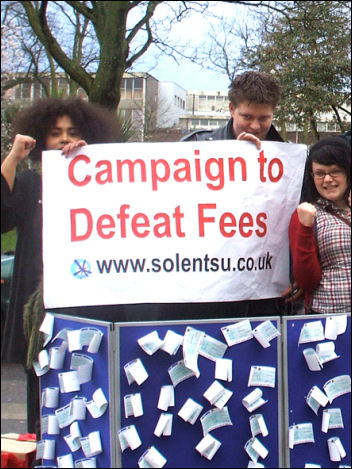 Southampton Socialist Students campaigning
EDUCATION MINISTER Alan Johnson boasts about how Britain's universities are a source of "national pride and international envy". This is only true from the viewpoint of greedy vice-chancellors, a view Johnson often takes.
Matt Dobson Socialist Students National Organiser
For students it's a different world than the one projected by New Labour. Fees and other attacks on education make the university experience an anxiety-ridden, financially insecure nightmare. Drop-out rates are increasing and there is a huge increase in students working in part-time jobs instead of devoting time to studying.
The debt mountain when graduating (now averaging over £20,000) shadows any hope students have of developing their skills and securing a decent future.
The government has taken away our right to free, good quality education with its policies of fees, cuts and privatisation. It is time we stopped them getting away with it!
Protests have been organised in many universities including Southampton, Oxford, Portsmouth, Bristol, London, Durham, Liverpool and Exeter on 27 April and 1 May, following on from the 22 February protests when hundreds of students from over 50 colleges in universities protested against fees.
Now the reach of the Campaign to Defeat Fees is getting wider, with students from additional universities such as Bournemouth and also a school in Basingstoke joining in action and campaigning.
Socialist Students wants to show the scale and the strength of opposition to fees. A national demonstration would give students confidence to fight fees and other attacks.
It could be a major step in building a mass campaign, based on mass action of students and workers, that is capable of forcing the government to abandon fees and other attacks on education.
Our national day of action on 27 April is part of our campaign for the NUS to call a national weekday demonstration in the first term of next year under the slogans "no to all fees, cuts, closures and privatisation".
This can be built and publicised during and after the freshers fairs and when the FE colleges and schools start the new term.
If you're fed up with fees and debt, join our day of action!
---
In this issue

Blair's legacy... war, cuts & privatisation

Civil servants' union May Day strike

Free Arrested activists now
---
Socialist Students

Join the campaign to defeat fees

No victimisation - support Deeside college lecturers

Campaign to Defeat Fees National Meeting
---
Socialist Party election analysis

New Labour - lowest poll ratings since 1983

Come to the Campaign for a New Workers' Party conference

Campaign for a New Workers' Party conference

Support for Labour falling in Scotland

Campaigning for socialist ideas in South Wales

Huddersfield: Fighting against NHS cuts and closures

Coventry socialists fight Post Office closure

Southampton: Save our Services!

Brighton: Stop privatisation

Merseyside: Tweedledee, Tweedledum, Bootle has a real socialist alternative

Manchester Wythenshawe: NHS cuts threaten lives

Donate to fund a socialist alternative

Socialist solidarity on May Day
---
International socialist news and analysis

Socialist wins court battle in Kazakhstan

France: Record turnout sees Royal and Sarkozy go through to second round

Yeltsin's real record - 'wild capitalism' in Russia

US mass shooting horror

Nigerian elections - a dangerous farce
---
Socialist Party workplace news

Support the Sunvic strikers

UNISON Delegates demand action
---
Home | The Socialist 26 April 2007 | Join the Socialist Party