The Socialist 17 May 2007
Good riddance to Blair!
Editorial: Blair's departure: Curtain falls on disastrous reign
---
Partial climbdown encourages Maudsley fight back
---
Protest against the G8 Rostock 2007
Join ISR in a summer of protest!
---
Conference for a working class political alternative
---
Who pays to stop climate change?
---
Irish election: An above average Joe
---
Israel: Students battle against fees and cutbacks
7.30, Tuesday 22 May, Kings Cross, London
---
No gains for the BNP in Lincoln
Socialists take on the hospital crisis in Bristol
Baguley: Socialists are left opposition to New Labour
---
Postal workers: Vote 'yes' for strike action
FBU conference: Preparing for future battles
PO Box 24697, London, E11 1YD
020 8988 8777
editors@socialistparty.org.uk

Link to this page: http://www.socialistparty.org.uk/issue/487/2411
Home | The Socialist 17 May 2007 | Join the Socialist Party
Who pays to stop climate change?
GLOBAL WARMING and consequent climate change 'can be solved' according to the third part of the major 2007 study from the UN-sponsored committee of scientists (IPCC), issued in Bangkok early in May. But what price will capitalism charge for its 'solution'?, asks Dave Nellist, Coventry Socialist Party councillor and chair of the Campaign for a New Workers' Party.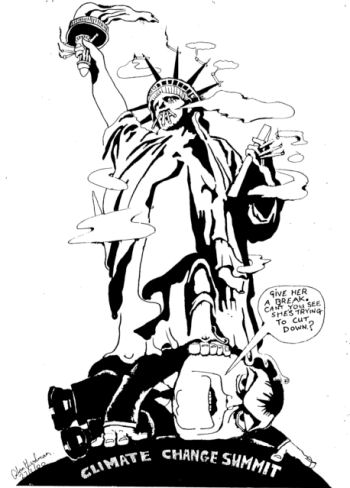 Climate change - cartoon by Alan Hardman in 2000
HAVING REVIEWED the science of climate change in a February report, and the potential consequences of global warming in April, this third report concentrated on the economic costs of policies to limit and reduce the emission of harmful greenhouse gases, particularly in energy production and transport.
It called for a doubling of the proportion of the world's electricity produced by renewable sources by 2030, an increased use of energy efficiency, but also for an increase in the share produced by nuclear power, noting however that "safety, weapons proliferation and waste remain as constraints"!
But at the same time as the UN report was being released, doubts were raised by newer research which indicated that the IPCC's approach may be too cautious and may even be underestimating the speed and seriousness of climate change. The Arctic Ocean could be free or nearly free of summer ice by 2020, 30 years earlier than the IPCC predictions!
This loss of the Arctic ice could, in turn, accelerate global warming, in a process known as positive feedback. This is because the ice reflects light and heat; when it is gone, the much darker land or sea will absorb more light and heat, making it more difficult for the planet to cool down, even in winter, according to US glaciologists. Time is clearly not on our side.
Many campaigners, such as Greenpeace, have criticised the IPCC report for claiming that a safe limit of atmospheric pollutant carbon dioxide is 550 parts per million (ppm) which the report says should limit global temperature rises to 2íC above pre-industrial levels. Carbon dioxide levels are currently about 430 ppm and rising by 2 ppm each year.
Some climatologists have argued that even with a level of 550 ppm there is a more than 80% chance that global warming will exceed 2íC with dangerous implications for huge parts of the planet.
Even the British government's environment department has admitted, according to environmentalist George Monbiot, that "a limit closer to 450 ppm or even lower might be more appropriate to meet a 2íC stabilisation limit". And that's where the question of cost comes in.
Bosses' response
GOVERNMENTS AROUND the world have been quick to claim to support the report's recommendations for stabilising concentrations of greenhouse gases at between 590 to 710 ppm, since the report claims that would 'only' cost 0.2% of global GDP by 2030.
Stabilising greenhouse gases at between 445 to 535 ppm was said to have a cost of 3% of global GDP. US officials immediately claimed that such a target would lead to a global recession.
The British bosses through their organisation, the CBI, responded: "The report signals that there are barriers to realising the range of opportunities identified and that we all - consumers, businesses and governments - have a role to play in overcoming these obstacles".
Of course, for the CBI the 'opportunities' are to turn the crimes of pollution to a profit, whilst for consumers - that's you and me - the 'role to play' will be more to pay!
But why should working people have to pay such costs either in higher prices for energy, greater taxes for travel or risk to jobs in perceived polluting industries, when it is the structure and pollution of big business itself which is causing the problem?
Just take the question of transport, which, alongside energy, currently contributes the largest amount towards atmospheric pollutants such as carbon dioxide. Capitalist politicians will want 'congestion charges', some environmentalists will want to return to a pre-industrial age, whilst the socialist solution is to argue instead for a massive expansion of high-speed trains (powered by renewable sources of energy), linked in an integrated way to other forms of public transport, such as coaches.
The report speaks of the need for "incentives" - in reality bribes for big business to change its ways. The best incentive for a massive switch to expanded public transport is to make it cheap, or even free.
But to rationally organise travel on that scale, not just between the big cities but for rural communities as well, could only be achieved by national and international planning, the key to which is public ownership - putting the needs of people, before the profits of transport multi-millionaires like Brian Souter and Richard Branson.
No main party stands for such a programme. That is why the Campaign for a New Workers Party will have to put environmental issues, alongside public ownership and planning, at the top of its agenda for the building of a mass socialist alternative to the three big business parties.
---
In this issue

Good riddance to Blair!

Gillingham greets Gordon

Editorial: Blair's departure: Curtain falls on disastrous reign
---
Socialist Party NHS campaign

Partial climbdown encourages Maudsley fight back
---
International Socialist Resistance

Protest against the G8 Rostock 2007

Join ISR in a summer of protest!
---
Campaign for a New Workers Party

Conference for a working class political alternative
---
Global Warming

Who pays to stop climate change?
---
Ireland

The 'politics of smiles'

Irish election: An above average Joe
---
International socialist news

Israel: Students battle against fees and cutbacks

7.30, Tuesday 22 May, Kings Cross, London
---
Socialist Party election campaign

No gains for the BNP in Lincoln

Socialists take on the hospital crisis in Bristol

Baguley: Socialists are left opposition to New Labour
---
Socialist Party workplace news

Left victory in PCS elections

Postal workers: Vote 'yes' for strike action

FBU conference: Preparing for future battles
---
Home | The Socialist 17 May 2007 | Join the Socialist Party