The Socialist 24 May 2007
Fight Brown's pay freeze
Public-sector workers say...Fight Brown's pay freeze
PCS: Public-sector unity to defend jobs and services
National Shop Stewards Network
Postal workers' strike ballot: Vote 'yes' for a future
Greenwich workers shame councillors
---
Gordon Brown crowned leader with no contest
John McDonnell speaks to the socialist
---
Academies: No to these divisive schools
Lewisham council attacks education
Canteen workers oppose school meals cuts
School campaigners shake Wokingham
---
Nursing staff strike shows way forward
---
---
Belfast 1907 - a city in revolt
---
Can solar power solve our energy needs?
---
SNP in power - populism and cuts
PO Box 24697, London, E11 1YD
020 8988 8777
editors@socialistparty.org.uk

Link to this page: http://www.socialistparty.org.uk/issue/488/2425
Home | The Socialist 24 May 2007 | Join the Socialist Party
Public-sector workers say...Fight Brown's pay freeze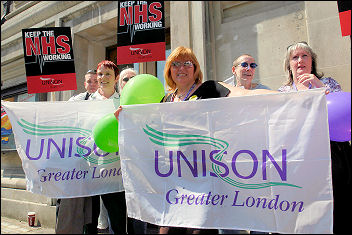 Unison Lobby of Parliament in 2006
While Tony Blair prepares for his retirement celebration there will be very few tears shed by UNISON members or by any public sector workers. In ten years we have seen more union members' jobs being privatised than under the Tories. In the public sector there has been an increase in the numbers earning under our minimum wage demand of £6.50 an hour and we've seen services continually cut and destroyed.
Glenn Kelly, UNISON National Executive Committee, personal capacity.
Public sector workers are angry but at every stage most of the union leaders have tried to bail out New Labour saying at least they're not as bad as the Tories. The latest cry is that Gordon Brown will be nicer to us. Yet even before his coronation he has announced a pay freeze which in effect will be a 2% pay cut.
Brown's pay 'offer' is sickening to say the least. It blows out of the water any idea that Labour's approach to public sector workers and services is any different to the Tories or that Brown is any different to Blair. The shocking thing is that local government employers are dominated by the Tories and many Tory councils put aside 3% for this year's pay deal!
This wouldn't have been near enough but Gordon Brown then announced that he wanted a 2% pay freeze. New Labour plan to impose a worse deal right across the public sector than some Tory councils had intended! Although the local government employers are not bound by Brown, it gave them an excuse to say workers couldn't have more than 2%.
Workers just can't afford to take another low raise and in this case a pay cut. That's why we've had the main teachers' union, the nurses' organisations, and the postal workers' union all talking about industrial action over pay. If the union leaderships give a lead they could potentially put five million workers out on strike against that pay deal.
There are illusions in Brown among the union leaders but really that represents them clinging to the lowest port-hole on the Titanic as they try to hang on to the idea that Labour is still a party for working-class people. I don't sense any great expectations in Brown among union members. If he starts to make noises about slowing down attacks on the health service it's possible he may be given a bit of breathing space. In reality he's going to want to show he's as anti-working class as Blair was.
On this basis I am absolutely convinced that if there was a genuine debate in the unions about funding the Labour Party, members would categorically say enough is enough. If New Labour doesn't want to talk for us then it's time we spoke for ourselves.
---
In this issue

Public-sector workers say...Fight Brown's pay freeze

PCS: Public-sector unity to defend jobs and services

National Shop Stewards Network

Postal workers' strike ballot: Vote 'yes' for a future

Darling attacks Post Offices

Greenwich workers shame councillors
---
Labour Party leadership

Gordon Brown crowned leader with no contest

John McDonnell speaks to the socialist

The alternative to Labour

MPs say stop looking at us!
---
Education

Academies: No to these divisive schools

Lewisham council attacks education

School meals - Victory!

Canteen workers oppose school meals cuts

School campaigners shake Wokingham
---
Socialist Party NHS campaign

Nursing staff strike shows way forward
---
Socialist Party news and analysis

Homophobia: it's not over

Letter to Polish Ambassador
---
Marxist analysis: history

Belfast 1907 - a city in revolt
---
Environment and socialism

Can solar power solve our energy needs?
---
Scotland

SNP in power - populism and cuts
---
Home | The Socialist 24 May 2007 | Join the Socialist Party