The Socialist 24 May 2007
Fight Brown's pay freeze
Public-sector workers say...Fight Brown's pay freeze
PCS: Public-sector unity to defend jobs and services
National Shop Stewards Network
Postal workers' strike ballot: Vote 'yes' for a future
Greenwich workers shame councillors
---
Gordon Brown crowned leader with no contest
John McDonnell speaks to the socialist
---
Academies: No to these divisive schools
Lewisham council attacks education
Canteen workers oppose school meals cuts
School campaigners shake Wokingham
---
Nursing staff strike shows way forward
---
---
Belfast 1907 - a city in revolt
---
Can solar power solve our energy needs?
---
SNP in power - populism and cuts
PO Box 24697, London, E11 1YD
020 8988 8777
editors@socialistparty.org.uk

Link to this page: http://www.socialistparty.org.uk/issue/488/2434
Home | The Socialist 24 May 2007 | Join the Socialist Party
Postal workers' strike ballot: Vote 'yes' for a future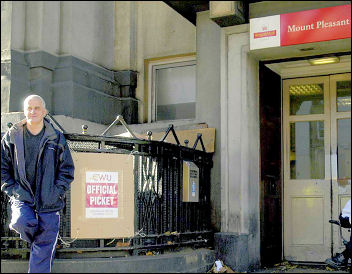 Postal workers on strike in 2007, photo Paul Mattsson
POSTAL WORKERS up and down the country are voting in the most important industrial action ballot in the history of Royal Mail.
Gary Clark, sub area rep, Scotland No.2 branch Communication Workers' Union (CWU)
Royal Mail's latest "full and final" pay offer is in fact a pay cut and an onslaught on our terms and conditions. It must be fought with all the might of the CWU nationally.
Royal Mail's propaganda machine has gone into overdrive. Not a day goes by without postal workers receiving a letter to their home address or a brief by their management team.
At the same time management have refused CWU reps the right to address their members or even hand out leaflets, including in the meal breaks.
Inflation for April, when the rise was due, was at 4.8% so the offer of 2.5% is really a 2.3% cut. At the same time they say we are 25% over-paid and under-worked by 40%! Tell that to postal workers who walk the streets with overweight bags, day in, day out.
But of course this is because they compare us to non-unionised workers like at TNT and UK Mail. They want us to go down to their terms. But we are in the bottom 25% of earners in the country.
Then they go on to say their managers are leading by example. The top 500 have taken a wage freeze this year.
That is quite easy if you count your wages in the £100,000s, or if you are the chief executive Adam Crozier who earned £1,038,000 last year. This would take a postal worker over 60 years to earn.
But this is not just a pay cut, it is an out-and-out attack on our terms and conditions and on the right for the union to negotiate on our behalf.
They want postal workers to take on extra workload by increasing the leaflets that we deliver from three to five without any extra pay, despite them making an extra £41 million out of this.
They want to close mail centres at the weekends, resulting in job losses. And they want us to be "totally flexible" - in other words, do anything they want us to do.
In the summer they want five workers to do the work of six but they can't explain how.
And they expect us to cover sick absence within our own duty time. It's clear that management are preparing for a battle.

So must the union - first by getting a massive 'yes' vote.
Above-inflation pay rise with no strings
Shorter working week now
No changes to our pension scheme
---
>
"A decent pay increase for us is vital. But this ballot is about even more than that. It's about our whole future as postal workers."
A Stoke postal worker
"We've had enough of the dictats of Royal Mail bosses. Now is the time to build for a big 'yes' vote for strike action!"
Leighton and Crozier are taking the piss. We have to vote 'yes' in this ballot."
Postal workers in the Burslem depot
The ballot ends on 7 June, with the result announced on the same day.
---
In this issue

Public-sector workers say...Fight Brown's pay freeze

PCS: Public-sector unity to defend jobs and services

National Shop Stewards Network

Postal workers' strike ballot: Vote 'yes' for a future

Darling attacks Post Offices

Greenwich workers shame councillors
---
Labour Party leadership

Gordon Brown crowned leader with no contest

John McDonnell speaks to the socialist

The alternative to Labour

MPs say stop looking at us!
---
Education

Academies: No to these divisive schools

Lewisham council attacks education

School meals - Victory!

Canteen workers oppose school meals cuts

School campaigners shake Wokingham
---
Socialist Party NHS campaign

Nursing staff strike shows way forward
---
Socialist Party news and analysis

Homophobia: it's not over

Letter to Polish Ambassador
---
Marxist analysis: history

Belfast 1907 - a city in revolt
---
Environment and socialism

Can solar power solve our energy needs?
---
Scotland

SNP in power - populism and cuts
---
Home | The Socialist 24 May 2007 | Join the Socialist Party