The Socialist 28 June 2007
Support postal workers
Rail union backs postal strikers
Public anger at post office closure
Heanor postal workers seven day strike
---
National Shop Stewards network: Rank and file getting organised
Come to the National shop stewards' network Founding conference
Outside Manchester's Gordonville 'bubble'
---
---
---
---
---
It's business as usual as European summit ignores public opposition
---
World economy grows but workers lose out
---
Unison leadership launches a witch-hunt
Missed opportunity at NUT executive
---
London Pride 2007 Homophobia - it's so not over!
---
---
Nigeria: Four-day general strike ends
USA: Protesters demand military recruiters out of schools
PO Box 24697, London, E11 1YD
020 8988 8777
editors@socialistparty.org.uk

Link to this page: http://www.socialistparty.org.uk/issue/493/2561
Home | The Socialist 28 June 2007 | Join the Socialist Party
Support postal workers
Fight low pay and job losses
Stop Post Office closures
THE FIRST national postal strike for over eleven years is taking place on Friday 29 June. Despite Royal Mail chairman Allan Leighton and Co saying that they listen to "their people", it is clear that they don't.
Gary Clark, sub area rep, Scotland No.2 CWU branch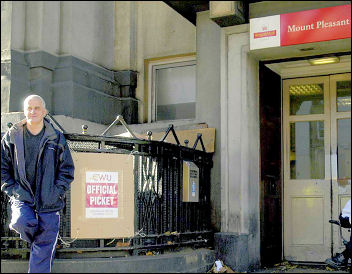 Postal workers on strike in 2007, photo Paul Mattsson
77% of postal workers voted for strike action, not only for a decent pay rise but against Royal Mail's business plan. All management have done is meet with the Communication Workers Union (CWU) at the arbitration service ACAS and then refuse to change a single dot or comma of their demands.
This is a battle that we cannot afford to lose. It is about whether the job is worth doing and the entire future of the industry. It is about whether it's a public service or just there to make fat cats even fatter.
Royal Mail's view is that postal workers are 25% over-paid and 40% under-worked. This is coming from chief executive Adam Crozier who receives a salary of £790,000 a year. This is topped up to over £1 million by his bonus. In 2004/05 his bonus alone was £2 million.
It is also clear this is an attempt to break the union, as we have seen management try to bypass us at every turn both locally and nationally. They stated in a letter to all staff that they are happy to work with "progressive unions". They want a weak submissive union.
On the table is a 2.5% pay rise or £8.09 a week. For this we must accept 22 strings, which include 40,000 job losses and £350 million of cuts, which will mean destruction of the postal service.
This is nothing more than a blatant wage cut for postal workers as inflation was at 4.8% in April (when the rise was due), so it is a £388 cut a year in real terms. They want to change start times for delivery staff, which will not only worsen the service but will mean a loss of a £12.37 a week shift allowance or £643 a year. They also want us to deliver two extra leaflets a week for free, for which we would normally be paid an average of £775 a year.
Management seem prepared for a long dispute and will do anything to break the strike. They have lined up managers to do our work who are members of the CMA, part of the Unite trade union. Other trade unionists must not do our work while we are on strike.
This will be the first national dispute under Brown's premiership. A clear message must be sent to his government: Call off the dogs of war of Leighton, Crozier and Co. Royal Mail is a public service which should be run as a service and not to line the pockets of a few.
For an above-inflation pay rise with no strings.
For a properly funded public postal service. No cuts!
Defend all public services - for united action across public sector unions.
---
In this issue

Support postal workers

'We're fighting back'

Rail union backs postal strikers

Public anger at post office closure

Heanor postal workers seven day strike
---
National Shop Stewards Network

National Shop Stewards network: Rank and file getting organised

Come to the National shop stewards' network Founding conference

Outside Manchester's Gordonville 'bubble'
---
Socialist Party NHS campaign

Save our NHS
---
Socialist Party news and analysis

"Pottsamoney" put on the spot

Harman's promotion

No to mergers, no to cuts

Save Ryeish Green school
---
Socialism 2007

Come to Socialism 2007
---
Socialist Party events

Socialist Party summer camp
---
What we think

It's business as usual as European summit ignores public opposition
---
Socialist Party Marxist analysis

World economy grows but workers lose out
---
Socialist Party workplace news

Unison leadership launches a witch-hunt

Missed opportunity at NUT executive
---
Socialist Party LGBT

Pride not profit

London Pride 2007 Homophobia - it's so not over!
---
Socialist Party review

Rehabilitating Stalin?
---
International socialist news and analysis

Nigeria: Four-day general strike ends

USA: Protesters demand military recruiters out of schools
---
Home | The Socialist 28 June 2007 | Join the Socialist Party