The Socialist 9 August 2007
Solidarity with postal workers
Save our NHS: Stop fat cat robbery
Blood Service restructuring chaos
---
Glasgow Social Care Workers win clear victory
Care workers stand firm (report 9/08/07)
---
Solidarity with postal workers
---
Exchanging socialist ideas worldwide
---
---
Floods: Profits rise, workers pay
---
Jean Charles de Menezes: Security forces not held to account
---
Railworkers strike for jobs and safety
Local government pay dispute - No to 2%!
Health and Safety : Bosses get away with murder
---
Campaigners force Labour councillors to back off
---
Welfare Green Paper: Making profit out of poverty
PO Box 24697, London, E11 1YD
020 8988 8777
editors@socialistparty.org.uk

Link to this page: http://www.socialistparty.org.uk/issue/498/3028
Home | The Socialist 9 August 2007 | Join the Socialist Party
Save our NHS: Stop fat cat robbery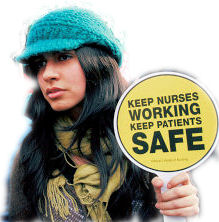 Health workers demonstrate in Hackney, photo Paul Mattsson
Thousands of nurses and doctors are unable to find jobs in our health service after millions of pounds have been spent on training them. Qualified nurses are working as ward clerks and support workers. Billions of pounds are going through the front door of local primary care trusts (PCTs) to leave in some fat cat's pocket sneaking out the back door.
Jon Smith, GMB branch secretary, Sheffield Children's Hospital. (Personal capacity)
This is our health service, not at some point in the future, but now in 2007. This is what has happened to my NHS. To the health service that should be the envy of the world.
So where has the money gone? When we are paying independent treatment centres millions of pounds for operations they do not carry out, when trusts are awarding contracts of thousands of pounds a day to private management consultants to tell us what we already know, then we start to get a clearer picture.
When all new hospitals are built within the Private Finance Initiative, which can cost a company £30 million to rent to the NHS for £150 million, again we can see where the money has gone.
Our new health secretary, Alan Johnson, states that staff working in the NHS are not 'happy bunnies'. That could be the understatement of the year!
Staff are being made redundant, they are having their pay slashed at the drop of a hat, morale is at an all-time low and probably worst of all, the care they give to their patients is being drastically undermined by targets and initiatives.
Workers enter the health service because they care about people's health.
When a hard-nosed businessman gets on his knees to attend to a sick child who has just been diagnosed with cancer, when we have a chief executive take off a plaster cast with the precision of an artist, when all these businessmen show the passion and fervour of porters, nurses, domestics, physiotherapists, doctors, administration staff and support workers then maybe they can comment.
Until that day they should pack their briefcases and leave the NHS to the health professionals.
New Labour came to power in 1997 with the slogan '24 hours to save the NHS'. Instead we have had ten years of privatisation. Together we must fight to get back our NHS.
---
In this issue

Save our NHS: Stop fat cat robbery

"How many more will suffer?"

Occupation at Kendal ward

Blood Service restructuring chaos

Solidarity with health worker
---
Strike victory

Glasgow Social Care Workers win clear victory

Care workers stand firm (report 9/08/07)
---
Postal dispute

Solidarity with postal workers

Postal action round-up
---
Committee for a Workers' International

Exchanging socialist ideas worldwide
---
Socialist Party events

Come to the summer camp
---
Environment and socialism

Floods: Profits rise, workers pay
---
The State

Jean Charles de Menezes: Security forces not held to account
---
Workplace news

Railworkers strike for jobs and safety

Local government pay dispute - No to 2%!

Health and Safety : Bosses get away with murder
---
Tales from the council chambers

Campaigners force Labour councillors to back off
---
Welfare state

Welfare Green Paper: Making profit out of poverty
---
Home | The Socialist 9 August 2007 | Join the Socialist Party