The Socialist 15 November 2007
World economy: bosses' crisis, workers pay
800 attend rally to discuss 'Which way forward for the left in Britain?'
---
World economy: Bosses' crisis, workers pay
Editorial: Shattering confidence in world economy
---
Release Nigerian students now!
---
Royal Mail's deal: Not good enough - Vote NO!
Campaigners say: No Post Office closures!
---
Green activists seek solutions
Review: Handsworth Revolution - Steel Pulse (1978)
---
Birmingham council workers fight pay cuts
Cadbury's closure: Workers vote for action
---
NHS: Step up the struggle against privatisation
Tales from the council chamber
---
Why you should read, write for and sell the socialist
---
USA: Enthusiastic response to socialist policies
Egypt's workers flex their industrial muscle
Belgium: Fighting attacks on education
PO Box 24697, London, E11 1YD
020 8988 8777
editors@socialistparty.org.uk

Link to this page: http://www.socialistparty.org.uk/issue/510/3400
Home | The Socialist 15 November 2007 | Join the Socialist Party
NHS: Step up the struggle against privatisation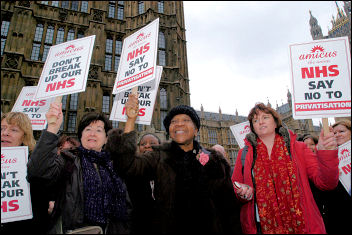 Demonstration against cuts in the NHS, 1 November 2006, photo Paul Mattsson
Another year of struggle and fightback lies ahead for NHS workers and campaigners. The employers' submission to the NHS pay review body wants another below inflation pay award for NHS workers of just 2%, which amounts to a pay cut for the second year running.
Lois Austin, Socialist Party health spokesperson
Added to this, privatisation within the NHS is gathering pace. An article in Sunday's Observer outlined the role of Simon Stevens, one time NHS adviser to Tony Blair, now working for UnitedHealth, a US healthcare company 'providing' care for 70 million Americans.
UnitedHealth is implicated in corrupt practices for denying those it has insured much needed care. This rapacious company now has its sights on the NHS and this weasel Stevens is helping them.
Not content with owning two GP practices in the Midlands, UnitedHealth have now been awarded a contract to commission services for Primary Care Trusts.
The 3 November NHS demonstration, despite some trade union leaders' attempts to turn it into a 'celebration' of the NHS, was overwhelmingly made up of health workers and campaigners, adamantly opposed to privatisation.
The question now is where does the campaign go from here? No doubt some trade union leaders think they have let the steam off and it is back to business as usual for them, cosying up to New Labour and making excuses for not organising action. But they might not get away with that this time round.
Right now there are strikes in the NHS. Manchester mental health nurses are out on indefinite strike at the moment and plan a branch-wide strike later in November.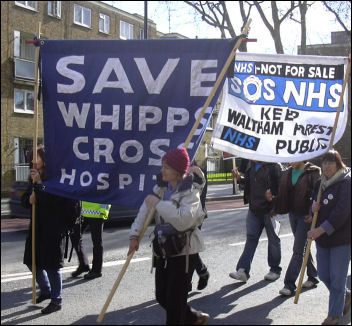 NHS demonstration March 3rd 2007, photo Paul Mattsson
Maintenance staff at Doncaster and Bassetlaw Hospitals Foundation Trust have just begun a series of strikes because they are owed thousands of pounds in back pay.
These local strikes and disputes need the full backing of the trade union leaders and can add towards a developing mood for strike action in the NHS to defend workers' conditions and stop privatisation.
We have said it before in the socialist and will say it again. This action by health workers needs to be linked with campaigns in the communities and given a national focus.
We have to fight in our unions for a strategy capable of building on the evident potential for a genuine and militant national campaign capable of defending the NHS. We have to do all we can at the grassroots to bring people together at a local and national level.
And we must build the pressure on the trade union leaders to come up with a plan to escalate action building on the success of the national demonstration.
---
>
Nurses speak out
THIS PERSONAL account of the recent Unison NHS demonstration comes from Lincoln nurse, Maxwell Flitton.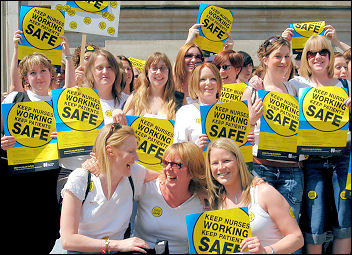 Unison and RCN lobby of parliament in 2006, photo Paul Mattsson
I had never been to a demonstration before and was worried about how many people would be there. A small turnout could make us look insignificant. It had been organised by Unison to give people the chance to express their concerns about the cut backs in the NHS. Having an idea about the damage that could be done to the country's public health if privatisation continued I felt it was my duty to turn up and fight for the NHS. Doctors, nurses, students, Unison members, communists, greens, socialists and general members of the public had come from all over Britain and I felt proud to be part of it.
Privatisation does not happen to a national service like the NHS overnight. Privatisation has been happening gradually. The NHS was supposed to provide a service for everybody from the cradle to the grave and above all it should be free at all points of delivery. Wards and services have been given ridiculous targets and have been underfunded. In the 1990s the NHS lost 200,000 beds and the private sector nearly doubled their beds.
Private health care has wrong motives; profit comes before the patient. The lack of responsibility in private health services is an issue as each company would not be responsible for the whole country's health. The concept 'prevention is better than cure' would not work. For the NHS this would relieve the strain slightly; but for a private company this will just cut sales of prescriptions and treatments. Eradicating a disease from the country will ease the strain on the NHS but for a private company it will reduce the market.
The "internal market" has hospitals and other services competing for funds and means that if a service is not meeting targets, funds can be withdrawn and reallocated to other services. This means more closures. Due to the cutbacks and closures GPs, faced with long waiting lists, had no choice but to hire private services to treat some of their patients. The NHS then has to pay for the private services. This is costing the NHS more due to the fact that the private sub-contractors want to make a profit on the services they provide. This forms the vicious cycle of more closures and more reliance on private services to treat NHS patients. This process is slowly killing the NHS.
I felt that I had done something worthwhile. Although I knew that this one demonstration would not stop the privatisation of the NHS completely I knew that it would help.
---
>
A SHEFFIELD NHS worker speaks to the socialist about his views of the 3 November Unison demo.
AT MY weekly Socialist Party branch meeting the demonstration against the privatisation within the NHS was advertised. But at work the union notice boards advertised a trip to the seaside!
I checked the websites but the GMB weren't in the know and one month before the event Unison and Keep the NHS Public did not feel the need to let people know about the "celebration of the NHS". It was eventually put on the Unison website, but nowhere else. Unison put it in their newsletter, delivered to some the day before the demo! And so on Saturday 3 November it felt like attending a rave in the eighties; only those in the know knew where to wait for transport to attend!
Despite this a reported 7,000 people marched through the streets of London culminating in Trafalgar Square. The speeches went on for hours; it appeared that most found the London sights more interesting. Over 70 people attended the Socialist Party meeting afterwards. I don't know what happened to the Unison recommended theme of 'celebrating the NHS' but the mood appeared to be more against the privatisation and use of PFI in the NHS.
The reported 7,000 came from the London local BBC news, obviously Arsenal and Manchester United drawing was more important national news. I don't normally buy a daily paper but I did on Monday to get change for the bus. Once again no mention of Saturday's demo; only that somebody called Dominic has been dropped from Strictly Come Dancing.
The fight to save the NHS goes on. We need to raise the profile again as other right-wing policies form a smokescreen and push public services from the public eye.
---
>
A LONDON nurse also speaks to the socialist about the state of the NHS.
I RECENTLY read an article by the chief executive of our Trust about staff reduction which posed the following questions in my mind: 'what assessment method was used as a framework for identifying the need to cut down staffing levels?', 'Were there any service users involved?' and 'Which is more important; the care and safety of patients or saving money?'.
Modernising the health service will cost more money. But this expenditure, on equipment, premises and staff, is genuinely needed. Therefore the so-called 'NHS budget deficit' simply means that there is a need for more funding on behalf of the government.
The NHS should be expanding, not shrinking! I work as a nurse in one of the newest hospitals in London. And yet we have to wait hours to see a doctor. I come from a 'third world' country yet I see things here in London that wouldn't ever happen there. Recently an old woman was transferred from the hospital to a nursing home at one o'clock in the morning just to free up a bed.
---
In this issue

800 attend rally to discuss 'Which way forward for the left in Britain?'
---
Socialist Party Marxist analysis

World economy: Bosses' crisis, workers pay

Editorial: Shattering confidence in world economy
---
International socialist news

Pakistan martial law

German train drivers strike

Release Nigerian students now!
---
Royal Mail

Royal Mail's deal: Not good enough - Vote NO!

Campaigners say: No Post Office closures!
---
Socialist Party news and analysis

Green activists seek solutions

Aiming to be rich

Review: Handsworth Revolution - Steel Pulse (1978)
---
Workplace news and analysis

Anger on the building sites

Save every Remploy job!

Birmingham council workers fight pay cuts

Cadbury's closure: Workers vote for action

Trade union news in brief
---
Socialist Party NHS campaign

NHS: Step up the struggle against privatisation

Manchester health workers

Tales from the council chamber
---
the socialist newspaper

Why you should read, write for and sell the socialist
---
International socialist news and analysis

USA: Enthusiastic response to socialist policies

Egypt's workers flex their industrial muscle

Belgium: Fighting attacks on education
---
Home | The Socialist 15 November 2007 | Join the Socialist Party