The Socialist 15 November 2007
World economy: bosses' crisis, workers pay
800 attend rally to discuss 'Which way forward for the left in Britain?'
---
World economy: Bosses' crisis, workers pay
Editorial: Shattering confidence in world economy
---
Release Nigerian students now!
---
Royal Mail's deal: Not good enough - Vote NO!
Campaigners say: No Post Office closures!
---
Green activists seek solutions
Review: Handsworth Revolution - Steel Pulse (1978)
---
Birmingham council workers fight pay cuts
Cadbury's closure: Workers vote for action
---
NHS: Step up the struggle against privatisation
Tales from the council chamber
---
Why you should read, write for and sell the socialist
---
USA: Enthusiastic response to socialist policies
Egypt's workers flex their industrial muscle
Belgium: Fighting attacks on education
PO Box 24697, London, E11 1YD
020 8988 8777
editors@socialistparty.org.uk

Link to this page: http://www.socialistparty.org.uk/issue/510/3406
Home | The Socialist 15 November 2007 | Join the Socialist Party
Royal Mail's deal: Not good enough - Vote NO!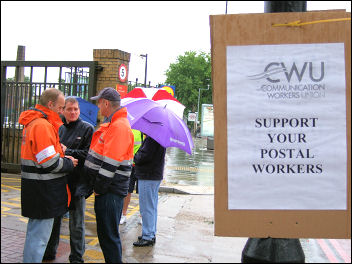 CWU picket line in East London, photo Naomi Byron
Postal workers around the country have led a heroic struggle against Royal Mail's attacks on their terms and conditions, wages and jobs. Royal Mail are clearly aiming to prepare the postal service for privatisation.
Chris Moore, Gloucestershire Socialist Party
Both official and unofficial action has taken place over the last few months with workers being prepared to suffer huge hardship. They have lost between two and four weeks' wages in their battle with a vicious management, backed ever more clearly by the Labour government.
In Gloucestershire the strike stayed solid with up to 97% support but now the national executive of their union CWU, is asking members to swallow a deal that sells them well short.
John Ellis, the CWU early morning shift rep at Gloucester mail centre, gave his views on the deal.
"I want a massive 'No' vote. Some people have come to me saying they're outraged and a lot more don't think it's a very good deal. HQ say this is the best they can get but it's not good enough. All of the original proposals are in the hands of working groups."
Royal Mail's pay offer of 6.9% over 18 months is really 5.4% from October with 1.5% from April next year, only if local flexibility deals are agreed.
As John says: "Pay is the same as before but a bit earlier and 2.7% per year for the next two years is below inflation. With flexible working where branches are weaker, management can get away with murder. Monthly pay and annualised hours, virtually all are still there."
Royal Mail has split pensions from the pay deal but John called the plans for pensions "an absolute robbery."
He said: "It means scrapping the final salary scheme from April next year with the pensionable age going to 65. No one gains from the new scheme and some will lose thousands going into an average earnings scheme.
"If you retire at 60 it will now be at a reduced rate, so to get the full pension you'll have to pay in for five years longer and claim your pension for five years less. The more time you've got left to do the more you lose. Those with 22 years service could lose up to £40,000.
"Royal Mail will make millions at our expense. If I stole from Royal Mail they'd sack me, but they steal from me and there's nothing I can do about it."
Andy Petrie, delivery rep at Gloucester south, felt the CWU leadership "could have got a lot more."
Explaining the mood at his office he said: "In delivery a hell of a lot of people are upset and could vote against."
In Gloucester there are rumours that the prime minister Gordon Brown threatened the CWU leadership if they refused to settle. John Ellis believes around 24 CWU branches have recommended a 'No' vote.
Clearly there is significant opposition to this unacceptable deal, which CWU leaders Billy Hayes and Dave Ward are trying to sell to the membership.
The opposition needs to organise to ensure not only a 'No' vote but that CWU members get the fighting, democratic union they deserve, with a leadership who show the same determination as them in combating attacks on pay and conditions.
The role of the Labour government in this dispute has infuriated postal workers, with Gordon Brown claiming there was "no justification" for the strike.
The CWU has paid over half a million pounds to the Labour Party since last summer but John Ellis and Andy Petrie, like many others believe it's time to sever that link and instead start to build a new party which would offer a political voice and support for working people.
---
In this issue

800 attend rally to discuss 'Which way forward for the left in Britain?'
---
Socialist Party Marxist analysis

World economy: Bosses' crisis, workers pay

Editorial: Shattering confidence in world economy
---
International socialist news

Pakistan martial law

German train drivers strike

Release Nigerian students now!
---
Royal Mail

Royal Mail's deal: Not good enough - Vote NO!

Campaigners say: No Post Office closures!
---
Socialist Party news and analysis

Green activists seek solutions

Aiming to be rich

Review: Handsworth Revolution - Steel Pulse (1978)
---
Workplace news and analysis

Anger on the building sites

Save every Remploy job!

Birmingham council workers fight pay cuts

Cadbury's closure: Workers vote for action

Trade union news in brief
---
Socialist Party NHS campaign

NHS: Step up the struggle against privatisation

Manchester health workers

Tales from the council chamber
---
the socialist newspaper

Why you should read, write for and sell the socialist
---
International socialist news and analysis

USA: Enthusiastic response to socialist policies

Egypt's workers flex their industrial muscle

Belgium: Fighting attacks on education
---
Home | The Socialist 15 November 2007 | Join the Socialist Party