The Socialist 22 November 2007
Profit system wrecks climate
---
Defend Karen Reissman: Defend free speech and trade union rights
---
Nationalise Northern Rock permanently to safeguard workers' interests
---
SOLIDARITY APPEAL: Defend Tukwila Teachers Threatened with Termination for Antiwar Student Walkout
France: massive public sector workers' strike
---
SNP budget will not satisfy expectations
Detention without trial: Defend civil rights
New attacks on incapacity benefits
'Cheap and nasty' Camden council to shut deaf school
---
Socialism 2007: Inspired by past victories, preparing for future struggles
---
Support the Northern Ireland classroom assistants
Cardiff schools: Parents march against closure threats
---
Rail transport: Overpriced, overcrowded, underinvested
Train drivers strike in Germany
Labour's pensions - a social time-bomb
---
Denmark general election: Socialist People's Party doubles its MPs
GM, Chrysler, and Ford's 'race to the bottom'
---
Postal workers campaign against "MacMail"
Doncaster Hospital workers on strike for £9,000 back pay
National Union of Journalists: Standing up against the robber barons
PO Box 24697, London, E11 1YD
020 8988 8777
editors@socialistparty.org.uk

Link to this page: http://www.socialistparty.org.uk/issue/511/3423
Home | The Socialist 22 November 2007 | Join the Socialist Party
Scotland
SNP budget will not satisfy expectations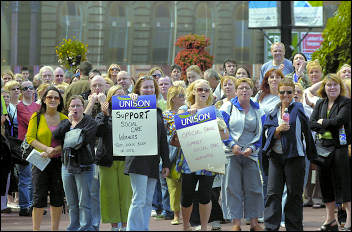 Glasgow Social Workers on strike , photo Duncan Brown
The Scottish National Party government has delivered its first Scottish budget since forming a minority administration after the May 2007 elections. They set out their three year spending plans against the backdrop of a squeeze on public spending by the Gordon Brown-led New Labour government. The Scottish budget is to increase by 1.5% above inflation for three years - the lowest settlement since the Scottish parliament was set up in 1999.
Philip Stott
Many of the SNP's key manifesto commitments have been effectively dropped. These include the promise to scrap student loans and replace them with grants, to wipe out student debt, increase free nursery provision by 50% and reduce class sizes for primary school years one to three to 18.
Finance minister John Swinney did announce that the SNP would give local councils the money to freeze council tax for the next three years. Prescription charges will be ended by 2011 and 150,000 small businesses are to have their rates cut or abolished.
There are however also cuts in budgets for higher education and housing capital for next year. Ironically, given the propaganda in sections of the right-wing press in England that Scotland receives too much in public spending, NHS spending in Scotland will rise at less than half the rate of England.
Central SNP policies like the pledge to scrap council tax are clearly years away, while the abolition of PFI/PPP and its replacement with a public-sector bond did not feature in the budget. In fact SNP education minister Fiona Hyslop has given the green light for councils to continue using PPP to build new schools in the meantime.
Recent figures have shown that the total bill facing the Scottish government and local authorities for PPP is currently £22 billion - payable to private companies over the next 30 years. This is resulting in hundreds of millions of pounds of public money every year going into the pockets of big business.
The SNP's spending plans for the next three years are predicated on achieving year-on-year 2% "efficiency savings" across the public sector. That is 6% of cuts over the next three years. In practice this policy will set the SNP on a collision course with public-sector workers, in particular over pay. Local government trade unions in Scotland have put in a claim for a 5% pay rise or £1,000 a year.
Overall the SNP's reforms: the council tax freeze, reversing NHS cuts, abolishing bridge tolls and prescription charges and a promise to end right-to-buy policy of future council and housing association homes, are popular. However, this will be undermined in the months ahead.
The SNP's over-riding priority is to prove themselves a "responsible" party of government. While protesting over the "tight" financial settlement from Westminster and arguing for the Scottish parliament to have the powers to be responsible for its own tax and spend policies, the SNP are precisely adopting a course of limited reforms alongside a cuts agenda.
Their stated aim to deliver a world class, low business tax, market economy for Scotland will increasingly set them against the interests of working people, forcing them to take the side of big business while standing against the interests of the working class.
It is an indication of how the SNP will act when faced with making cuts that they voted for a series of school and nursery closures in Edinburgh council to deal with a financial crisis. This enraged the local population and a huge campaign forced the SNP/Lib Dem coalition into a retreat – at least temporarily.
The only other option would be to mount a campaign to defy the cuts and demand the resources needed from the Brown government to implement a programme in the interests of the working class. The SNP will not go down that road.
Nevertheless, wide support for increased powers for the Scottish parliament is likely to grow against the background of a rapidly deteriorating economy that will result in deeper cuts in public spending. All parties in the parliament, including Labour, now say they are in favour of increased powers for different reasons.
For Labour, the Tories and the Lib Dems it is an attempt to head off moves towards full independence. For the SNP it is seen as part of an "evolutionary" stage along the road towards an independent Scotland.
What does unite these parties is a commitment to capitalism and therefore attacks on the working class. With the Bank of England governor Mervyn King now predicting "a sharp economic slowdown", all parties that defend the profit system will see their support undermined. The urgent need to build a campaign to resist these and other attacks is clear.
Under these conditions a powerful socialist force can be built to offer a real alternative to working-class people in Scotland and throughout Britain.
---
In this issue

Profit system wrecks climate
---
Socialist Party NHS campaign

Defend Karen Reissman: Defend free speech and trade union rights
---
Banking Crisis

Nationalise Northern Rock permanently to safeguard workers' interests
---
International socialist news and analysis

SOLIDARITY APPEAL: Defend Tukwila Teachers Threatened with Termination for Antiwar Student Walkout

France: massive public sector workers' strike
---
Socialist Party news and analysis

SNP budget will not satisfy expectations

Detention without trial: Defend civil rights

New attacks on incapacity benefits

'Cheap and nasty' Camden council to shut deaf school

News in brief
---
Socialism 2007

Socialism 2007: Inspired by past victories, preparing for future struggles
---
Education

Support the Northern Ireland classroom assistants

Cardiff schools: Parents march against closure threats
---
Socialist Party features

Rail transport: Overpriced, overcrowded, underinvested

Train drivers strike in Germany

Labour's pensions - a social time-bomb
---
International socialist news and analysis

Denmark general election: Socialist People's Party doubles its MPs

2008 US presidential election

GM, Chrysler, and Ford's 'race to the bottom'
---
Workplace news and analysis

Postal workers campaign against "MacMail"

Doncaster Hospital workers on strike for £9,000 back pay

National Union of Journalists: Standing up against the robber barons
---
Home | The Socialist 22 November 2007 | Join the Socialist Party