The Socialist 27 May 2009
Protest at MPs' sleaze
Protest at MPs' sleaze: Vote No2EU - Yes to Democracy
No2EU - yes to Democracy: Who's standing and why you should vote for them
Hear No2EU - Yes to Democracy speakers
Fiddling Tory MP Mackay resigns
UKIP - yet another establishment party
BNP fail to win Salford election
---
Youth Fight for Jobs: Fortnight of action 27 June to 10 July
School students organised strikes
---
Construction workers: battle won but war not over
Strike success at Lindsey Oil Refinery and Conoco
An action plan for all construction sites
Diary of a Lindsey Oil Refinery shop steward
---
Southampton protest: Stop the slaughter of Tamils
Latvia: 'A capitalist inferno'
Kashmir health workers' victory
Nanjing college students in clashes with police
---
PCS conference: Preparing for future battles
Delegates' anger at Public and Commercial Services union conference
Young members' voices heard at PCS conference
Wales TUC conference - no good news for New Labour
National Shop Stewards Network conference
---
Anger at council school closures
Lewisham Bridge primary school
PO Box 24697, London, E11 1YD
020 8988 8777
editors@socialistparty.org.uk

Link to this page: http://www.socialistparty.org.uk/issue/581/7352
Home | The Socialist 27 May 2009 | Join the Socialist Party
Youth Fight for Jobs: Fortnight of action 27 June to 10 July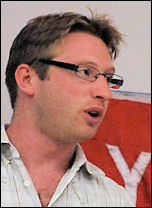 Sean Figg at Youth Fight For Jobs Conference 2009, photo Paul Mattsson
The economic crisis continues to decimate young people's hope of a decent future. Whether looking for work, or applying for education, opportunities are drying up everywhere.
Sean Figg, YFJ national organiser
The TUC's latest Recession Report puts unemployment amongst 18 to 24 year olds at 16.1%. This is double the rate amongst 25 to 49 year olds and treble the rate of the over 50s, and amounts to 676,000 individuals.
Since the start of 2008 28% of the increase in unemployment has come from young workers. Young workers are seen as more 'sackable' than older workers. More than 50% of young people work in the casualised 'service sector' - retail, customer services etc, sectors that have low levels of trade union organisation. Research shows that 40% of young people could not find permanent work in 2008. The Guardian reported an 80% increase in Job Seekers Allowance claimants aged 18 to 24 since last year.
When penny-pinching bosses downsize staffing levels they find it cheaper to get rid of young workers. Redundancy payments do not kick in until a worker has been with a company for more that two years and unfair dismissal cannot be raised until 12 months of employment has passed.
This will compound the effect that recruitment freezes and 'last in, first out' agreements will have on young workers. The Chartered Institute of Personnel and Development has said that 50% or employers surveyed will not be taking on any school leavers this summer.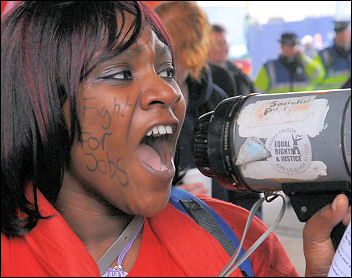 Youth Fight For Jobs demonstration, photo Paul Mattsson
Those seeking an escape from the dole queues by continuing or returning to education may well be in for disappointment, as this option becomes further restricted. Head teachers report that, at sixth form colleges, due to a funding shortfall, some 9,000 existing places will not be financed next year.
At university, some 28,000 applicants are expected to be turned away as the government reduces the expansion of spaces and threatens universities with financial punishments if they oversubscribe students.
Those who manage to get a university place face the daunting prospect of a massive hike in tuition fees. When the director of the Office for Fair Access is reported as saying that universities should be allowed to raise fees to up to £5,000 a year, this is a threat that must be taken very seriously indeed.
The fightback against this worsening situation has taken a big step forward with the decision of the civil service workers' PCS trade union conference to support the Youth Fight for Jobs campaign (YFJ).
YFJ will be encouraging supporters and activists to organise local protests, publicity stunts and meetings in the fortnight of action taking place from Saturday 27 June to Friday 10 July. See www.youthfightforjobs.com/action for a guide to organising action.
The fortnight of action coincides with a further 600,000 young people leaving school, college and university, swelling the ranks of the unemployed.
YFJ is determined that Bank of England adviser David Blanchflower's statement about the "permanent scars" caused by long-term youth unemployment on its victims' mental health, confidence, earnings and opportunities in later life does not become a reality.
---
In this issue

Protest at MPs' sleaze: Vote No2EU - Yes to Democracy

No2EU - yes to Democracy: Who's standing and why you should vote for them

Fight for real democracy!

Hear No2EU - Yes to Democracy speakers

Fiddling Tory MP Mackay resigns

UKIP - yet another establishment party

BNP fail to win Salford election
---
Youth fight for jobs

Youth Fight for Jobs: Fortnight of action 27 June to 10 July

School students organised strikes
---
Construction workers feature

Construction workers: battle won but war not over

Strike success at Lindsey Oil Refinery and Conoco

An action plan for all construction sites

Diary of a Lindsey Oil Refinery shop steward
---
International socialist news and analysis

Southampton protest: Stop the slaughter of Tamils

Latvia: 'A capitalist inferno'

Kashmir health workers' victory

Nanjing college students in clashes with police
---
PCS conference and workplace news

PCS conference: Preparing for future battles

Delegates' anger at Public and Commercial Services union conference

Young members' voices heard at PCS conference

Wales TUC conference - no good news for New Labour

National Shop Stewards Network conference
---
Socialist Party campaigning news

Anger at council school closures

Lewisham Bridge primary school

Why we must Stop the Strip!

"Dump cuts not elderly"
---
Home | The Socialist 27 May 2009 | Join the Socialist Party