The Socialist 7 July 2009
Action now to defend public sector
Action now to defend public sector
---
---
Postal workers need a national fightback
---
National Express goes off the rails
Demanding justice for Shrewsbury 24
---
Why women don't have real equality
---
Police trigger ethnic clashes in Xinjiang
Honduras coup - a warning to workers in Latin America
Sri Lanka: Protest over DfID role
---
Stalin's Nemesis: The Exile and Murder of Leon Trotsky
Arundhati Roy - politics and literature
---
Higher fees in higher education
Drama students enter the stage of struggle
First strike against Trust schools
---
RMT Annual General Meeting: "If provoked - Will strike"
Save jobs at Vestas wind turbine plant
Private companies caught in jobcentre scam
South West Wales Media: Fight for jobs, defend conditions
Oilc - fighting for decent working conditions in the North Sea
PO Box 1398, Enfield EN1 9GT
020 8988 8777
editors@socialistparty.org.uk

Link to this page: http://www.socialistparty.org.uk/issue/587/7512
Home | The Socialist 7 July 2009 | Join the Socialist Party
JOBS NOT DOLE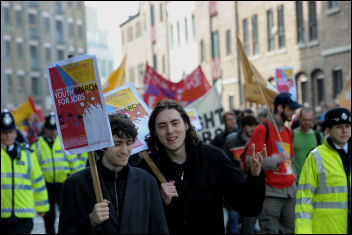 Youth Fight For jobs demonstration, photo Paul Mattsson
With every passing week yet more companies announce yet more redundancies. The figures are astounding. Earlier this year we saw the largest quarterly fall of people in employment since 1971. I have experienced a drastic fall in both opportunities and standards in two very different sectors.
Neil Obler, Reading
I worked as a self-employed IT contractor, quite a rewarding occupation, albeit hard work. One week I was calling at four to six major high street chains, building societies and government departments a day to resolve IT issues. The next week I was being informed that contract after contract was terminated with work to be carried out 'in-house' or by small companies battling to offer the lowest price.
The occasional job that came through was at very short notice, with very short timescales to complete large-scale projects. I often found myself working with a group of extremely tense and nervous colleagues, desperately exchanging contact details of clients and agencies. Some you'd see again in a week's time and some you didn't. Soon there were no calls. Nobody was calling out for field engineers. Long-standing clients ended all contact.
After months of desperately negotiating work, the next step was to resort to registering with a construction agency I had worked with years before. It was as if the previous three years of work hadn't happened. There I was, up earlier than dawn, protectively equipped to the scalp, working at least 50 hours a week. I laboured alongside workers from up and down the country who, despite having the security of a permanent employer, debated which small few of them would be first in line for the next job.
A large Charles Church residential site was close to completion, with just another block of flats and seven or eight houses, out of roughly 200, to be finished. Then Charles Church announced that the project would not be completed due to 'mismanagement of budget'.
This site was part of a larger project comprising 1,500 houses. Less than ten of these houses are housing association. This is an outrage when you look at the number of families desperately seeking accommodation in the Bracknell Forest area and nationally.
As such 'residential economic disasters' became the trend, more work was offered on commercial sites where agency workers were 'touted' to tradesmen on site. For an average 45-hour week the average weekly take-home wage, after various agency fees and tax schemes, fell to £180.
I couldn't support my family on this and I had no choice but to leave it behind. Eight months, two weeks IT work, and much grief later I have tried to get back to work on site. Now nothing from steelwork to casual labouring is on offer. I can, unfortunately, foresee that the 600,000 or so students leaving school, college and university, who have studied dedicatedly, and apprentices who have worked for a pittance while training, will find no better fortune. The increasing number of young people signing on at Jobcentres across the country paints a grim picture.
Fortunately the Youth Fight for Jobs (YFJ) campaign is right behind the unemployed, students and exploited youth with full knowledge of the difficulties these young people will face down the line. YFJ has the ability to rally them together, to lend them a voice in the hope of turning this situation around.
---
In this issue

Action now to defend public sector
---
Youth fight for jobs

Jobs not dole
---
Socialist Party editorial

Brown's dead duck government

Postal workers need a national fightback
---
Socialist Party news and analysis

National Express goes off the rails

First Bus - no to pay freeze

Demanding justice for Shrewsbury 24

News in brief
---
Socialist Party women

Why women don't have real equality
---
International socialist news and analysis

Police trigger ethnic clashes in Xinjiang

Honduras coup - a warning to workers in Latin America

Sri Lanka: Protest over DfID role
---
Socialist Party reviews

Stalin's Nemesis: The Exile and Murder of Leon Trotsky

Arundhati Roy - politics and literature
---
Education

Higher fees in higher education

Drama students enter the stage of struggle

Teachers' MOTs

First strike against Trust schools

Strike against BSF proposals
---
Socialist Party workplace news

RMT Annual General Meeting: "If provoked - Will strike"

Save jobs at Vestas wind turbine plant

Private companies caught in jobcentre scam

South West Wales Media: Fight for jobs, defend conditions

Oilc - fighting for decent working conditions in the North Sea
---
Home | The Socialist 7 July 2009 | Join the Socialist Party