The Socialist 7 July 2009
Action now to defend public sector
Action now to defend public sector
---
---
Postal workers need a national fightback
---
National Express goes off the rails
Demanding justice for Shrewsbury 24
---
Why women don't have real equality
---
Police trigger ethnic clashes in Xinjiang
Honduras coup - a warning to workers in Latin America
Sri Lanka: Protest over DfID role
---
Stalin's Nemesis: The Exile and Murder of Leon Trotsky
Arundhati Roy - politics and literature
---
Higher fees in higher education
Drama students enter the stage of struggle
First strike against Trust schools
---
RMT Annual General Meeting: "If provoked - Will strike"
Save jobs at Vestas wind turbine plant
Private companies caught in jobcentre scam
South West Wales Media: Fight for jobs, defend conditions
Oilc - fighting for decent working conditions in the North Sea
PO Box 1398, Enfield EN1 9GT
020 8988 8777
editors@socialistparty.org.uk

Link to this page: http://www.socialistparty.org.uk/issue/587/7515
Home | The Socialist 7 July 2009 | Join the Socialist Party
Postal workers need a national fightback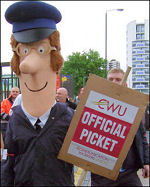 Postman Pat joins the CWU picket line in East London , photo N Byron
THOUSANDS OF postal workers will strike in London this week. Much of the entire postal network will be involved in a 'day of action' next week (17 July) as workers struggle to defend postal services and their jobs and conditions. Most 'posties' are convinced that the day of action should involve striking.
Dave Griffiths and Bill Mullins
These strikes are in response to an undeclared war on the industry, its workforce and its trade union, the CWU. Despite the apparent government retreat from privatisation of Royal Mail, a huge threat still hangs over the whole industry and the vital service it provides.
The CWU has opposed Labour's privatisation plans, plans that would also be eagerly carried through by the Tories. Labour is reeling from voters' rejection of its unpopular policies.
That, together with the economic crisis leaving few private takers for part of Royal Mail, means they had to backtrack. But the government have only 'kicked it into the long grass' and the threat to pensions and pay continues.
Meanwhile Royal Mail management goes on with the government's war against the postal industry. They have continued, and even stepped up, attacks on the workforce as they keep trying to soften up the industry and its workers for privatisation.
Their 'slash and burn' cuts are steadily destroying a vital public service as they seek to tear up routes, shift patterns and workloads, and slash jobs. They are ruling by diktat not agreement, bullying workers and local unions and are in effect trying to derecognise the CWU.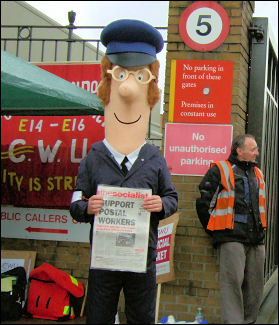 Postman Pat joins the CWU picket line in East London, photo Naomi Byron
They are also trying to impose a pay freeze, in an industry that made £320 million profit last year from its workers and whose bosses enjoy lavish rewards. Workers have had enough!
Such a national assault on workers requires a national fightback. Bosses have been allowed to attack area by area, office by office. There are now over 160 ballot requests for industrial action by postal workers in response to cuts, bullying and intimidation. Many complain that the balloting process has been too slow to meet the bosses' onslaught.
Union leaders had hoped for an agreement for 'modernisation' that would avert the privatisation threat. Many postal reps worried about what the union would have to give away to achieve this. But management haven't averted their attack.
Weakness in the face of attack has only invited aggression and can undermine workers' confidence in the union, leaving a more difficult job for lay union reps.
The 17 July stoppage needs to be a national strike to send a clear message to Royal Mail and the government. If that means defying anti-union laws, so be it. If the union leaders won't do this, then at least they should announce that they will organise a national ballot for industrial action as soon as possible. Whatever happens, postal workers should be prepared to take unofficial action from below.
---
In this issue

Action now to defend public sector
---
Youth fight for jobs

Jobs not dole
---
Socialist Party editorial

Brown's dead duck government

Postal workers need a national fightback
---
Socialist Party news and analysis

National Express goes off the rails

First Bus - no to pay freeze

Demanding justice for Shrewsbury 24

News in brief
---
Socialist Party women

Why women don't have real equality
---
International socialist news and analysis

Police trigger ethnic clashes in Xinjiang

Honduras coup - a warning to workers in Latin America

Sri Lanka: Protest over DfID role
---
Socialist Party reviews

Stalin's Nemesis: The Exile and Murder of Leon Trotsky

Arundhati Roy - politics and literature
---
Education

Higher fees in higher education

Drama students enter the stage of struggle

Teachers' MOTs

First strike against Trust schools

Strike against BSF proposals
---
Socialist Party workplace news

RMT Annual General Meeting: "If provoked - Will strike"

Save jobs at Vestas wind turbine plant

Private companies caught in jobcentre scam

South West Wales Media: Fight for jobs, defend conditions

Oilc - fighting for decent working conditions in the North Sea
---
Home | The Socialist 7 July 2009 | Join the Socialist Party