The Socialist 8 December 2010
Movement to defeat tuition fees and cuts: This is just the start!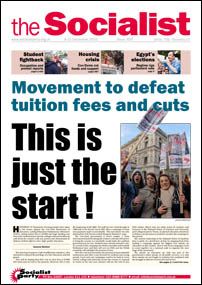 ---
The fight goes on against fees and cuts
---
Youth Fight for Education launch
Youth Fight for Jobs conference report
30 November: student day of action on cuts and fees
Con-Dems can be defeated: Welsh Assembly backs down on EMA and fees
---
Tories' secret job cuts plan exposed
'We need fighting unions to halt cuts'
Nottingham march against billionaire tax dodgers
---
All-Britain Anti-Cuts Campaign to be launched
Building the anti-cuts movement
Scotland: Unison votes for fighting cuts strategy
TUSC calls election campaign conference
---
---
Housing under attack: Ripping off the roof over our heads
---
Medirest health workers need help to fight multinational
Campaign stops health bosses' closure plan
Don't let profit become the bottom line in care
---
---
Protesters demand halt to opencast coal mining in Bangladesh
Egypt's regime perpetrates a massive election fraud
Warmonger Rajapaksa forced to abandon his Oxford Union speech
Kazakhstan - a repressive and corrupt state
PDFs for this issue

Page1 pdf

Page2 pdf

Page3 pdf

Page4 pdf

Page5 pdf

Centre pages pdf

Page8 pdf

Page9 pdf

Page10 pdf

Page11 pdf

Page12 pdf
PO Box 24697, London, E11 1YD
020 8988 8777
editors@socialistparty.org.uk

Link to this page: http://www.socialistparty.org.uk/issue/650/10760
Home | The Socialist 8 December 2010 | Join the Socialist Party
30 November: student day of action on cuts and fees
London
Thousands of students marched again on 30 November, to protest as tuition fees were to be debated in parliament.
Over 2,000 people, mainly school and college students, gathered in Trafalgar Square, climbed the plinth on Nelson's Column and filled the air with lively chants.
They then set off on a hectic march around central London, winning the applause of shoppers and workers. The students ended in Trafalgar Square with a spontaneous rally, inside a police cordon.
Socialist Student organiser Claire Laker-Mansfield spoke and announced to great applause the latest victory in this battle - that the Welsh Assembly had pledged to subsidise the fee increase for Welsh students.
Students were let out in small numbers and many went to visit the various university occupations continuing around London.
Bristol
2,000, mainly school and college students, marched in Bristol on 30 November. Unlike on 24 November and in spite of police attempts to block our way, students were able to march into the city centre - twice!
Honks of cars and shouts of good luck from shoppers confirmed the support of workers in Bristol. As we marched, the demo almost doubled in size, with around 1,000 of us starting the demo and 2,000 leaving the city centre and marching up to the financial offices of the University of Bristol.
The demo went on for hours. Around 400 students were 'kettled' near Bristol University, held for over two hours, and eventually all photographed as they were let out one by one.
But the students of Bristol are not going to stop fighting until we have won our right to free education.
Frankie Langeland
Sheffield
Over 300 students marched the two miles from Sheffield University to Nick Clegg's constituency office on 30 November.
As we assembled, the police gave us all a Section 14 Public Order Act notice, trying to restrict protesters to only 100 at a designated site 50 yards away from Clegg's office. Neither police threats nor snow could prevent students voicing their anger against Clegg's broken pledge to scrap fees.
School students from King Edward's School in Clegg's Hallam constituency had walked out for a second time. Of course, Clegg wasn't at home, despite chants of "where's our MP?" and "answer the phone".
Marching back, a spontaneous occupation of the Richard Roberts building by around 100 students began the second occupation at Sheffield University in a week.
Stafford
On 30 November, a very lively demonstration was held in Stafford. Students from local secondary schools, the FE college and Staffs University were involved in organising the protest.
Even though people only had a few days notice and despite almost continuous snowfall, over 100 people turned up.
The chants of "no ifs, no buts, no education cuts" and "Tory scum" along with singing, whistling and horn blowing, made for a loud demo despite the numbers!
The plan had been to march to the Tory HQ, just outside the town centre, however we were stopped by the police and were only allowed to march around the pedestrian area of the Market Square. The route also took in some council offices where there was supportive clapping through the windows!
On arriving back at Market Square, the students were 'kettled' by the police for about 15 minutes.
Josie Shelley
Swansea
Gorseinon, a few miles west of Swansea, was brought to a standstill for the second time in a week by hundreds of protesting students.
The 300 students from Gower (Further Education) College who protested on 24 November invited students from other local colleges to join with them this time - notably a delegation from Swansea University.
At least 600 swept through the streets and got a fantastic response when they reached the high street, giving everyone in this working-class town a huge lift.
The same day, unions in the Labour-controlled Neath/Port Talbot council recommended that their members give concessions - including a 2% pay cut after the council shamefully gave 90-day notices. These students showed that the Con-Dem cuts can be fought through militant action.
Already the Welsh Assembly Government (WAG) has been forced to backtrack on cutting EMA and bringing in big rises on tuition fees.
Swansea Socialist Party, Socialist Students and Youth Fight for Education are raising the idea that students in every school, college and university should meet at noon in Castle Square in Swansea city centre on 9 December for a mass demo that will lift the sights of workers and students in South West Wales.
Rob Williams
Yorkshire
Socialist Students members from around Yorkshire built for and participated in the second National Day of Action against cuts and fees on 30 November, despite the appalling weather.
18 attended a Youth Fight for Education meeting in Huddersfield after a demonstration.
Around 400 from York University, York College and several schools attended an end of day rally in the city centre.
In Leeds Socialist Students members have, alongside others, been occupying the Michael Sadler building at Leeds University. Around 500 marched from the Parkinson Steps down into Leeds, where protesters were shamefully kettled by the police, before marching back to rejoin the occupation.
Iain Dalton
---
In this issue
---
Fighting cuts and fees

This is just the start!

The fight goes on against fees and cuts

Resisting police intimidation
---
Youth Fight for Education

Youth Fight for Education launch

Youth Fight for Jobs conference report

Socialist Students conference

30 November: student day of action on cuts and fees

Con-Dems can be defeated: Welsh Assembly backs down on EMA and fees

Organising a college walkout
---
Anti-cuts campaign

Cuts cost lives

Tories' secret job cuts plan exposed

'We need fighting unions to halt cuts'

Nottingham march against billionaire tax dodgers
---
National Shop Stewards Network

All-Britain Anti-Cuts Campaign to be launched

Building the anti-cuts movement

Scotland: Unison votes for fighting cuts strategy

TUSC calls election campaign conference
---
Keep the post public campaign

Keep the Post Public campaign
---
Trade Unionist and Socialist Coalition

Housing under attack: Ripping off the roof over our heads
---
Socialist Party NHS campaign

Medirest health workers need help to fight multinational

Campaign stops health bosses' closure plan

Don't let profit become the bottom line in care
---
Anti-racism

Battle for Barking

Hull: racist BNP demo stopped
---
International socialist news and analysis

Protesters demand halt to opencast coal mining in Bangladesh

Egypt's regime perpetrates a massive election fraud

Warmonger Rajapaksa forced to abandon his Oxford Union speech

Kazakhstan - a repressive and corrupt state
---
Home | The Socialist 8 December 2010 | Join the Socialist Party