The Socialist 8 December 2010
Movement to defeat tuition fees and cuts: This is just the start!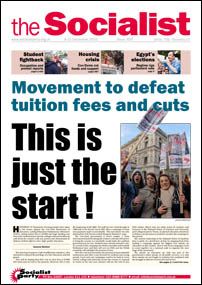 ---
The fight goes on against fees and cuts
---
Youth Fight for Education launch
Youth Fight for Jobs conference report
30 November: student day of action on cuts and fees
Con-Dems can be defeated: Welsh Assembly backs down on EMA and fees
---
Tories' secret job cuts plan exposed
'We need fighting unions to halt cuts'
Nottingham march against billionaire tax dodgers
---
All-Britain Anti-Cuts Campaign to be launched
Building the anti-cuts movement
Scotland: Unison votes for fighting cuts strategy
TUSC calls election campaign conference
---
---
Housing under attack: Ripping off the roof over our heads
---
Medirest health workers need help to fight multinational
Campaign stops health bosses' closure plan
Don't let profit become the bottom line in care
---
---
Protesters demand halt to opencast coal mining in Bangladesh
Egypt's regime perpetrates a massive election fraud
Warmonger Rajapaksa forced to abandon his Oxford Union speech
Kazakhstan - a repressive and corrupt state
PDFs for this issue

Page1 pdf

Page2 pdf

Page3 pdf

Page4 pdf

Page5 pdf

Centre pages pdf

Page8 pdf

Page9 pdf

Page10 pdf

Page11 pdf

Page12 pdf
PO Box 24697, London, E11 1YD
020 8988 8777
editors@socialistparty.org.uk

Link to this page: http://www.socialistparty.org.uk/issue/650/10761
Home | The Socialist 8 December 2010 | Join the Socialist Party
Con-Dems can be defeated: Welsh Assembly backs down on EMA and fees
Showing the impact of the mass student protests over the past few weeks, the Welsh Assembly Government (WAG) has pledged to maintain Education Maintenance Allowance (EMA) despite the funding from Westminster being stopped from next year.
Sarah Wrack
The move proves that rather than cuts being about how much money there is or isn't in the bank, these attacks are a matter of choice.
After seeing hundreds of thousands of angry students take to the streets to demand the right to education, suddenly the funds are available. The same has happened in the Scottish Parliament.
This should give a new optimism to the campaign to save EMA across the country. It's not only the Welsh assembly and Scottish parliament that have control over how money is spent.
Youth Fight for Education demands that local councils follow suit and continue to provide EMA even if the central funds stop.
Any council that did this would be backed up by a surge of support from workers and students in their area and beyond.
The WAG has also promised to subsidise the increase in fees for Welsh students meaning that none will pay more than the current £3,290. This will cost around £330 million and again shows the pressure that politicians are feeling from students.
This move, however, is not as straightforward a victory as the decision to maintain EMA.
It is likely that it will be compensated for by further cutting the higher education budget and assuming Welsh universities can make the money back from English students paying full fees. This shows that the fight is far from over in Wales.
The WAG decision was also clearly influenced by the fact that Welsh students have already had their fees doubled this year as the previous scheme where they received half the cost back was ended from September. The WAG undoubtedly feared that fees jumping from £1,285 to £9,000 a year would create even more anger amongst Welsh students.
However, it is still a significant move that will prevent tens of thousands of students being burdened with the levels of debt being foisted upon the rest by the Con-Dems.
The movement against cuts and fees must avoid falling into the divisive trap of seeing this as what the Daily Mail calls "fees apartheid".
On both fees and EMA, there is the potential to force the Con-Dem government to back down, even if the cuts are formally voted through.
The WAG decisions have made it clearer than ever that we can win and, in fact, that we are winning. They are victories for the whole movement, which must be built on.
---
In this issue
---
Fighting cuts and fees

This is just the start!

The fight goes on against fees and cuts

Resisting police intimidation
---
Youth Fight for Education

Youth Fight for Education launch

Youth Fight for Jobs conference report

Socialist Students conference

30 November: student day of action on cuts and fees

Con-Dems can be defeated: Welsh Assembly backs down on EMA and fees

Organising a college walkout
---
Anti-cuts campaign

Cuts cost lives

Tories' secret job cuts plan exposed

'We need fighting unions to halt cuts'

Nottingham march against billionaire tax dodgers
---
National Shop Stewards Network

All-Britain Anti-Cuts Campaign to be launched

Building the anti-cuts movement

Scotland: Unison votes for fighting cuts strategy

TUSC calls election campaign conference
---
Keep the post public campaign

Keep the Post Public campaign
---
Trade Unionist and Socialist Coalition

Housing under attack: Ripping off the roof over our heads
---
Socialist Party NHS campaign

Medirest health workers need help to fight multinational

Campaign stops health bosses' closure plan

Don't let profit become the bottom line in care
---
Anti-racism

Battle for Barking

Hull: racist BNP demo stopped
---
International socialist news and analysis

Protesters demand halt to opencast coal mining in Bangladesh

Egypt's regime perpetrates a massive election fraud

Warmonger Rajapaksa forced to abandon his Oxford Union speech

Kazakhstan - a repressive and corrupt state
---
Home | The Socialist 8 December 2010 | Join the Socialist Party