The Socialist 8 December 2010
Movement to defeat tuition fees and cuts: This is just the start!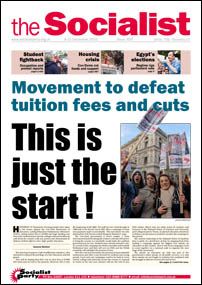 ---
The fight goes on against fees and cuts
---
Youth Fight for Education launch
Youth Fight for Jobs conference report
30 November: student day of action on cuts and fees
Con-Dems can be defeated: Welsh Assembly backs down on EMA and fees
---
Tories' secret job cuts plan exposed
'We need fighting unions to halt cuts'
Nottingham march against billionaire tax dodgers
---
All-Britain Anti-Cuts Campaign to be launched
Building the anti-cuts movement
Scotland: Unison votes for fighting cuts strategy
TUSC calls election campaign conference
---
---
Housing under attack: Ripping off the roof over our heads
---
Medirest health workers need help to fight multinational
Campaign stops health bosses' closure plan
Don't let profit become the bottom line in care
---
---
Protesters demand halt to opencast coal mining in Bangladesh
Egypt's regime perpetrates a massive election fraud
Warmonger Rajapaksa forced to abandon his Oxford Union speech
Kazakhstan - a repressive and corrupt state
PDFs for this issue

Page1 pdf

Page2 pdf

Page3 pdf

Page4 pdf

Page5 pdf

Centre pages pdf

Page8 pdf

Page9 pdf

Page10 pdf

Page11 pdf

Page12 pdf
PO Box 24697, London, E11 1YD
020 8988 8777
editors@socialistparty.org.uk

Link to this page: http://www.socialistparty.org.uk/issue/650/10763
Home | The Socialist 8 December 2010 | Join the Socialist Party
Council cuts put most vulnerable at risk
CUTS COST LIVES
Build the fightback against all cuts
The Tory/Liberal-led Birmingham council is preparing to trim £300 million from its budget by 2014 by cutting 10,000 jobs and devastating services. Amongst the cuts is its chilling proposal to set eligibility criteria for social care at 'super-critical'. This will become the norm for disabled and older people across England and Wales unless the Con-Dem cuts are stopped.
A Unison member
Adult social care services are provided under a 'Fair Access to Care Services' policy.
This identifies the four social services eligibility bands - low, moderate, substantial and critical.
Birmingham council is aiming to restrict formal council-funded care to people with critical personal care needs, excluding those with substantial needs and those with critical needs who do not need help with personal care.
In layman's terms, the only social services that will be funded are those that ensure disabled people with the most complex needs are fed, bathed, dressed and toileted, and kept safe from serious harm, neglect or abuse.
This move will go much further than the already draconian critical eligibility criteria of Northumberland, West Berkshire and Wokingham councils.
For now, these councils meet all critical needs, including help with involvement in work or adult education and vital social relationships or family responsibilities.
Those disabled people and family carers living in Birmingham who will no longer be eligible for help will be expected to turn to charities and the voluntary sector for information, advice, advocacy and support.
This will not be much comfort for those who need a lot of physical help to get dressed, stay clean and tidy their homes, or those who are being neglected or abused but do not qualify for support.
Neither will it help the thousands of children under 16 in Birmingham who already provide care and support to parents and siblings, or the tens of thousands of family carers.
In keeping with Cameron's Big Society, Birmingham council is emphasising the role of volunteers in the provision of some council services.
But the thousands of social care workers who struggled to work every day during the severe weather have a right to ask if volunteers would do the same thing even if a vulnerable person was relying upon them.
When Birmingham council goes 'super-critical' it will be the logical conclusion of the underfunding of social services by successive Tory and New Labour governments since the 1980s.
The Fair Access to Care Services policy was introduced by New Labour to ensure social services provision was consistent across England and Wales.
It turns out that the only consistency being achieved is the decimation of essential social services for hundreds of thousands of working class people.
---
In this issue
---
Fighting cuts and fees

This is just the start!

The fight goes on against fees and cuts

Resisting police intimidation
---
Youth Fight for Education

Youth Fight for Education launch

Youth Fight for Jobs conference report

Socialist Students conference

30 November: student day of action on cuts and fees

Con-Dems can be defeated: Welsh Assembly backs down on EMA and fees

Organising a college walkout
---
Anti-cuts campaign

Cuts cost lives

Tories' secret job cuts plan exposed

'We need fighting unions to halt cuts'

Nottingham march against billionaire tax dodgers
---
National Shop Stewards Network

All-Britain Anti-Cuts Campaign to be launched

Building the anti-cuts movement

Scotland: Unison votes for fighting cuts strategy

TUSC calls election campaign conference
---
Keep the post public campaign

Keep the Post Public campaign
---
Trade Unionist and Socialist Coalition

Housing under attack: Ripping off the roof over our heads
---
Socialist Party NHS campaign

Medirest health workers need help to fight multinational

Campaign stops health bosses' closure plan

Don't let profit become the bottom line in care
---
Anti-racism

Battle for Barking

Hull: racist BNP demo stopped
---
International socialist news and analysis

Protesters demand halt to opencast coal mining in Bangladesh

Egypt's regime perpetrates a massive election fraud

Warmonger Rajapaksa forced to abandon his Oxford Union speech

Kazakhstan - a repressive and corrupt state
---
Home | The Socialist 8 December 2010 | Join the Socialist Party