The Socialist 8 December 2010
Movement to defeat tuition fees and cuts: This is just the start!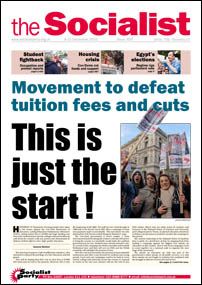 ---
The fight goes on against fees and cuts
---
Youth Fight for Education launch
Youth Fight for Jobs conference report
30 November: student day of action on cuts and fees
Con-Dems can be defeated: Welsh Assembly backs down on EMA and fees
---
Tories' secret job cuts plan exposed
'We need fighting unions to halt cuts'
Nottingham march against billionaire tax dodgers
---
All-Britain Anti-Cuts Campaign to be launched
Building the anti-cuts movement
Scotland: Unison votes for fighting cuts strategy
TUSC calls election campaign conference
---
---
Housing under attack: Ripping off the roof over our heads
---
Medirest health workers need help to fight multinational
Campaign stops health bosses' closure plan
Don't let profit become the bottom line in care
---
---
Protesters demand halt to opencast coal mining in Bangladesh
Egypt's regime perpetrates a massive election fraud
Warmonger Rajapaksa forced to abandon his Oxford Union speech
Kazakhstan - a repressive and corrupt state
PDFs for this issue

Page1 pdf

Page2 pdf

Page3 pdf

Page4 pdf

Page5 pdf

Centre pages pdf

Page8 pdf

Page9 pdf

Page10 pdf

Page11 pdf

Page12 pdf
PO Box 24697, London, E11 1YD
020 8988 8777
editors@socialistparty.org.uk

Link to this page: http://www.socialistparty.org.uk/issue/650/10767
Home | The Socialist 8 December 2010 | Join the Socialist Party
Campaign stops health bosses' closure plan
THIRTY PEOPLE, including midwives, parents, children and Socialist Party members, lobbied a North West NHS board meeting that was expected to rubber-stamp the already deferred decision to close Salford Royal Hospital's maternity services.
Paul Gerrard
A major reorganisation of maternity services in Greater Manchester aims to reduce 12 units down to eight and Salford's unit, probably the best performing unit in the North West, is due to close.
But they had to move the meeting to a larger room as there were more protesters than board members. Protesters Sarah Davies and Sam, a young mother whose baby had been born in the unit, demolished the case for closure.
The CEO had to admit that the reorganisation could not proceed and the final decision is again deferred, this time to February. This is an important, if temporary, victory and testimony to an outstanding local campaign.
Sarah Davies said: "The campaign has so far collected 40,000 signatures on petitions, held a rally which attracted 500 people, gained the support of local celebrities, such as Ryan Giggs whose pre-term baby was cared for at Hope; we have enlisted the support of the council and all local MPs.
"Fighting and having a success, as we have done this week, gives people confidence. Since the decision the mood at the hospital has lifted, and all those people who said 'I don't know what you're bothering to fight it for' have been very quiet!"
We now need to use this respite to lobby local GPs and get them to publicise their opposition to closure, and continue to mobilise opinion in the city through the trades council, the newly formed anti-cuts campaign and the Shop Stewards Network. We can win.
---
In this issue
---
Fighting cuts and fees

This is just the start!

The fight goes on against fees and cuts

Resisting police intimidation
---
Youth Fight for Education

Youth Fight for Education launch

Youth Fight for Jobs conference report

Socialist Students conference

30 November: student day of action on cuts and fees

Con-Dems can be defeated: Welsh Assembly backs down on EMA and fees

Organising a college walkout
---
Anti-cuts campaign

Cuts cost lives

Tories' secret job cuts plan exposed

'We need fighting unions to halt cuts'

Nottingham march against billionaire tax dodgers
---
National Shop Stewards Network

All-Britain Anti-Cuts Campaign to be launched

Building the anti-cuts movement

Scotland: Unison votes for fighting cuts strategy

TUSC calls election campaign conference
---
Keep the post public campaign

Keep the Post Public campaign
---
Trade Unionist and Socialist Coalition

Housing under attack: Ripping off the roof over our heads
---
Socialist Party NHS campaign

Medirest health workers need help to fight multinational

Campaign stops health bosses' closure plan

Don't let profit become the bottom line in care
---
Anti-racism

Battle for Barking

Hull: racist BNP demo stopped
---
International socialist news and analysis

Protesters demand halt to opencast coal mining in Bangladesh

Egypt's regime perpetrates a massive election fraud

Warmonger Rajapaksa forced to abandon his Oxford Union speech

Kazakhstan - a repressive and corrupt state
---
Home | The Socialist 8 December 2010 | Join the Socialist Party