The Socialist 8 December 2010
Movement to defeat tuition fees and cuts: This is just the start!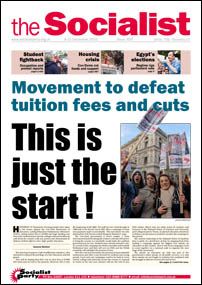 ---
The fight goes on against fees and cuts
---
Youth Fight for Education launch
Youth Fight for Jobs conference report
30 November: student day of action on cuts and fees
Con-Dems can be defeated: Welsh Assembly backs down on EMA and fees
---
Tories' secret job cuts plan exposed
'We need fighting unions to halt cuts'
Nottingham march against billionaire tax dodgers
---
All-Britain Anti-Cuts Campaign to be launched
Building the anti-cuts movement
Scotland: Unison votes for fighting cuts strategy
TUSC calls election campaign conference
---
---
Housing under attack: Ripping off the roof over our heads
---
Medirest health workers need help to fight multinational
Campaign stops health bosses' closure plan
Don't let profit become the bottom line in care
---
---
Protesters demand halt to opencast coal mining in Bangladesh
Egypt's regime perpetrates a massive election fraud
Warmonger Rajapaksa forced to abandon his Oxford Union speech
Kazakhstan - a repressive and corrupt state
PDFs for this issue

Page1 pdf

Page2 pdf

Page3 pdf

Page4 pdf

Page5 pdf

Centre pages pdf

Page8 pdf

Page9 pdf

Page10 pdf

Page11 pdf

Page12 pdf
PO Box 24697, London, E11 1YD
020 8988 8777
editors@socialistparty.org.uk

Link to this page: http://www.socialistparty.org.uk/issue/650/10769
Home | The Socialist 8 December 2010 | Join the Socialist Party
Scotland: Unison votes for fighting cuts strategy
Unison's Scottish council, made of delegates from all branches in Scotland, voted on 3 December to raise with the other public sector trade unions the need for a Scottish industrial action strategy beginning with a one-day Scottish public sector strike to fight the cuts. The meeting of over 100 delegates also supported a call that the Scottish Parliament and local councils should set "needs budgets" that protect jobs and services.
Brian Smith, Glasgow Unison branch secretary and Socialist Party Scotland member
The motion on industrial action was moved by Glasgow City branch and supported by the Scottish Unison leadership, with the caveat that any action must be within the law. Speakers from several branches spoke in favour of the motion which was passed unanimously.
The motion calling on elected politicians to stand up to the Tories by setting "needs budgets" was jointly moved by Glasgow City and the North Ayrshire branch, with Dundee City lending support in the debate.
A section of the leadership opposed the motion on that basis it was 'gesture politics' and councils would not agree to it. The movers made the point that Unison must have a 'no cuts' position and that the concept of setting needs budgets was a political tool to deliver that in the short to medium term. It would mean that Unison had a clear position of encouraging Scotland's politicians to fight the Tories.
Earlier in the meeting Unison general secretary Dave Prentis had called on political parties to "oppose the cuts" and stand with working people. The movers of the motion suggested that the call for needs budgets was in tune with this demand. The motion was carried by a clear majority.
Scottish Unison must now use these decisions to step-up the fight to defend jobs and services.
---
In this issue
---
Fighting cuts and fees

This is just the start!

The fight goes on against fees and cuts

Resisting police intimidation
---
Youth Fight for Education

Youth Fight for Education launch

Youth Fight for Jobs conference report

Socialist Students conference

30 November: student day of action on cuts and fees

Con-Dems can be defeated: Welsh Assembly backs down on EMA and fees

Organising a college walkout
---
Anti-cuts campaign

Cuts cost lives

Tories' secret job cuts plan exposed

'We need fighting unions to halt cuts'

Nottingham march against billionaire tax dodgers
---
National Shop Stewards Network

All-Britain Anti-Cuts Campaign to be launched

Building the anti-cuts movement

Scotland: Unison votes for fighting cuts strategy

TUSC calls election campaign conference
---
Keep the post public campaign

Keep the Post Public campaign
---
Trade Unionist and Socialist Coalition

Housing under attack: Ripping off the roof over our heads
---
Socialist Party NHS campaign

Medirest health workers need help to fight multinational

Campaign stops health bosses' closure plan

Don't let profit become the bottom line in care
---
Anti-racism

Battle for Barking

Hull: racist BNP demo stopped
---
International socialist news and analysis

Protesters demand halt to opencast coal mining in Bangladesh

Egypt's regime perpetrates a massive election fraud

Warmonger Rajapaksa forced to abandon his Oxford Union speech

Kazakhstan - a repressive and corrupt state
---
Home | The Socialist 8 December 2010 | Join the Socialist Party