The Socialist 8 December 2010
Movement to defeat tuition fees and cuts: This is just the start!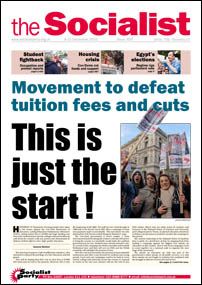 ---
The fight goes on against fees and cuts
---
Youth Fight for Education launch
Youth Fight for Jobs conference report
30 November: student day of action on cuts and fees
Con-Dems can be defeated: Welsh Assembly backs down on EMA and fees
---
Tories' secret job cuts plan exposed
'We need fighting unions to halt cuts'
Nottingham march against billionaire tax dodgers
---
All-Britain Anti-Cuts Campaign to be launched
Building the anti-cuts movement
Scotland: Unison votes for fighting cuts strategy
TUSC calls election campaign conference
---
---
Housing under attack: Ripping off the roof over our heads
---
Medirest health workers need help to fight multinational
Campaign stops health bosses' closure plan
Don't let profit become the bottom line in care
---
---
Protesters demand halt to opencast coal mining in Bangladesh
Egypt's regime perpetrates a massive election fraud
Warmonger Rajapaksa forced to abandon his Oxford Union speech
Kazakhstan - a repressive and corrupt state
PDFs for this issue

Page1 pdf

Page2 pdf

Page3 pdf

Page4 pdf

Page5 pdf

Centre pages pdf

Page8 pdf

Page9 pdf

Page10 pdf

Page11 pdf

Page12 pdf
PO Box 24697, London, E11 1YD
020 8988 8777
editors@socialistparty.org.uk

Link to this page: http://www.socialistparty.org.uk/issue/650/10771
Home | The Socialist 8 December 2010 | Join the Socialist Party
Don't let profit become the bottom line in care
FOLLOWING A BBC South 'Inside Out' programme in October that showed the moment in January 2009 when a nurse switched off a ventilator that led to a disabled man being permanently brain-damaged, film of the incident went 'viral' on the internet.
A Unison member
The victim, Jamie Merrett, a former plumber who was paralysed in a car accident in 2002, received care at his home in Devizes, Wiltshire which was funded by his local primary care trust. Before the 2009 incident Jamie used a ventilator both day and night, but like many who are tetraplegic he lived independently, operated an electric wheelchair on his own, and used a computer.
Media reports painted his personal situation partially in tragic tones. But examples, such as the writer and academic Mike Oliver and BBC radio producer and New Statesman blogger Victoria Brignell, illustrate that tetraplegia itself is not a barrier to a full and varied life.
Rather it is social factors such as access to personal assistance or care workers, accessible housing and transport, high-quality health services and comfortable living conditions that are key. The tragedy of Jamie's situation is that a lack of support was not a factor, but rather the way it was delivered.
Because of his concerns, Jamie had set up a camera above his bed to record how he was being cared for. After his ventilator was switched off, the BBC film showed the nurse and a second care worker panicking as they did not know how to restart it. The nurse tried to manually resuscitate Jamie using an Ambu bag, but failed to connect it to his tracheotomy. 21 minutes later, paramedics restarted the ventilator.
As someone who uses ventilation at night, I am aware of how critical it is that my helpers do not alter the settings on my ventilator. I am fortunate that the health element of my support is delivered through my local authority care package so I am able to use the same personal assistants all the time.
They are therefore familiar with the various pieces of equipment I use, and follow my instructions and respect my approach to personal care matters.
In Jamie Merrett's case, he used agency staff from Ambition 24hours. The assumption is that agency staff have the skills to follow a care plan and use any equipment. The fact that both the nurse and care assistant could not restart the ventilator demonstrates this assumption is wrong. Equipment and personal care routines differ from person to person. Therefore training and shadowing should be carried out first.
But the resources are simply not available to do this for agency based care packages that already cost in excess of £90,000-£100,000 a year.
For many years I have used the British Nursing Agency (BNA) for cover when my personal assistants are on holiday or are sick. Recently I rang my local office to find I was speaking to someone based in South Africa. BNA had been taken over by the A24 Group and its administrative operations merged with Ambition24hours. The local BNA office had closed.
Whilst the South African staff are always friendly and diligent, workers in a local office get to know both their staff and disabled clients over time, and understand which workers are the best match for particular disabled people.
In a globalised world where capitalist companies are looking to cut costs, moving administrative functions abroad to countries where labour costs are much lower makes sense to them. Profit is the bottom line. If this can happen with an agency, it is easy to imagine how the administrative side of local authority social services could go the same way.
Jamie Merritt understood straight away the gravity of his situation and made clicking sounds through his face mask to warn the nurse and care assistant.
For severely disabled people, small mistakes can be catastrophic as the impact on Jamie shows.
---
In this issue
---
Fighting cuts and fees

This is just the start!

The fight goes on against fees and cuts

Resisting police intimidation
---
Youth Fight for Education

Youth Fight for Education launch

Youth Fight for Jobs conference report

Socialist Students conference

30 November: student day of action on cuts and fees

Con-Dems can be defeated: Welsh Assembly backs down on EMA and fees

Organising a college walkout
---
Anti-cuts campaign

Cuts cost lives

Tories' secret job cuts plan exposed

'We need fighting unions to halt cuts'

Nottingham march against billionaire tax dodgers
---
National Shop Stewards Network

All-Britain Anti-Cuts Campaign to be launched

Building the anti-cuts movement

Scotland: Unison votes for fighting cuts strategy

TUSC calls election campaign conference
---
Keep the post public campaign

Keep the Post Public campaign
---
Trade Unionist and Socialist Coalition

Housing under attack: Ripping off the roof over our heads
---
Socialist Party NHS campaign

Medirest health workers need help to fight multinational

Campaign stops health bosses' closure plan

Don't let profit become the bottom line in care
---
Anti-racism

Battle for Barking

Hull: racist BNP demo stopped
---
International socialist news and analysis

Protesters demand halt to opencast coal mining in Bangladesh

Egypt's regime perpetrates a massive election fraud

Warmonger Rajapaksa forced to abandon his Oxford Union speech

Kazakhstan - a repressive and corrupt state
---
Home | The Socialist 8 December 2010 | Join the Socialist Party