The Socialist 8 December 2010
Movement to defeat tuition fees and cuts: This is just the start!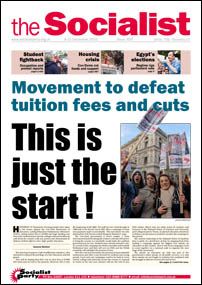 ---
The fight goes on against fees and cuts
---
Youth Fight for Education launch
Youth Fight for Jobs conference report
30 November: student day of action on cuts and fees
Con-Dems can be defeated: Welsh Assembly backs down on EMA and fees
---
Tories' secret job cuts plan exposed
'We need fighting unions to halt cuts'
Nottingham march against billionaire tax dodgers
---
All-Britain Anti-Cuts Campaign to be launched
Building the anti-cuts movement
Scotland: Unison votes for fighting cuts strategy
TUSC calls election campaign conference
---
---
Housing under attack: Ripping off the roof over our heads
---
Medirest health workers need help to fight multinational
Campaign stops health bosses' closure plan
Don't let profit become the bottom line in care
---
---
Protesters demand halt to opencast coal mining in Bangladesh
Egypt's regime perpetrates a massive election fraud
Warmonger Rajapaksa forced to abandon his Oxford Union speech
Kazakhstan - a repressive and corrupt state
PDFs for this issue

Page1 pdf

Page2 pdf

Page3 pdf

Page4 pdf

Page5 pdf

Centre pages pdf

Page8 pdf

Page9 pdf

Page10 pdf

Page11 pdf

Page12 pdf
PO Box 24697, London, E11 1YD
020 8988 8777
editors@socialistparty.org.uk

Link to this page: http://www.socialistparty.org.uk/issue/650/10774
Home | The Socialist 8 December 2010 | Join the Socialist Party
TV documentary
Battle for Barking
a review by Naomi Byron
DESPITE THE crushing electoral defeat for the British National Party (BNP) in May 2010, and the internal struggles it caused them, the discontent and anger they were exploiting still exist in Barking. This documentary clearly shows that many working-class people in Barking feel that Labour no longer understands or represents them.
It's a good introduction to why a far right, racist group like the BNP has been able to build support. The tragedy of the BNP supporter whose son died in Afghanistan, fighting in a war his father didn't support, brought home the failure of Labour's policies in a deeply personal way. The BNP quickly exploited his grief, asking him to be part of their election broadcast.
The Labour Party's total inability to adopt pro-working-class policies to create a positive alternative to the racist, far-right BNP comes across clearly. This left Margaret Hodge's campaign at a severe disadvantage, with her strongest argument being that voters should "hold their noses and vote for me to keep the BNP out".
The footage of Hodge wearing Jimmy Choo shoes at a building site for a photo-opportunity about a few new houses being built by Labour summed her up.
The documentary concentrated on the personal and unfortunately didn't show the true colours of either Hodge or the BNP. Hodge came across as a well-meaning liberal who hated racism, but she has been prepared to whip up racism and anti-immigrant prejudice to win votes back from the BNP and save her parliamentary career.
Three months before the election, Hodge wrote an article in the Daily Mail calling for migrants to "earn" the rights to benefits and council housing - as if most migrants were given these things automatically on arrival at the airport.
A few facts like this, or about Labour's record at scapegoating migrants for their own failures in government, would put Hodge's complaint that every issue "is seen through the prism of immigration" in context!
One BNP canvasser in The Battle for Barking says "most of us who were in the party, we're ex-Labour members and ex-Labour supporters, we just believe that the party's left us behind." But, faced with a voter who refuses to consider voting BNP because they are "Nazis", the canvasser dismisses this as "nonsense".
Similarly to Hodge's actual record, none of the BNP's Neo-Nazi links, ideas or history are really discussed. It's almost as if the word "Nazi" is just an insult without real meaning thrown by both sides at each other. The documentary let people present themselves as they choose without real challenge, so the BNP's rich backers and their anti-working-class, divisive policies were not discussed.
It also reflects the de-politicisation of the anti-BNP campaign by Hodge, the Labour Party and groups like Unite Against Fascism (UAF) who would not criticise Hodge or the Labour Party publicly for their role in opening the door to the BNP.
This allowed the BNP more support than they would have got if a more radical campaign, promoting a real left alternative locally, had developed in time. A march through Barking during the election organised by Youth Fight for Jobs, demanding work on a living wage and free education, got an excellent response.
Fortunately, as the documentary shows, the BNP got plenty of opposition from both voters and local youth. But until a new party of the working class is built, the door remains wide open to the far right. Anti-cuts, trade union and socialist candidates standing in next year's local elections can help towards building this party!
Available on More Four On Demand
---
In this issue
---
Fighting cuts and fees

This is just the start!

The fight goes on against fees and cuts

Resisting police intimidation
---
Youth Fight for Education

Youth Fight for Education launch

Youth Fight for Jobs conference report

Socialist Students conference

30 November: student day of action on cuts and fees

Con-Dems can be defeated: Welsh Assembly backs down on EMA and fees

Organising a college walkout
---
Anti-cuts campaign

Cuts cost lives

Tories' secret job cuts plan exposed

'We need fighting unions to halt cuts'

Nottingham march against billionaire tax dodgers
---
National Shop Stewards Network

All-Britain Anti-Cuts Campaign to be launched

Building the anti-cuts movement

Scotland: Unison votes for fighting cuts strategy

TUSC calls election campaign conference
---
Keep the post public campaign

Keep the Post Public campaign
---
Trade Unionist and Socialist Coalition

Housing under attack: Ripping off the roof over our heads
---
Socialist Party NHS campaign

Medirest health workers need help to fight multinational

Campaign stops health bosses' closure plan

Don't let profit become the bottom line in care
---
Anti-racism

Battle for Barking

Hull: racist BNP demo stopped
---
International socialist news and analysis

Protesters demand halt to opencast coal mining in Bangladesh

Egypt's regime perpetrates a massive election fraud

Warmonger Rajapaksa forced to abandon his Oxford Union speech

Kazakhstan - a repressive and corrupt state
---
Home | The Socialist 8 December 2010 | Join the Socialist Party