The Socialist 8 December 2010
Movement to defeat tuition fees and cuts: This is just the start!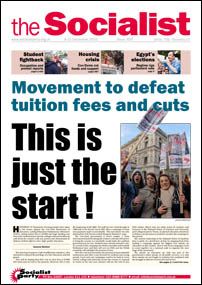 ---
The fight goes on against fees and cuts
---
Youth Fight for Education launch
Youth Fight for Jobs conference report
30 November: student day of action on cuts and fees
Con-Dems can be defeated: Welsh Assembly backs down on EMA and fees
---
Tories' secret job cuts plan exposed
'We need fighting unions to halt cuts'
Nottingham march against billionaire tax dodgers
---
All-Britain Anti-Cuts Campaign to be launched
Building the anti-cuts movement
Scotland: Unison votes for fighting cuts strategy
TUSC calls election campaign conference
---
---
Housing under attack: Ripping off the roof over our heads
---
Medirest health workers need help to fight multinational
Campaign stops health bosses' closure plan
Don't let profit become the bottom line in care
---
---
Protesters demand halt to opencast coal mining in Bangladesh
Egypt's regime perpetrates a massive election fraud
Warmonger Rajapaksa forced to abandon his Oxford Union speech
Kazakhstan - a repressive and corrupt state
PDFs for this issue

Page1 pdf

Page2 pdf

Page3 pdf

Page4 pdf

Page5 pdf

Centre pages pdf

Page8 pdf

Page9 pdf

Page10 pdf

Page11 pdf

Page12 pdf
PO Box 24697, London, E11 1YD
020 8988 8777
editors@socialistparty.org.uk

Link to this page: http://www.socialistparty.org.uk/issue/650/10777
Home | The Socialist 8 December 2010 | Join the Socialist Party
Egypt's regime perpetrates a massive election fraud
WIDESPREAD INTIMIDATION of voters and opposition candidates and blatant ballot rigging resulted in 'victory' for Egypt's ruling National Democratic Party (NDP) in the country's recent parliamentary elections.
David Johnson
Many polling stations were closed to voters, who also faced violence from security forces. Ballot boxes were stuffed with forged ballot papers. Candidates' representatives and independent observers were barred from polling stations. One candidate got no votes, even though he voted for himself!
The NDP won 97% of seats. If the results are to be believed, over 90% of Egyptians want the NDP regime to continue! It's more likely that 90% want it to end. Independent estimates put voter turnout at 10%-15%, compared to 25% at the 2005 election.
The Muslim Brotherhood (MB) won 88 of the 508 seats in 2005 (standing as independents as the MB is illegal), becoming the largest opposition party.
Laws were then changed, making it harder for opposition candidates to stand and even harder to win. Supervision of elections by judges was ended. They have a history of independence from the regime. In 2006 hundreds of judges protested against victimisation after electoral fraud was exposed.
Prior to this election, repression of the MB was increased. 1,400 leaders and activists were arrested, MB businesses closed and student members targeted by police. A media campaign was launched, aimed at undermining MB's reputation for being relatively free from corruption.
In the first round of voting the MB did not win a single seat. Other parties that contested the election won five seats between them. The MB and Al-Wafd, a liberal party, then withdrew from the second round of voting, although Al-Tagammu, an ex-workers' party, continued.
While the outcome of the election was never in doubt, the battle within the NDP to become candidates was fiercely fought. A non-refundable, minimum application fee of LE10,000 (£1,100) - three years pay on the minimum wage - did not deter a stream of businessmen keen to gain parliamentary immunity and government contracts.
Many recent scandals have exposed NDP politicians and wealthy businessmen profiting from close connections with ministers and the state. At the centre of this web are 82-year old president Hosni Mubarak and his son Gamal. A presidential election is due next year. The government was determined to prevent opposition in the new parliament.
This election took place after a year of protests on a wider scale than for over 30 years.
Workers have been on strike and in occupations. Evicted residents protested over housing and property development. Poor farmers, people with disabilities, students, democracy protesters, opponents of police brutality and others have all been out on the streets.
Last spring at least four different protests took place each day outside parliament, some camping out for weeks.
Inside parliament nobody will be speaking for workers and the poor - against desperate poverty, high unemployment, rising prices and lack of housing, decent health services, education and welfare. This farcical election will fuel their anger.
A workers' party is needed to draw together these different protests. It could win mass support with a programme of democratic rights, free elections, an end to the dictatorship of big business, socialist nationalisation and workers' democracy.
---
In this issue
---
Fighting cuts and fees

This is just the start!

The fight goes on against fees and cuts

Resisting police intimidation
---
Youth Fight for Education

Youth Fight for Education launch

Youth Fight for Jobs conference report

Socialist Students conference

30 November: student day of action on cuts and fees

Con-Dems can be defeated: Welsh Assembly backs down on EMA and fees

Organising a college walkout
---
Anti-cuts campaign

Cuts cost lives

Tories' secret job cuts plan exposed

'We need fighting unions to halt cuts'

Nottingham march against billionaire tax dodgers
---
National Shop Stewards Network

All-Britain Anti-Cuts Campaign to be launched

Building the anti-cuts movement

Scotland: Unison votes for fighting cuts strategy

TUSC calls election campaign conference
---
Keep the post public campaign

Keep the Post Public campaign
---
Trade Unionist and Socialist Coalition

Housing under attack: Ripping off the roof over our heads
---
Socialist Party NHS campaign

Medirest health workers need help to fight multinational

Campaign stops health bosses' closure plan

Don't let profit become the bottom line in care
---
Anti-racism

Battle for Barking

Hull: racist BNP demo stopped
---
International socialist news and analysis

Protesters demand halt to opencast coal mining in Bangladesh

Egypt's regime perpetrates a massive election fraud

Warmonger Rajapaksa forced to abandon his Oxford Union speech

Kazakhstan - a repressive and corrupt state
---
Home | The Socialist 8 December 2010 | Join the Socialist Party