The Socialist 8 December 2010
Movement to defeat tuition fees and cuts: This is just the start!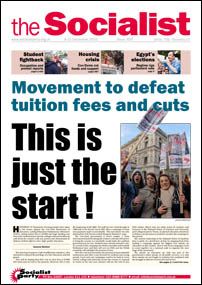 ---
The fight goes on against fees and cuts
---
Youth Fight for Education launch
Youth Fight for Jobs conference report
30 November: student day of action on cuts and fees
Con-Dems can be defeated: Welsh Assembly backs down on EMA and fees
---
Tories' secret job cuts plan exposed
'We need fighting unions to halt cuts'
Nottingham march against billionaire tax dodgers
---
All-Britain Anti-Cuts Campaign to be launched
Building the anti-cuts movement
Scotland: Unison votes for fighting cuts strategy
TUSC calls election campaign conference
---
---
Housing under attack: Ripping off the roof over our heads
---
Medirest health workers need help to fight multinational
Campaign stops health bosses' closure plan
Don't let profit become the bottom line in care
---
---
Protesters demand halt to opencast coal mining in Bangladesh
Egypt's regime perpetrates a massive election fraud
Warmonger Rajapaksa forced to abandon his Oxford Union speech
Kazakhstan - a repressive and corrupt state
PDFs for this issue

Page1 pdf

Page2 pdf

Page3 pdf

Page4 pdf

Page5 pdf

Centre pages pdf

Page8 pdf

Page9 pdf

Page10 pdf

Page11 pdf

Page12 pdf
PO Box 24697, London, E11 1YD
020 8988 8777
editors@socialistparty.org.uk

Link to this page: http://www.socialistparty.org.uk/issue/650/10778
Home | The Socialist 8 December 2010 | Join the Socialist Party
Warmonger Rajapaksa forced to abandon his Oxford Union speech
HOWLS OF outrage greeted the news that the Oxford Union debating society had invited Sri Lankan president and suspected war criminal, Mahinda Rajapaksa, to address it on 1 December. But with thousands of Tamils in Britain preparing to picket the event, the Oxford Union cancelled Rajapaksa's invitation citing security concerns.
Earlier that week hundreds of protesters went to Heathrow airport as the man with the blood of tens of thousands of Tamil-speaking people on his hands touched down in Britain. Rajapaksa was being wined and dined at the Dorchester hotel and later met with secretary of state for defence, Liam Fox - while we pay the bill for his security.
Tamil Solidarity had contacted the Oxford Union by phone and email (see below) to demand that the event was cancelled, pointing out the long list of well-founded, well-documented allegations against Rajapaksa and his regime.
These allegations have been given extra weight by Wikileaks - which published a cable sent in January this year from the US ambassador to Sri Lanka, Patricia Butenis, pointing the war crimes finger at Rajapaksa and his crony regime: "... responsibility for many of the alleged crimes rests with the country's senior civilian and military leadership including President Rajapaksa and his brothers and opposition candidate General Fonseka."
However, the US administration weren't prepared to expose an important political ally in south Asia.
Miliband's opportunism
Wikileaks also published a US Embassy memo which quotes a British Foreign Office official who claimed that David Miliband, as Labour's foreign secretary in 2009, (cynically) championed aid to Sri Lanka during the bloody end of the country's civil war in order to win the support of expatriate Tamils living in key Labour marginal seats.
"He said that with UK elections on the horizon and many Tamils living in Labour constituencies with slim majorities, the government is paying particular attention to Sri Lanka, with Miliband recently remarking to Waite [the FO official] that he was spending 60% of his time at the moment on Sri Lanka."
The following letter was sent by the campaigning organisation, Tamil Solidarity, to the president of the Oxford Union calling on the debating society to withdraw its invitation to president Rajapaksa.
Dear James Kingston and the Oxford Union,
We note with grave concern your invitation to president Mahinda Rajapaksa to address the Oxford Union this week.
Despite protestations to the contrary by the president and his regime, the brutality and excesses of the Sri Lankan armed forces in their prosecution of the civil war have been well documented. Let it be clear, we are not talking here about unsubstantiated reports. There is irrefutable evidence of the massacre of thousands of Tamil civilians, especially in the final weeks of the war last year. Irrefutable proof of the bombing by Sri Lankan armed forces of emergency hospitals and aid centres. There has been a series of criticisms from agencies such as the United Nations, International Committee of the Red Cross, Human Rights Watch, Amnesty International, to name just a handful. Now, this week, Channel 4 News has released further footage of summary executions which everyone, apart from the Sri Lankan regime and its representatives, agrees is authentic.
Following the brutal finale of the war, hundreds of thousands of Tamil-speaking people were rounded up in open prison camps and held in the most horrendous conditions, lacking basic sanitation, health and other essential services. Still, today, so-called 'secret' camps are in operation.
We could add many more examples - and invite you to look at the reports on our website - to illustrate the true nature of the regime, the head of which you have now invited to address your meeting.
This decision is a gross insult to the hundreds of thousands of Tamil-speaking people in Sri Lanka and worldwide, who are still grieving the loss of loved ones and who are trying to cope with the trauma, distress and fall-out from this most brutal of conflicts.
We urge you to rescind this invitation immediately.
Yours faithfully
Manny Thain,
Tamil Solidarity national secretary
---
In this issue
---
Fighting cuts and fees

This is just the start!

The fight goes on against fees and cuts

Resisting police intimidation
---
Youth Fight for Education

Youth Fight for Education launch

Youth Fight for Jobs conference report

Socialist Students conference

30 November: student day of action on cuts and fees

Con-Dems can be defeated: Welsh Assembly backs down on EMA and fees

Organising a college walkout
---
Anti-cuts campaign

Cuts cost lives

Tories' secret job cuts plan exposed

'We need fighting unions to halt cuts'

Nottingham march against billionaire tax dodgers
---
National Shop Stewards Network

All-Britain Anti-Cuts Campaign to be launched

Building the anti-cuts movement

Scotland: Unison votes for fighting cuts strategy

TUSC calls election campaign conference
---
Keep the post public campaign

Keep the Post Public campaign
---
Trade Unionist and Socialist Coalition

Housing under attack: Ripping off the roof over our heads
---
Socialist Party NHS campaign

Medirest health workers need help to fight multinational

Campaign stops health bosses' closure plan

Don't let profit become the bottom line in care
---
Anti-racism

Battle for Barking

Hull: racist BNP demo stopped
---
International socialist news and analysis

Protesters demand halt to opencast coal mining in Bangladesh

Egypt's regime perpetrates a massive election fraud

Warmonger Rajapaksa forced to abandon his Oxford Union speech

Kazakhstan - a repressive and corrupt state
---
Home | The Socialist 8 December 2010 | Join the Socialist Party