The Socialist 8 December 2010
Movement to defeat tuition fees and cuts: This is just the start!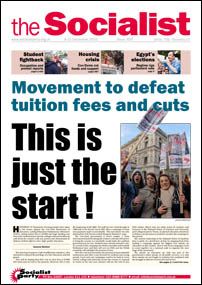 ---
The fight goes on against fees and cuts
---
Youth Fight for Education launch
Youth Fight for Jobs conference report
30 November: student day of action on cuts and fees
Con-Dems can be defeated: Welsh Assembly backs down on EMA and fees
---
Tories' secret job cuts plan exposed
'We need fighting unions to halt cuts'
Nottingham march against billionaire tax dodgers
---
All-Britain Anti-Cuts Campaign to be launched
Building the anti-cuts movement
Scotland: Unison votes for fighting cuts strategy
TUSC calls election campaign conference
---
---
Housing under attack: Ripping off the roof over our heads
---
Medirest health workers need help to fight multinational
Campaign stops health bosses' closure plan
Don't let profit become the bottom line in care
---
---
Protesters demand halt to opencast coal mining in Bangladesh
Egypt's regime perpetrates a massive election fraud
Warmonger Rajapaksa forced to abandon his Oxford Union speech
Kazakhstan - a repressive and corrupt state
PDFs for this issue

Page1 pdf

Page2 pdf

Page3 pdf

Page4 pdf

Page5 pdf

Centre pages pdf

Page8 pdf

Page9 pdf

Page10 pdf

Page11 pdf

Page12 pdf
PO Box 24697, London, E11 1YD
020 8988 8777
editors@socialistparty.org.uk

Link to this page: http://www.socialistparty.org.uk/issue/650/10779
Home | The Socialist 8 December 2010 | Join the Socialist Party
Kazakhstan - a repressive and corrupt state
TIMUR KULIBAYEV is married to the daughter of Kazakhstan's dic-tatorial president Nursultan Nazarbayev. In 2007 he paid his golf partner Prince Andrew - fourth in line to the throne and Britain's special representative for international trade and investment - £15 million for his 12-bedroom mansion at Sunninghill Park, Surrey, paying £3 million over the asking price. It had been on the market for five years and is still empty and is now dilapidated.
John Sharpe
Leaked US state department cables refer to Kulibayev as the "perfectly tanned" "manicured billionaire", "the ultimate controller of 90% of the economy". He paid Elton John £1 million to sing at his 41st birthday bash in 2007.
But while the rich oligarchy in the former Soviet republic enjoy a jet set lifestyle, Socialist Resistance Kazakhstan - the counterpart of the Socialist Party in Kazakhstan - and other activists have been subject to a vicious wave of repression by the authorities.
Censorship, beatings, frame-ups, imprisonment and torture were used by the dictatorial regime in an attempt to frighten campaigners and trade unionists in the run up to the 1-2 December 2010 summit for the Organisation for Security and Cooperation in Europe (OSCE). This was a meeting of 56 heads of state in Astana, Kazakhstan, which holds the OSCE presidency for 2010. Mockingly, Nazarbayev opened the OSCE conference on 'tolerance and non-discrimination' earlier this year.
Joe Higgins, Socialist Party MEP for Dublin, visited Kazakhstan as part of a European parliamentary delegation to investigate the human rights situation last September and was able to report to the European Union (EU) Human Rights committee on the brutal, repressive regime in Kazakhstan and its blatant breaches of human, civil and political rights.
But this doesn't appear to concern the EU or the OSCE who have eyes only for Kazakhstan's oil and are keen to do business with Andy's golf and dining partner.
See www.socialistworld.net for more information about Kazakhstan.
---
In this issue
---
Fighting cuts and fees

This is just the start!

The fight goes on against fees and cuts

Resisting police intimidation
---
Youth Fight for Education

Youth Fight for Education launch

Youth Fight for Jobs conference report

Socialist Students conference

30 November: student day of action on cuts and fees

Con-Dems can be defeated: Welsh Assembly backs down on EMA and fees

Organising a college walkout
---
Anti-cuts campaign

Cuts cost lives

Tories' secret job cuts plan exposed

'We need fighting unions to halt cuts'

Nottingham march against billionaire tax dodgers
---
National Shop Stewards Network

All-Britain Anti-Cuts Campaign to be launched

Building the anti-cuts movement

Scotland: Unison votes for fighting cuts strategy

TUSC calls election campaign conference
---
Keep the post public campaign

Keep the Post Public campaign
---
Trade Unionist and Socialist Coalition

Housing under attack: Ripping off the roof over our heads
---
Socialist Party NHS campaign

Medirest health workers need help to fight multinational

Campaign stops health bosses' closure plan

Don't let profit become the bottom line in care
---
Anti-racism

Battle for Barking

Hull: racist BNP demo stopped
---
International socialist news and analysis

Protesters demand halt to opencast coal mining in Bangladesh

Egypt's regime perpetrates a massive election fraud

Warmonger Rajapaksa forced to abandon his Oxford Union speech

Kazakhstan - a repressive and corrupt state
---
Home | The Socialist 8 December 2010 | Join the Socialist Party