The Socialist 19 January 2011
Unite against all the cuts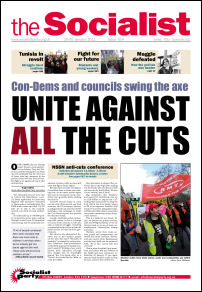 ---
Discussing an NSSN anti-cuts campaign
---
---
---
MPs' expenses scam continues: for workers' MPs on a worker's wage
Oldham East and Saddleworth by-election: A left-wing workers' alternative needed
Wales referendum: Vote Yes on 3 March - Defend public services in Wales
Trade Unionist and Socialist Coalition
---
Student receives draconian sentence
Students demand - 'save our EMA'
Education Maintenance Allowance: 11 January day of action
Urgent action needed to end youth unemployment
---
PCS members vote for battle against cuts
Strike at sweatshop DWP centres
Teachers strike against redundancies
Heinz strikes force improved offer
Cameron 'thanks' postal workers by axing their jobs and pensions
PDFs for this issue

Page1 pdf

Page2 pdf

Page3 pdf

Page4 pdf

Page5 pdf

Centre pages pdf

Page8 pdf

Page9 pdf

Page10 pdf

Page11 pdf

Page12 pdf
PO Box 24697, London, E11 1YD
020 8988 8777
editors@socialistparty.org.uk

Link to this page: http://www.socialistparty.org.uk/issue/654/10967
Home | The Socialist 19 January 2011 | Join the Socialist Party
Fighting cuts in Somerset
Around the country, trade unionists and local campaigners are forming anti-cuts groups, even in smaller and usually quieter towns. Andy Pryor reports on a public meeting organised by Weston and North Somerset Anti-cuts Alliance.
WESTON SUPER Mare has not traditionally been a hotbed of militancy but our lively public meeting attracted 50 people on 12 January. North Somerset Council wants to cut £47.3 million over four years.
Children and Young People's Services could take the biggest hit with maybe 130 jobs disappearing in the first year alone, a third of the budget slashed along with a quarter of jobs. As the council is currently the largest employer in the area this will have far-reaching effects.
There were many excellent contributions in the discussion. We heard from a library assistant who has watched the service deteriorate through persistent lack of funding. When the council first introduced the idea of self-scanning machines in libraries, they told workers that the machines would mean workers could be on the library floor interacting with the public, and providing a more proactive, high quality service.
The council have now changed their tune. Now that the machines are on their way, so will the workers be. Apparently libraries can operate with fewer workers as the public can scan books in and out themselves! Our libraries are a vital part of our communities and we should campaign against any proposed closures and cutbacks.
A social worker spoke passionately about the disgraceful way those most at risk will pay the highest price. The council is seeking to cut the services designed to support children and families in crisis. With families facing job losses, pay cuts and pay freezes more support will be needed not less.
She pointed out that we face a national attack, so we need a national fightback. If the coalition government didn't turn up for work one day no one would notice the difference. On the other hand, if we all decided not to go into work then we could show where the power really lies.
There was a real resolve to take our campaign forward, starting with lobbies of council meetings in January and February, and throwing our full weight behind the national demonstration in London called by the TUC for 26 March. We also need to build for a public-sector stoppage leading to a general strike.
As a result of the meeting, a parent and a school governor came forward looking to build campaigns against academy status in their respective schools.
---
In this issue
---
National Shop Stewards Network

Unite against all the cuts

Discussing an NSSN anti-cuts campaign
---
Socialist Party NHS campaign

Save our NHS!
---
International socialist news and analysis

Tunisia in revolt
---
Socialist Party news and analysis

MPs' expenses scam continues: for workers' MPs on a worker's wage

Oldham East and Saddleworth by-election: A left-wing workers' alternative needed

Wales referendum: Vote Yes on 3 March - Defend public services in Wales

Trade Unionist and Socialist Coalition

Fighting cuts in Somerset
---
Socialist Party youth and students

Student receives draconian sentence

Students demand - 'save our EMA'

Education Maintenance Allowance: 11 January day of action

Urgent action needed to end youth unemployment
---
Socialist Party workplace news

PCS members vote for battle against cuts

Strike at sweatshop DWP centres

Teachers strike against redundancies

Heinz strikes force improved offer

Cameron 'thanks' postal workers by axing their jobs and pensions

Workplace news in brief
---
Home | The Socialist 19 January 2011 | Join the Socialist Party
Related links:

Bristol: Angry meeting discusses tasering of race relations man

Bristol police taser own race relations adviser

Hinkley Point C: wasteful, dangerous and polluting

The Socialist inbox

Floods reveal effect of government cuts

The Socialist Inbox

Open University facing huge cuts

Camden evacuation - residents expose fire risks

Manchester housing maintenance dispute steps up action

Anger and grief on moving Grenfell marches

Barts Trust NHS workers vote for action over pay

Unison conference: "A sense of change"