The Socialist 19 January 2011
Unite against all the cuts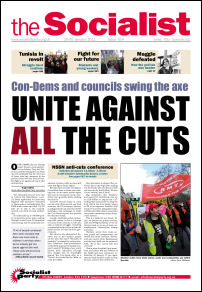 ---
Discussing an NSSN anti-cuts campaign
---
---
---
MPs' expenses scam continues: for workers' MPs on a worker's wage
Oldham East and Saddleworth by-election: A left-wing workers' alternative needed
Wales referendum: Vote Yes on 3 March - Defend public services in Wales
Trade Unionist and Socialist Coalition
---
Student receives draconian sentence
Students demand - 'save our EMA'
Education Maintenance Allowance: 11 January day of action
Urgent action needed to end youth unemployment
---
PCS members vote for battle against cuts
Strike at sweatshop DWP centres
Teachers strike against redundancies
Heinz strikes force improved offer
Cameron 'thanks' postal workers by axing their jobs and pensions
PDFs for this issue

Page1 pdf

Page2 pdf

Page3 pdf

Page4 pdf

Page5 pdf

Centre pages pdf

Page8 pdf

Page9 pdf

Page10 pdf

Page11 pdf

Page12 pdf
PO Box 24697, London, E11 1YD
020 8988 8777
editors@socialistparty.org.uk

Link to this page: http://www.socialistparty.org.uk/issue/654/10968
Home | The Socialist 19 January 2011 | Join the Socialist Party
Government health bill spells disaster for patients and workers
Save our NHS!
THE GOVERNMENT is planning a massive assault on the NHS in England in its latest health bill. This is on top of billions of pounds of 'efficiency savings' ie cuts, in the NHS budget.
Primary care trusts will be abolished and, instead, 80% of the NHS budget is to be administered by GPs (general practitioners). However, GPs, lacking the capacity or expertise to commission services on such a large scale, will soon be taken over by private companies. Consequently, the health bill will see a full-blown commercial health market established - a potential gold mine for private companies to muscle into the NHS and make big profits.
All the health workers' trade unions as well as the British Medical Association are largely opposed to these 'reforms'.
A London health worker explains the likely impact of the government's NHS reorganisation on health services:
"Under New Labour every area had to have an open tender for at least one primary care practice. So where I live in Camden there is a major GP centre which is now run by an American health care company.
You also have private companies buying specific wings of hospitals. They will now have the ability to buy an entire hospital. Effectively all three cornerstones of the NHS ie primary care, commissioning and secondary/tertiary care will be owned by private companies. There is nothing in this legislation to stop that being the same private company.
For example, the GP centre in Camden that's owned by this US corporation will be given the Camden budget. It could, for instance, purchase the Royal Free Hospital and effectively commission itself to provide both the primary and secondary and hospital care.
The logical conclusion of all this is a cartel of private companies in the NHS. This is why you are seeing private health companies paying way over the odds for smaller competitors and paying way over the odds for GP centres - because they see the potential for profits at every turn...."
Static budgets, increasing need
"The government has imposed static budgets in the NHS despite increasing demands on services. But with health inflation running at 7.9% inevitably this is resulting in huge deficits.
Before Christmas I asked a top commissioning manager in the NHS if there will be a financial crisis in the next couple of years? She replied: 'Not in the next two years but in the next six months.'
Inevitably we will see hospital wards, departments and even entire hospitals being closed.
On top of this budget crisis comes the government's wholesale reorganisation. It will lead to anarchy. PCTs are already in a mess. They have lost half their staff. (Mainly lower and middle managers, the top managers have kept their posts and salaries.) Effectively nobody is presently holding the purse strings.
We will see massive increases in waiting times, people kept on trolleys in corridors, etc. It will be a return to the bad old days of the 1980s and 1990s."
We say:
End all privatisation. Return privatised services to NHS control. Publicly fund and integrate them with the rest of the NHS.
End Foundation Trusts. Build democratic control of local health services by elected health workers and community representatives as well as elected reps from local and national government.
Nationalise the big construction companies, service companies, medical supply and pharmaceutical industries that are taking billions of pounds out of the NHS.
Build anti-cuts unions in every area to defend the NHS. To save the NHS we need to work with the health unions, patients' organisations, those GP practices opposed to the changes, and the public, to start the fightback.
---
In this issue
---
National Shop Stewards Network

Unite against all the cuts

Discussing an NSSN anti-cuts campaign
---
Socialist Party NHS campaign

Save our NHS!
---
International socialist news and analysis

Tunisia in revolt
---
Socialist Party news and analysis

MPs' expenses scam continues: for workers' MPs on a worker's wage

Oldham East and Saddleworth by-election: A left-wing workers' alternative needed

Wales referendum: Vote Yes on 3 March - Defend public services in Wales

Trade Unionist and Socialist Coalition

Fighting cuts in Somerset
---
Socialist Party youth and students

Student receives draconian sentence

Students demand - 'save our EMA'

Education Maintenance Allowance: 11 January day of action

Urgent action needed to end youth unemployment
---
Socialist Party workplace news

PCS members vote for battle against cuts

Strike at sweatshop DWP centres

Teachers strike against redundancies

Heinz strikes force improved offer

Cameron 'thanks' postal workers by axing their jobs and pensions

Workplace news in brief
---
Home | The Socialist 19 January 2011 | Join the Socialist Party
Related links:

Campaigners continue to demand Chorley A&E is fully reopened

Socialist Party congress 2018

Leaked pay deal: fight for a genuine pay rise

NHS: public health - not private profit

Hands Off HRI campaign group meets Corbyn and Ashworth

What's behind the surge in eating disorders?

Tories raid £1bn from NHS facilities budget - unions must act

Tragic death exposes criminal understaffing of NHS

NHS - build the fightback

Swansea Labour council votes for cuts

Spring Statement 2018: Tory austerity staggers on despite economic and political weakness

Salford nurseries consultation delayed

Save our NHS

'Paradise' for billionaires - austerity for us

Derbyshire says: No fracking way!

Profits up Wages down

May's EU speech kicks the can down the road

Nottingham hospital black alert